Which iPhone X Storage Size Should I Buy: 64GB or 256GB?
How much iPhone X storage do I need? It's a tough question to answer, but we're here to help you after living with 64GB of storage and loving lots of storage that you'll get with the 256GB iPhone X.
While the simplest solution is buy as much storage as you can afford, but 256GB may be more iPhone X storage than you actually need. Here's a breakdown of the important factors that you should consider when picking the best iPhone X for your needs. Here's more on how to buy the iPhone X.
iPhone X Storage Options
Apple slimmed down the iPhone X storage options this year to two. You can buy a 64GB iPhone X or a 256GB iPhone X. Gone are 16GB and 32GB options, which is great. While you would think having two options makes this simpler, it's actually a lot harder for many people to choose since there is such a massive difference in size.
The 64GB iPhone X is $999 and the 256GB iPhone X is $1,149. If you buy these on a payment plan you are looking at about a $6 difference in the monthly payment you will make for the iPhone. This is important later when we talk about purchases you may need to make if you buy the 64GB iPhone X.
You cannot add storage to the iPhone X with a microSD card or upgrade it at a later date. There are some Lightning drives you can use to store movies for a flight, but these are not anywhere as close to what you get with the included storage. We also don't expect Apple to add any new options to the mix in the next 10 to 12 months.
Pay for Storage Now, or Pay Later
Unless you are able to live a very low storage life, you will likely be paying for storage up front or paying for it later. We can survive on the 64GB iPhone X by paying attention to our app usage and by relying on iCloud Storage Plans.
We take a lot of iPhone photos and we back them up to iCloud with the iCloud Photo Library. This is really our only option since our computer doesn't even have enough built-in storage for all of our photos. With the iPhone X, we expect to take even more photos and videos.
With all of the apps we need and a few weeks of use, we are using 24GB of storage on the iPhone 8 Plus. We also have 477GB of photos and videos in our iCloud library. The largest iPhone X storage option couldn't hold all of those photos.
You have to decide if you want to pay $6 more a month for storage on your iPhone X, or if you would rather pay $3 to $10 for 200GB or 2TB of storage to handle your photos. Most of the time when we help people with iPhone problems, they are out of storage due to too many apps or too many photos. You can now share iCloud storage with family members.
If you choose the 64Gb iPhone, you may be streaming more movies and music, which could mean picking a bigger data plan at some point, or switching to the new "unlimited" options.
Who Should Buy the 64GB iPhone X
Here's a look at who should buy the 64Gb iPhone X and save $150 on the up front cost of buying the iPhone. The price alone, could make this the best option for many buyers.
You plan to keep photos in iCloud Photo Library or on computer.
You plan to stream most of your movies and music.
You don't plan to record a lot of 4K videos.
You have plenty of room on your current iPhone.
You may need to make a few more sacrifices and you may need to use iCloud Photo Library, but the 64GB iPhone is surprisingly usable in 2017 with a little effort an an online storage plan.
Who Should Buy the 256GB iPhone X
Here's a look at the factors that will push you to buy the 256GB iPhone X for $150 more than the base option. For some users, this is going to be a clear winner.
You need to keep photos locally on your iPhone X.
You want to store a lot of Movies and Music locally.
You plan to shoot 4K at 60 FPS (400MB per minute of footage).
You are close to using all of your current iPhone storage.
A lot of this comes down to the way you will use your iPhone, and how much time you will dedicate to managing the storage on your iPhone. If you prefer to have an abundance of storage or you are going to take a lot of photos that you want on your iPhone or you use a lot of apps that take up a ton of space, this is what you need.
How to Check Your Current Storage
You should see how much storage you have left on your current iPhone before you make a decision. This is a simple process that you can do in just a few seconds.
Open Settings.
Tap on General.
Tap on iPhone Storage.
This will show you how much iPhone storage you have and how much you are using, as well as what is using it. You can then check on iCloud storage if you are using that.
Open Settings.
Tap on your Name at the top.
Tap on iCloud.
This shows your iCloud storage use and your current plan. You can tap on manage plan if you want to see a better breakdown of what your storage is used for with exact numbers.
Which iPhone X Storage Size Should I Buy?
Ultimately the iPhone X storage sizes are both manageable. If you find that you fit more into the 64GB reasons listed above, and you aren't using all the storage on your current iPhone, the 64GB iPhone X is your best bet. If you plan to upgrade to a new iPhone next year you have an easier decision since there is a foreseeable upgrade option.
For users who plan to keep the iPhone longer, don't want to rely on iCloud and who plan to take a lot of photos and 4K video, the 256Gb iPhone X is a safer option to choose.
The Best iPhone X Cases
x-doria Defense Lux iPhone X Case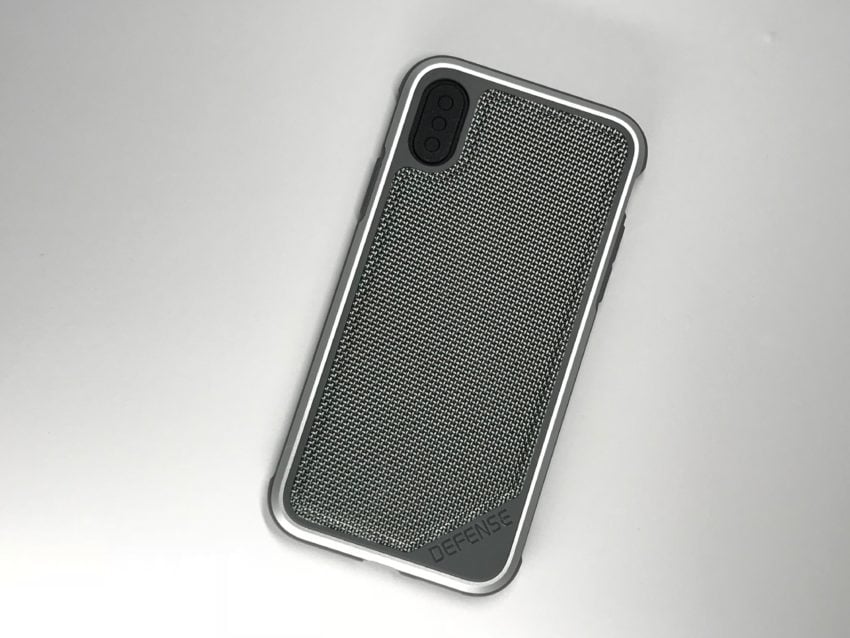 The x-doria Defense Lux iPhone X case is amazing. This case looks great, feels awesome and offers military grade drop protection without adding much bulk.
We love the look of this case in Ballistic Nylon and Black Carbon on the iPhone X. These cases not only offer a cool look, but the back is actually textured like the material listed. The Ballistic Nylon case has a soft, but grippy feel to the back just like you'd expect from looking at it. The Black Carbon feels like textured carbon fiber and looks awesome.
We didn't mean to, but we did drop our iPhone X in this case and our doorbell camera caught it on video. The case iPhone survived without any problems.
x-doria designed this case to protect your phone from drops up to 10 feet on concrete and there is . sound channel to direct the speaker towards you instead of straight out the bottom. The raised edge keeps the screen safe when setting the phone face down on a table.
$34.99 at x-doria

As an Amazon Associate I earn from qualifying purchases.