Why You Need a Samsung Galaxy S8 Case
The Samsung Galaxy S8 is a beautiful phone, but it's also a fragile one one, especially with the way the Infinity Display drips off the edge. You need a great Galaxy S8 case, and this is why.
We are starting to see people torture the Galaxy S8 by dropping it, hitting it with a hammer and worse. While you won't likely be smacking your Galaxy S8 or Galaxy S8+ with a hammer, there is a good chance you will drop it at some point in the next year.
We've dropped various devices from three to five feet and sometimes they survive without a case, but not always. If you put a good case on any smartphone it will better handle realistic drops like these.
You can see that the Galaxy S8 display spiderwebs after two drops. The Galaxy S8 is still working after this test, but the screen is broken and in a state that you definitely don't want to be using long term.
Even if you opt for carrier insurance coverage or go with the newer Samsung Galaxy S8 warranty options. It's not a question of if you will drop your phone, it's a matter of when you will drop it.
Even with a slim Galaxy S8 case, there is often enough of material to absorb the shock and enough of a lip to protect the screen from impacting on a face down drop. We even have a list of the best clear Galaxy S8 cases so you can show off your color and the design. If you have the bigger phone, here are the best Galaxy S8 + cases.
You may also want to look at a Galaxy S8 screen protector, which can help absorb some of the impacts from a drop. There are many options, but we've rounded up the best Galaxy S8 screen protectors you can buy.
The video above shows that the screen survived the knife and hammer quite well, but it's the impacts on the edges of the screen and on the corners that can cause the most issues in the real world.
25 Best Galaxy S8 Cases
Samsung Clear View Standing Case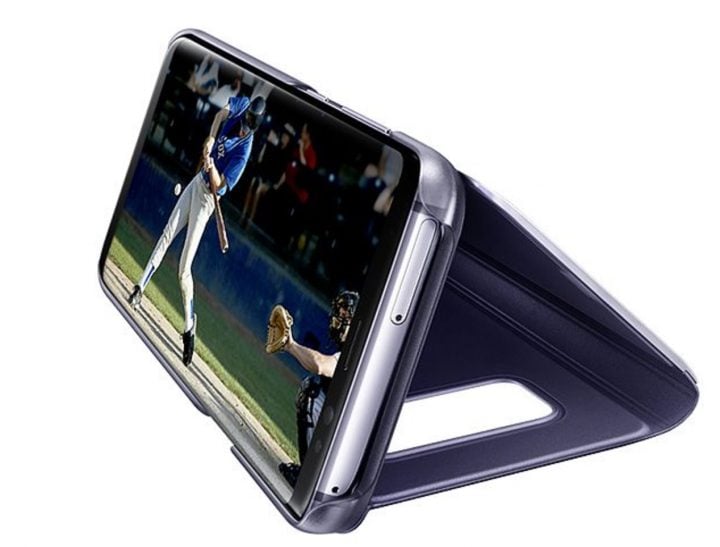 First, are a few Samsung cases then we'll move on to some of the more popular (and cheaper) brands available. As we see every year, Samsung has a decent select of great cases and accessories for the Galaxy S8 and Galaxy S8+.
Our favorite among them is the Clear View Standing Cover. It doubles as a kickstand and folds closed to protect the screen. When shut, the clear front displays the time, date, or battery levels. It's expensive but one of the better cases available.

As an Amazon Associate I earn from qualifying purchases.