Witcher 3 Deals Arrive Ahead of Release Date
The Witcher 3 reviews are in and tell us that this is shaping up to be one of the best games of 2015. Here are a collection of Witcher 3 deals to help you save on Witcher 3: Wild Hunt no matter where you plan to play.
The best Witcher 3 deal cuts the price to $38, but you need to buy it on disk from Best Buy and join Gamers Club Unlocked.
You can also save 10% on a digital version of The Witcher 3 on PS4, Xbox One and save 10% if you buy Witcher 3: Wild Hunt for PC.
The Witcher 3 reviews are wildly positive with a 10/10 from GameSpot and 25 positive reviews on Metacritic where the game currently sits at 92/100. If you just decided that you cannot miss out on The Witcher 3, even if it isn't the type of game you normally play, here's where you can save with The Witcher 3 deals.
The Witcher 3 release date is May 19th, but you can start playing on May 8th at 4PM Pacific 7 PM eastern if you pre-order the game digitally.
If you plan to buy Witcher 3, here are the best deals we could find one week before the release date.
The Witcher 3 Deal Best Buy
If you want to buy The Witcher 3: Wild Hunt on disk, you should go with Best Buy. This Witcher 3 deal is best if you are a Gamers Club Unlocked member, but you can still save $10 without the extra membership if you pre-order.
Here's how this deal works. Gamers Club Unlocked members save 20% off new games so The Witcher 3 is $48 to members. There is also a $10 bonus reward that you can use on a future purchase at Best Buy, pushing the price down to $38.
Gamers Club Unlocked is $30 for a two-year membership. Read our Gamers Club Unlocked review of all the details, but if you buy more than three games in two years this is an amazing way to save.
You can save on the Witcher 3 for PS4, Xbox One or PC at Best Buy using this deal. The Collectors Edition is already sold out online.
10% Off the Witcher 3 Digital
If you want to play early and you like the convenience of playing games digitally, you can still score a Witcher 3 deal on Xbox One or PS4.
Right now you can save 10% off The Witcher 3: Wild Hunt on PSN or the Xbox Store. This isn't a huge discount, dropping the price to $53.99, but it is a nice deal on a new game that earned a 10/10 review.
You can sign in to your account online to pre-order The Witcher 3 at this price, or you can use your console to make the purchase if that is easier for you.
You can find The Witcher 3 on Xbox Live and The Witcher 3 on PSN if you want to make a purchase right now. This deal ends on May 18, 2015.
Witcher 3 Deal on Steam
For PC gamers who don't want to buy from Best Buy, Steam is another great option where you can save with a 10% off Witcher 3 deal. This deal is available direct from Steam, not through a separate CD Key seller.
You can also pre-purchase The Witcher Trilogy pack if you want to play The Witcher 3: Wild Hunt, The Witcher 2: Assassin's of Kings Enhanced Edition and The Witcher Enhanced Edition Director's Cut all as one for $69.99.
Buy Witcher 3 on Steam for $53.99 before The Witcher 3: Wild Hunt release date.
15 Exciting 2015 PS4 Games
MLB 15 The Show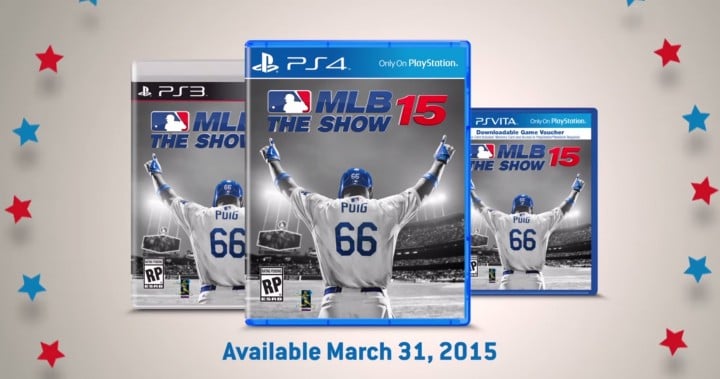 MLB 15 The Show Release Date - March 31st Confirmed
Sony is the undisputed king of baseball games with MLB The Show and we know that MLB 15 The Show is coming in early 2015. Sony just shared five key details about MLB 15 the Show and gamers are excited.
MLB 15 The Show is a PlayStation Exclusive, that is coming to the PS4, PS3 and PS Vita. There is a chance that this will be one of the first big hits among the 2015 PS4 game releases. I
Watch the MLB 15 The Show teaser video above for a glimpse at what's new.