Zagg NOW CAM: Social Camera with Built-in Speaker
The Zagg NOW CAM is a camera you can carry around similar to a Go-Pro, but with a focus on recording and sharing your fun moments and using the built-in Bluetooth speaker to listen to music or make calls.
With a wide-angle lens, quick dial controls to switch between 720P HD video and still images plus easy sharing to your phone, this small accessory goes with you when you may not want to carry your iPhone or Android.
Optional accessories allow users to make this into a waterproof camera that also adds impact protection. Both the NOW CAM and the waterproof case include mounting magnets to attach to metal surfaces.
The Zagg NOW CAM is $129.99, the waterproof NOW CAM case is $29.99 and the adjustable mount for bike handlebars and other round surfaces is $19.99.
Zagg announced the NOW CAM at CES 2016 in Las Vegas along with a wireless earbuds and a new mobile charger that can power up the Apple Watch and a phone.
With the Zagg NOW CAM, users can record up to 30 minutes of 720P HD video or 1,600 images. In addition to these modes there is a six second video burst option to quickly capture a moment. This is on the built-in 4GB of storage.
Use the NOW CAM app on iPhone or Android to quickly move the photos and videos to your smartphone and then share them to social media, completing the social aspect of this camera. Transfer photos and videos over WiFi for faster sharing.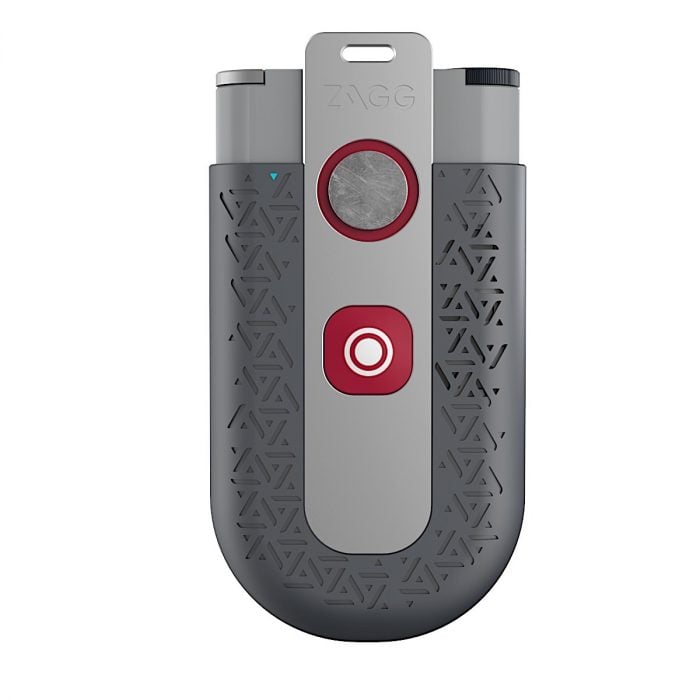 A built-in 30mm speaker allows users to use the NOW CAM to make calls and listen to music on the go without hauling around another item. The speaker is louder than a typical cell phone speaker.
When recording users control the mode with a dial on the top and shoot using a 120-degree wide-angle lens that captures more of the experience than a typical iPhone or Android camera.
For more active and adventurous users, there is a $29.99 NOW CAM waterproof case that seals the camera up for trips into the water. This case protects the NOW CAM for 30 minutes in six feet of water. The case is polycarbonate to absorb shock and the lens cover is glass, to resist scratches. This case includes a mounting magnet to attach to the bar mount or to any metal surface.
A $19.99 NOW CAM Bar Mount can attach to bikes, strollers and backpacks accommodating bars from 18mm to 38mm in diameter. There is also a safety tether in case a crash or shock is strong enough to make the magnet lose hold.
Check out the rest of our CES 2016 coverage to see the latest gadgets, accessories, smartphones and other cool tech for 2016.
Best iPhone 6s Cases, Covers & Skins
Speck CandyShell Clear iPhone 6s Case
The Speck CandyShell Clear is the first clear iPhone 6s case from Speck, and the first clear case from the company overall. This form-fitting, minimalist iPhone 6s case delivers a decent amount of protection with a military drop test 810G rating.
Speck assures us that the clear case will not yellow with use like many cheap clear case options. The clear finish is perfect for showing off your iPhone 6s color choice while protecting it.
Buttons move perfectly and are easy to find by touch and there is a raised front bezel to keep the iPhone 6s display off hard surfaces.
$34.95 at Speck

As an Amazon Associate I earn from qualifying purchases.