20 Best Samsung Galaxy S7 Cases
Looking for some of the best Galaxy S7 cases that will keep your phone safe from life's daily hazards? If so, we have a collection worth checking out below. Whether you've had it for two years or couldn't pass up a good Galaxy S7 deal, you'll want a case. Or, if you plan on using it more once the Galaxy Android Oreo update arrives, we have you covered.
In fact, we found multiple exciting Galaxy S7 cases from top brands we trust and have used on other Galaxy or Google smartphones. Samsung's phone is durable, but a case is still highly recommended.
Read: How to Fix Bad Galaxy S7 Battery Life
Our list offers everything from thin cases, cheap options, kickstand cases, to heavy-duty protection. You'll find some cases as low as $8, which is better than paying $150+ to repair a broken screen. Or, spend a little more to get the most durable cases, or upwards of $50 for official Samsung cases. We have a little of something for everyone including leather cases and real-wood protection.
Now that the phone has been available for nearly two years, you have almost an endless supply of cases to choose from. Furthermore, a lot of them are available at heavy discounts with the new Galaxy S9 here. Either way, your best bet is cases on Amazon or from Speck, Tech21, Spigen and other trusted brands. We even have one with a huge battery so the phone will last for days.
Read: 10 Common Galaxy S7 Problems & How to Fix Them
The S7 has a similar design to previous models, but it is different and won't fit cases for the Galaxy S6. This means you'll need a new case. If you're getting the Galaxy S7 as a family member upgrades to the S8 or S9, you'll want a case too. Remember, it's IP68 water resistant, so you won't need a waterproof case.
A lot of people skip buying a case because they don't want to cover up the premium design either. Don't do that. You'll want a case, and we have a few clear ones to solve that problem. A case will help prevent damage or scratches to the camera on the back of your phone. All of the biggest brands have Galaxy S7 cases, so you have plenty to choose from. We've done the hard work for you, so pick a case from our slideshow below and be ready for anything. While you're here, learn more about the Galaxy S7 Oreo update right here.
Galaxy S7 S-View Flip Cover (Clear)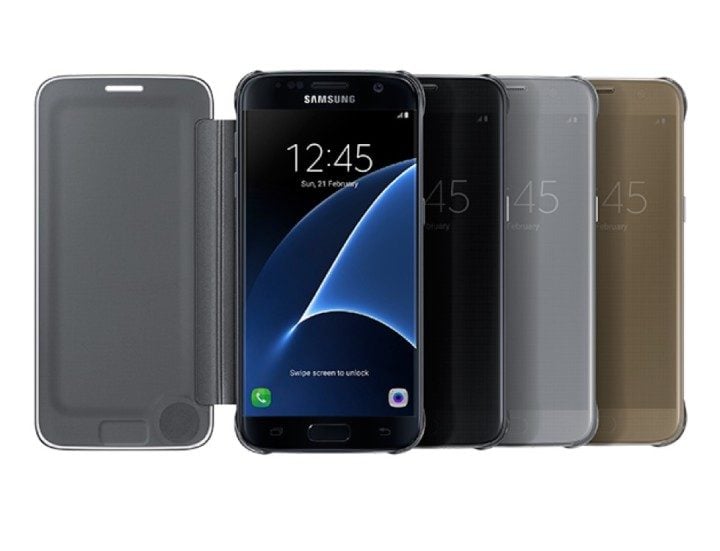 First up is a fan-favorite, the official Samsung S-View flip case. For the S7 Samsung actually has three different S-View Flip cover cases. There's the traditional flip cover with a window like previous years, then a completely clear one and an LED flip case. Our favorite is the clear case. This offers a full view of the entire screen, not just the small cutout like previous years.
This case gives you quick access to information on the screen, even when the case is shut. It's at-a-glance information, and it's one of Samsung's most popular cases. You can even answer a call or take a photo without opening the front. This one also has a new notification bar (while the case is closed) allowing users access to more than just missed calls or texts.
Buy it Now for $59.99 in three colors