2017 Toyota Highlander Review: 5 Things Buyers Need to Know
The 2017 Toyota Highlander is a great three row SUV that includes a lot of standard safety features, better fuel economy than the 2016 model and it now comes with five USB ports to keep everyone in the car charged up. The new V6 engine in this year's Highlander is a very good step forward with good acceleration and a refined interior delivers comfort and convenience for the driver and for passengers.
There's a ton of competition in this segment of third row SUVs, including the Dodge Durango, Mitsubishi Outlander, Ford Explorer, Honda Pilot and Nissan Pathfinder which deliver stiff competition. The 2017 Highlander is among the best in this crowded class and deserves to be on your test drive list when shopping for a new SUV — especially if you are looking for room to carry up to eight passengers. Yeah, that's right You can option a bench seat in the middle row to provide room for up to eight people in this SUV without the need for something as big as most eight passenger SUVs.
[letsreview]
2017 Toyota Highlander Driving
With a new V6 and powertrain the 2017 Toyota Highlander delivers faster acceleration, which we appreciate while getting up to speed on the highway and zipping out into traffic downtown. The Highlander handles very well with a good mix of comfort and feedback in the steering. It's precise, but definitely comfortable for longer drives. This is very easy to park thanks to good steering, the included camera and the just right vehicle size. The brakes are very good at bringing you to a fast stop, though the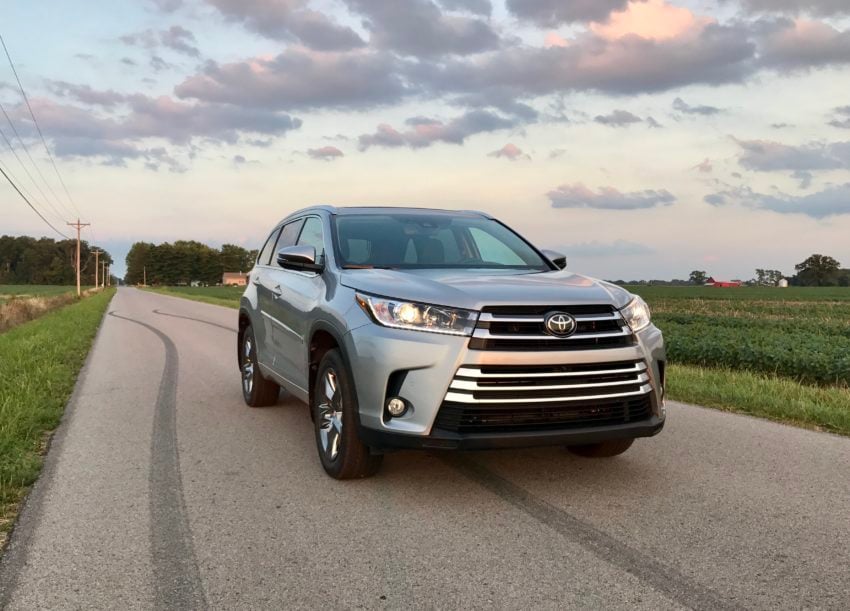 With All Wheel Drive options and 8 inches of ground clearance the Highlander is capable of navigating snowy roads and even taking you off road when you need to get to your campground, soccer game or just to grandma's house. Don't plan on hitting up the off-road park with the Highlander, but you can definitely get around off the pavement without worrying about most small obstacles.
Fuel economy is rated at 22 MPG combined, with 20 MPG city and 26 MPG highway on the 2017 Toyota Highlander AWD Limited Platinum. With the FWD model expect about 1 MPG better. Some models come with Automatic Start and Stop technology that can help with fuel economy.
2017 Toyota Highlander Design
The 2017 Highlander is very comfortable and quiet in the cabin. It's a very Lexus-like experience at a more affordable price. The seats are very comfortable, and so is the ride, which keeps you from feeling every bump without actually disconnecting you from road feel. The cabin is surprisingly quiet, at least until you pack your kids in. Another very nice feature is three zone climate control, so you can choose the temp for driver, passenger and for the rear so everyone is at the right temp.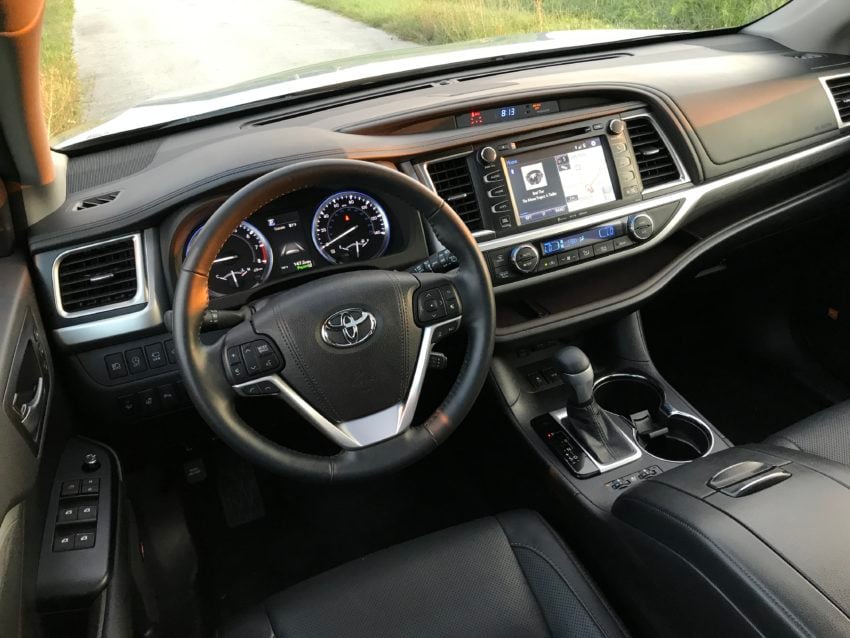 Overall the interior design is very good with good use of space in the front row, though some of the controls are a long reach. Thankfully most of the important ones are also on the steering wheel. There is a lot of room in the front row and in the second row. The third row is good for kids, but that is about it. Legroom and headroom are both tight. Small kids can get back there pretty easily, through the center opening or by flipping a captain chair forward. Our 2017 Toyota Highlander Limited Platinum came equipped for seven passengers, but you can option the Highlander with a middle bench seat to fit eight passengers.
The cargo area is large enough for most families, and is average for the competition. The third row collapses down easily to add more storage area. If you only need that row while hauling kids' friends you'll have plenty of room even on a road trip.
On the outside the Highlander offers a modern look with a sporty front and a large chrome grille. We appreciate the stylish lines and looks that carry over to the interior where there are a nice mix of soft touch materials and a handy shelf int the dash that is perfect for stashing all the small things you'll need at hand while hauling around a family.
2017 Toyota Highlander Tech
The biggest downside to the 2017 Toyota Highlander technology is that it does not support Apple CarPlay or Android Auto. While this is becoming nearly standard across many competing vehicles, Toyota is not adopting this technology yet. Carplay and Android Auto allow you to connect your phone to your car via USB and then use apps and voice assistants on the car's display instead of looking at your phone. It means your music, current maps and other apps are always at hand. Toyota has not announced any plans for support, so don't buy this expecting to get it via a software update later.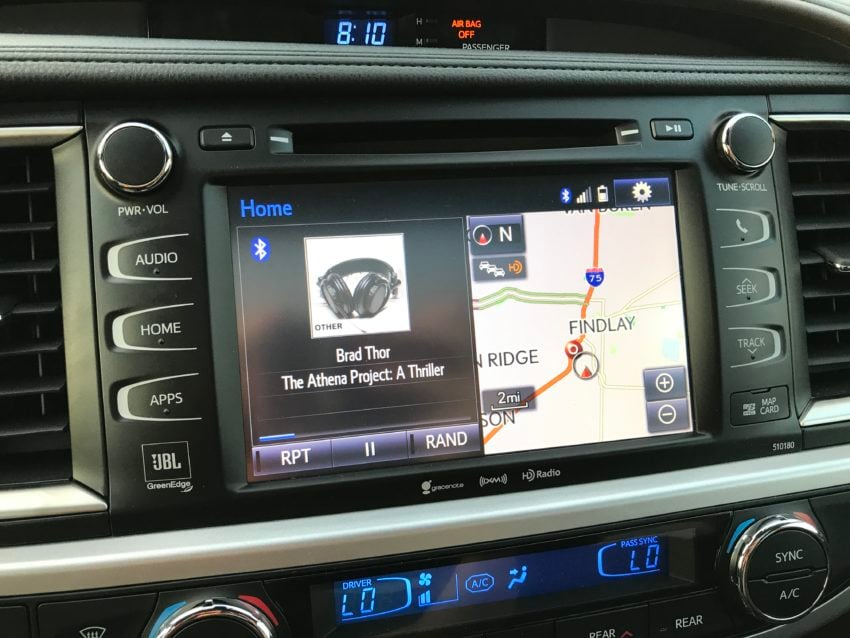 Toyota's Entune system is good, and it's very easy to use with a responsive 8-inch touchscreen and icons that are large and easy to quickly tap. There is limited app support built in and you can stream music via Bluetooth or by plugging in. Toyota includes 2.1 Amp USB ports up front to charge your phone up quicker than we see in many cars.
On select trim levels you get Driver Easy Speak, which allows you to speak in a normal voice up front and then your voice is played on the speakers in the rear of the car. This is handy if you are hauling kids around and want to be heard without yelling or taking your eyes off the road.
2017 Toyota Highlander Safety
The 2017 Toyota Highlander comes equipped standard with Toyota Safety Sense P. This is a multi-part safety system that will help keep you and your passengers safe while driving. This includes;
Pre-Collision System with Pedestrian Detection
Lane Departure Alert with Steering Assist
Automatic High Beams
We love dynamic radar cruise control, which keeps you back from the car in front of you if they go slower than your cruise control speed. This uses radar so you don't need to constantly adjust your cruise control or tap your breaks. The Lane Departure Alert will let you know if you are about to exit your lane and can even steer you back into your lane. Automatic high beams turn your brights on and off depending on traffic. The Pre collision system with pedestrian detection will help keep you from getting in an accident with another vehicle or with a pedestrian by alerting you and applying the brakes.
There is also a bird's eye view camera in addition to the backup camera, which allows you to see around the entire vehicle while parking. Blind Spot Monitoring with Rear Cross Traffic Alert is standard on the XLE, SE, Limited and Limited Platinum.
2017 Toyota Highlander Trim Level Recommendation
We suggest looking at the 2017 Toyota Highlander XLE and up if you want the best mix of features and safety options including the Blind Spot Monitor. Unfortunately this feature is not available on the LE or LE Plus. This alone is not worth the nearly $8,000 price difference to go from the LE to the XLE, but there are other upgrades including a moonroof, Smart Key System , three zone climate control, a premium Entune audio system and an option to add a rear seat Blu-Ray Player.
You Need These 10 Must Have Car Features: Find Out Why
Smart Cruise Control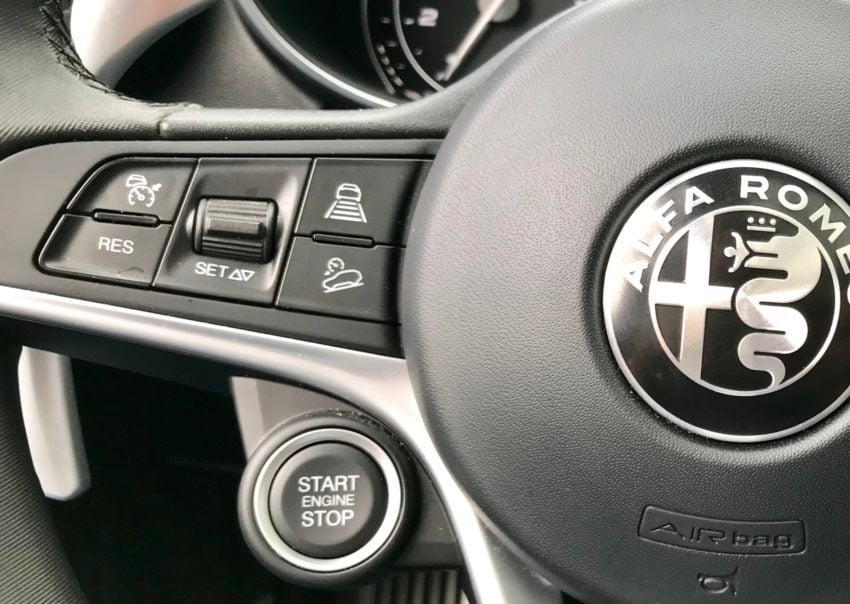 Do you hate constantly adjusting your cruise control, or giving up on cruise control because of traffic or due to a driver in front of you who keeps changing speed? You need a smart cruise control system.
Smart cruise control goes by many different names. You may see it listed as Radar Cruise, Adaptive Cruise or Intelligent Cruise control. Whatever it is called, it will allow you to set your cruise control and then stay with the flow of slower traffic.
Here's why we love it and why you need it. You get on the highway and set the cruise at 76 miles per hour. You also set the distance you want kept between you and the car in front of you. There are typically three or four settings so you can be close or keep a lot of space. Now you simply steer and your car will go 76 mile per hour when traffic allows it or there is no one in front of you. When someone is in front of you going 73 mph, the car automatically slows down to keep you the distance you choose from that car. This is indispensable in traffic and on long road trips.
Not all smart cruise control systems are the same. Some of work at all speeds, while others only work above a specific limit. Some systems can bring you to a complete stop in traffic and then restart without you needing to touch a pedal.
You can find adaptive cruise control on cars as cheap as $18,500 like the Toyota Corolla, and as an option on many cars below $30,000. Even on pricier cars you may need a higher trim level or special package to get this feature.

As an Amazon Associate I earn from qualifying purchases.