2018 Hyundai Elantra GT Sport Review
The 2018 Hyundai Elantra GT is a fun hatchback that buyers need to look up and test out as they compare affordable and sporty hatches in 2018.
With a bolder looks, a spirited ride and a manual transmission the 2018 Elantra GT Sport checks all the boxes and carves out a space alongside the Honda Civic Hatchback, Mazda 3, Mazda CX-3, Subaru Impreza and VW Golf.
On top of a fun driving experience, this hatch comes with Apple CarPlay and Android Auto standard so you have the best tech at your fingertips.
[letsreview]
What's New for 2018?
The Hyundai Elantra GT  is all new for 2018. This is a different car than the 2017 Elantra and the choices paid off.
Which 2018 Elantra GT to Buy
The 2018 Elantra GT comes in two trim models, Base and Sport. You want to buy the 2018 Elantra GT Sport. It comes with a more powerful turbocharged engine, better handling and important safety and convenience features like adaptive cruise control, forward collision warning, automatic braking and other features as part of the GT Sport Tech package.
Driving the Hyundai 2018 Elantra GT Sport Manual
The 2018 Elantra GT Sport is fun to drive, especially with the six speed manual transmission. The turbocharged 2.0L engine delivers enough pep top squeal the tires and enjoy curvy roads when you find them, but also behaves admirably in stop and go downtown traffic where too much of our driving time is spent.
Shifting is easy with crisp shifts, though this is definitely a long throw which takes a little getting used to. You can opt for a seven speed dual clutch model with the same engine. I did not get a chance to test that version.
The biggest difference between the Elantra GT and GT Sport is the engine, but there is also an upgraded Multi-link Independent Rear Suspension that helps deliver more control while driving quickly and through corners.
At the end of the day, it comes down to the driving experience you are looking for. Hyundai carves out a place in the hot hatch marketplace and, while there is room to grow, it is an impressive ride.
The 2018 Elantra GT Sport in manual is rated for 22 mpg city, 29 mpg highway and 25 mpg combined. The Dual Clutch Transmission delivers better economy at 26 mpg city, 32 mpg highway and 28 mpg combined.
2018 Elantra GT Sport Design & Interior
The Hyundai Elantra GT Sport isn't as bold looking as the Mazda CX-3, but its design fits the car well. There's definitely a sleek, 'more to me than meets the eye' vibe. The Electric Blue Metallic paint makes this car shine and accentuates the tiger nose grille perfectly. The Elantra GT Sport's exterior style is more under the radar than Mazda. I love the swooping lines of the Mazda3 five door and the CX-3, but the Elantra GT may help you slide under the radar a little more.
Inside the red trim on the seats and shifter stands out. I like the look, but my wife would rather see the accent colors match the exterior paint. The seats are comfortable and passenger room in the back is good as well.
The Elantra GT Sport offers a lot of cargo room and it nearly doubles with the back seats down. I used this room to haul home loads of flowers as my wife and I started the annual task of beautifying our landscaping. While hauling this load home we both appreciated the dual zone climate controls. There are also rear seat vents to keep your passengers cool.
The back seat is decently sized for a small hatchback. Tall passengers will find the space cramped, but for kids and smaller adults it is definitely adequate.



















2018 Elantra GT Sport Tech & Safety
The 2018 Elantra GT Sport comes with an easy to use infotainment system. You can stream your music and calls to it wirelessly with Bluetooth or you can plug in and get Apple CarPlay or Android Auto. It's incredibly easy to use the standard Hyundai system and when you plug in your smartphone the Android Auto or Apple CarPlay system can take over the screen to deliver access to your apps, music and maps.
Taking calls sounds good, though road noise can be annoying on anything longer than a quick call at highway speeds. The speakers are above average, but lacking on bass.
Blind Spot Detection is standard on the GT Sport and includes rear traffic cross alert. This is very handy while cruising on the highway and one of our must have safety features. The GT Sport comes standard with LED headlights that perform well.
With the GT Sport Tech package users can add in Forward Collision Warning, Smart Cruise Control with start/stop, High Beam Assist, Driver Attention Alert, Lane Keep Assist and Automatic Emergency Braking with Pedestrian Detection.  This also includes upgraded speakers, a wireless charging pad, Blue Link connected car features and other upgrades. The GT Sport Tech package is not available with a manual transmission.
You Need These 10 Must Have Car Features: Find Out Why
Smart Cruise Control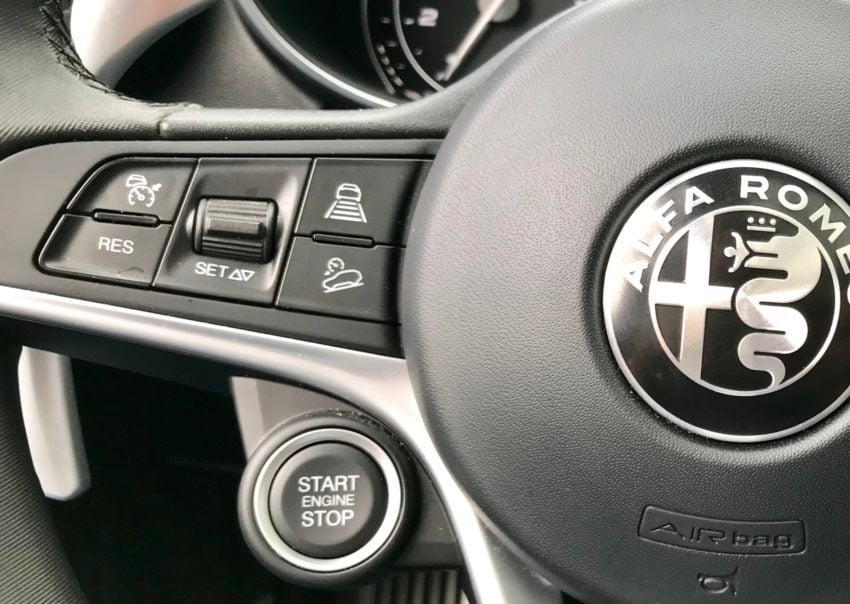 Do you hate constantly adjusting your cruise control, or giving up on cruise control because of traffic or due to a driver in front of you who keeps changing speed? You need a smart cruise control system.
Smart cruise control goes by many different names. You may see it listed as Radar Cruise, Adaptive Cruise or Intelligent Cruise control. Whatever it is called, it will allow you to set your cruise control and then stay with the flow of slower traffic.
Here's why we love it and why you need it. You get on the highway and set the cruise at 76 miles per hour. You also set the distance you want kept between you and the car in front of you. There are typically three or four settings so you can be close or keep a lot of space. Now you simply steer and your car will go 76 mile per hour when traffic allows it or there is no one in front of you. When someone is in front of you going 73 mph, the car automatically slows down to keep you the distance you choose from that car. This is indispensable in traffic and on long road trips.
Not all smart cruise control systems are the same. Some of work at all speeds, while others only work above a specific limit. Some systems can bring you to a complete stop in traffic and then restart without you needing to touch a pedal.
You can find adaptive cruise control on cars as cheap as $18,500 like the Toyota Corolla, and as an option on many cars below $30,000. Even on pricier cars you may need a higher trim level or special package to get this feature.