2018 Hyundai Ioniq Hybrid Review
The 2018 Hyundai Ioniq Hybrid is more than just a Prius alternative, it's a competitor that can hang with the most established hybrid on the market.
Not only does the Ioniq Hybrid deliver great fuel economy, it includes Apple CarPlay and Android Auto that you won't find on the Prius.
This compact hatchback isn't particularly roomy in the backseat, but thanks to the hatchback design you get a decent amount of usable cargo space.
Is the 2018 Hyundai Ioniq Hybrid a Good Car?
The 2018 Hyundai Ioniq Hybrid is a good hybrid car, but it's not perfect. The fuel economy on the Ioniq Hybrid Blue is better than the Prius, and it's priced better.
The Ioniq Hybrid style is nice though it will blend into the highway. There's limited backseat room and the front seats aren't comfortable on the entry-level Blue trim.
The Blue trim level bests the Prius on MPG, but only by a few miles. You're better off buying the 2018 Hyundai Ioniq Hybrid SEL which adds;
Blind Spot Detection with Rear Cross Traffic Alert
Power Driver Seat with Lumbar Support
Heated Front Seats
LED Daytime Running Lights and LED Lights
The $1,000 Tech Package is a bargain thanks to Smart Cruise Control, Automatic Emergency Braking and Lane Keep Assist. If you upgrade to the SEL, you trade-off a little fuel economy, but it's worth it if you put lots of miles on your car.
[letsreview]
Driving the 2018 Ioniq Hybrid
The 2018 Hyundai Ioniq Hybrid drives well for a compact hatchback. Instead of the continuous variable transmission that many hybrids use, which can lead to that droning noise, it uses a dual clutch transmission. These can bring their own issues to the mix, but Hyundai uses the electric motor to handle the initial acceleration.
The result is a pleasant driving experience that holds up well in town and on the highway. There are only two driving modes, normal and sport. The normal mode feels more like eco on other cars, and the sport mode is a little too punchy for use every time you drive. That said, I found myself using the sport mode liberally during my time with the Ioniq, especially on my way home from Gingerman Raceway where I learned how to be a better track driver.
It's not a super connected driving experience, but overall it's good and it's on par with what you'd expect in a compact hatchback. There is no one pedal driving like you'll find on the all-electric Nissan Leaf.
The 2018 Ioniq Hybrid Blue is rated for 58 MPG combined, 57 MPG city and 59 MPG highway. This is better than the entry-level Prius. While road tripping up and across Michigan I got 55.9 MPG with a mix of highway and city driving without any thought about how I drove.
2018 Hyundai Ioniq Hybrid Design & Comfort
The 2018 Ioniq Hybrid looks like a compact hatchback, and it just so happens to be a hybrid. This is part of a trend to make hybrid cars and even electric cars simply look like cars instead of a specialty class or appliance.
This Hyundai will blend into traffic, in a good way. It's a modern stylish take on a compact that offers a decent amount of cargo space thanks to the hatchback. The back seat isn't particularly roomy, but it will handle kids easily and adults in a pinch.
One disappointment on the Ioniq Blue is that the front seats are downright uncomfortable for long trips. The SEL Trim level includes lumbar support and heated seats, which are hopefully more comfortable. If you're tempted by the lower price and higher MPG of the Blue, but you drive long-range, you need to do a side-by-side test of the seats on the Blue and SEL trim before you buy.
With the back seat folded down you get a decent amount of cargo space in the Ioniq.
2018 Ioniq Hybrid Tech & Safety
Hyundai offers something you won't find on the Prius, Apple CarPlay and Android Auto. This is an excellent feature that is available on all trim levels and it's a nice option in addition to the stock system. I used Android Auto for my long road trip, relying on Waze to avoid accidents and slow down when police were spotted ahead.
The 7-inch screen is easy to see and responds quickly to taps. Even on the base model you get Sirius XM, Bluetooth connectivity, Aux In and a USB port for your phone.
There are two power points up front that you can plug a car adapter into. There are no USB ports or power points in the back seat, so you'll want to invest in something like the Belkin Road Rockstar charger that puts two ports up front and two in the back.
On the Ioniq Blue, you don't get a lot of added safety or convenience features, which is why shoppers should consider the SEL trim level and the Tech package that add;
Blind Spot Detection with Rear Cross Traffic Alert
Power Driver Seat with Lumbar Support
Heated Front Seats
LED DRL and LED Lights
Smart Cruise Control
Automatic Emergency Braking
Lane Keep Assist
These are some of my must have new car features and you get a lot of value for that added up front cost. I definitely appreciate Smart Cruise Control and Blind Spot Detection on the highway.
You Need These 10 Must Have Car Features: Find Out Why
Smart Cruise Control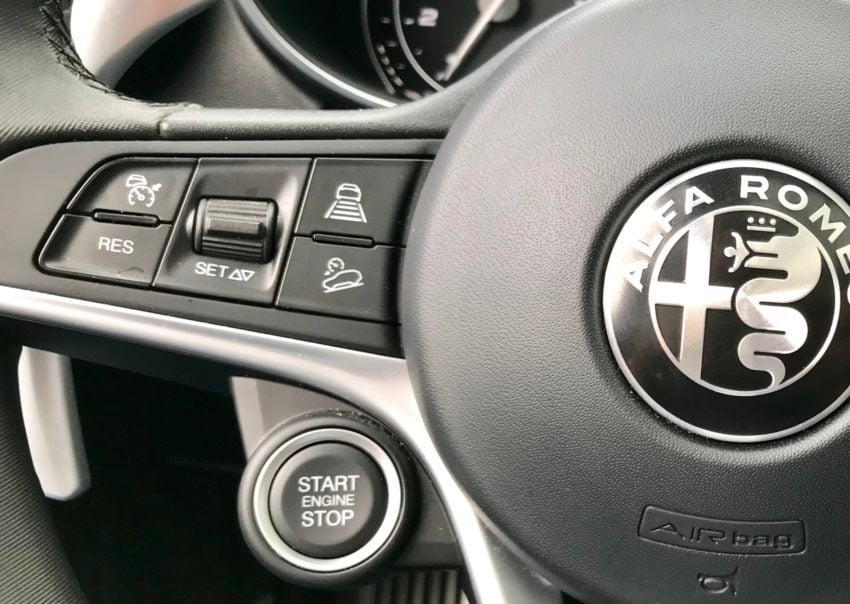 Do you hate constantly adjusting your cruise control, or giving up on cruise control because of traffic or due to a driver in front of you who keeps changing speed? You need a smart cruise control system.
Smart cruise control goes by many different names. You may see it listed as Radar Cruise, Adaptive Cruise or Intelligent Cruise control. Whatever it is called, it will allow you to set your cruise control and then stay with the flow of slower traffic.
Here's why we love it and why you need it. You get on the highway and set the cruise at 76 miles per hour. You also set the distance you want kept between you and the car in front of you. There are typically three or four settings so you can be close or keep a lot of space. Now you simply steer and your car will go 76 mile per hour when traffic allows it or there is no one in front of you. When someone is in front of you going 73 mph, the car automatically slows down to keep you the distance you choose from that car. This is indispensable in traffic and on long road trips.
Not all smart cruise control systems are the same. Some of work at all speeds, while others only work above a specific limit. Some systems can bring you to a complete stop in traffic and then restart without you needing to touch a pedal.
You can find adaptive cruise control on cars as cheap as $18,500 like the Toyota Corolla, and as an option on many cars below $30,000. Even on pricier cars you may need a higher trim level or special package to get this feature.