2018 Lexus LC 500h Review
The 2018 Lexus LC 500h is a stunning, luxurious coupe that demands attention. While I longed for a V8 in the LS 500, the LC 500h's V6 hybrid system delivers zippy acceleration and a futuristic electric whirr that fulfills the audible connection to speed.
With a futuristic look, pep and a luxurious interior, the LC 500h is a coupe that is designed to go the distance. It's a beautiful eye-catching car that is still comfortable enough to take on long trips.
Is the Lexus LC 500h a Good Luxury Coupe?
There are still times I missed the roar of the V8 powered LC 500, and I still miss the raucous crack when downshifting, but there isn't too much you trade-off to go for the hybrid option, and you end up with vastly better fuel economy.
Ultimately the infotainment system drags down the entire experience. Where the car looks pulled from a sci-fi novel and the hybrid whirr as you accelerate conjures visions of the future, Lexus Enform suite is clunky and frustrating to use thanks to a Remote Touch trackpad. You also miss out on support for Apple CarPlay and Android Auto.
If you want unbridled power in a Lexus, you'll still want to look at the Lexus RC F or take aim at the upcoming LC F, but for buyers looking for a good mix of power, luxury and design – the LC 500h is available now starting at $96,510.
[letsreview]
2018 Lexus LC 500h Performance
Where the LC 500's V8 is loud and snarlish at points the V6 hybrid system i the LC 500h delivers a futuristic whirr as you accelerate. I miss the almost obnoxious bark of a downshift in the V8 powered version, but ultimately the hybrid system pleases in its own ways. The 3.5L V6 and multi-stage hybrid system delivers 354 horsepower.
While it is fun to drive and decently quick, the LC 500h 0-60 time is 4.7 seconds according to Lexus, it's a heavier car that isn't going to match up completely with the competition. If speed is the most important factor, hold off for the LC F.
Choose from Eco, Comfort, Normal, Custom, Sport and Sport+ driving modes to match your mood, the trip and road conditions. The toggle switch makes it easy to swap between modes and you'll notice changes to the suspension, steering and shift points.
The 10 speed automatic transmission can occasionally feel crowded with shifts as you race up to 60, but you can use the paddle shifters in manual mode for more control.
Handling is good, and steering feels nice. This is likely in part due to the inclusion of the rear steering system that helps with maneuverability at lower speeds and stability at higher speeds. The brakes are powerful, pulling you to a stop quickly when you need them.
You can expect 26 mpg city, 35 mpg highway and a combined 30 mpg. This is a nice bump up from the V8 LC 500 if you are concerned about fuel economy.
Having driven both the LC 500 and the LC 500h, I'd opt for the cheaper, louder and more powerful LC 500 over the LC 500 h.
2018 Lexus LC 500h Interior & Design
The Lexus LC 500h design is aggressive, futuristic and stunning. It's a car that draws looks and even comments from people as you drive past them.
With a bold grille, dominating lines and a wider rear end the LC 500h looks more like a concept car than something you'd find on your local roads.
The attention to detail results in a car that toes the line of aggressive design without going too far for the capabilities that it packs under the hood. After all, this is as much about a comfortable and luxurious ride as it is about the eye-catching looks.
Inside Lexus isn't cutting comfort to make-weight like you'll find in a sports car. You'll find a driver focused cockpit inside, and if you opt for the $5,960 Performance Package you'll get Alcantara seats and headliners along with the beautiful Carbon Fiber roof and other upgrades like the active spoiler and active rear steering.
This is a coupe with four seats, but the back seat is really only for storage, as you're not going to fit an adult in there, and even a child is going to feel cramped. You can fit carry on luggage there if you need to stash a set of golf clubs in the small trunk.
2018 Lexus LC 500h Tech
Lexus' 12.3-inch screen is easy to read and I love the ability to put two different sets of data up on it at the same time, but ultimately the Lexus Enform system is frustrating to use.
You cannot touch the screen to control anything. Instead you need to use the Remote Touch system. This is a trackpad that is down on the center console. Even with the addition of dedicated buttons for some common features it's not intuitive.
Lexus is adding Apple CarPlay to the 2019 Lexus ES, but the LC 50oh is out of luck. That means the most smartphone integration you will get is Siri Eyes Free support, and ultimately you miss out on easily using your smartphone's apps, messaging and navigation on the beautiful screen.
The upgraded Mark Levinson sound system is amazing, delivering crisp clear vocals, great bass and car filling sound. The Bluetooth system for calls performs well, with callers that are easy to hear and decent audio quality for the person you are talking to.
I like the heads up display that shows important information above the dash, allowing me to remain focused on the road while staying informed.
2018 Lexus LC 500h Safety
The Lexus Safety System+ is standard on the LC 500h, which delivers several key features that help keep you safe and add driver convenience options.
This includes dynamic cruise control that allows you to set your speed and the distance to keep from the car in front of you, and then the car will adjust speed to keep you flowing with traffic without the need for constant fiddling with cruise settings. This system can even bring you to a complete stop at speeds below 24 mph and pick back up when traffic starts flowing.
With Blind Spot Monitoring you can change lanes and merge with more confidence, knowing when the lane is empty. The system also includes Lane Keep Assist to keep you in your lane with steering adjustments. This is not semi-autonomous driving, but it will help you avoid accidentally leaving your lane.
Drivers will also find smart high beams that turn on and off automatically based on traffic. There is a pre-collision system with pedestrian detection that can apply brakes to prevent a crash if it detects a car or person in the way. You'll also find parking sensors and a backup camera system.
You Need These 10 Must Have Car Features: Find Out Why
Smart Cruise Control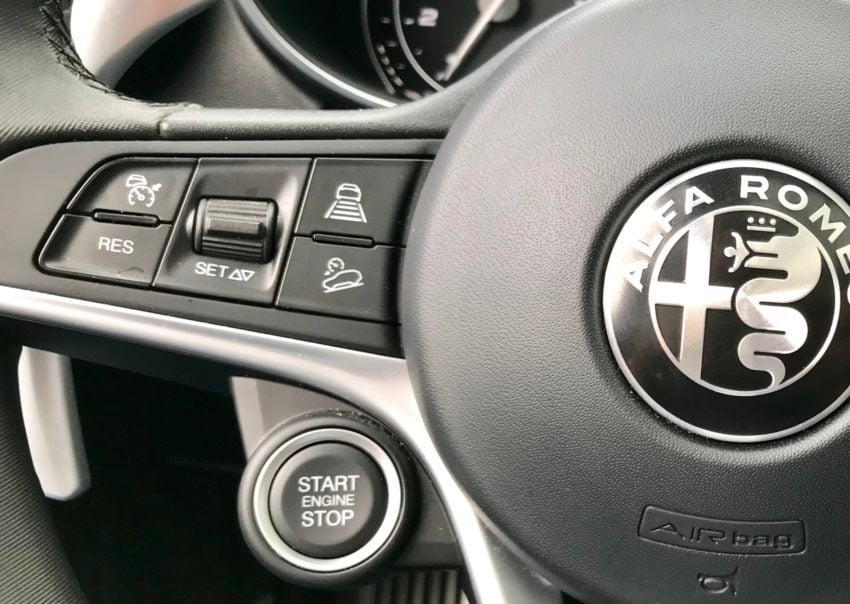 Do you hate constantly adjusting your cruise control, or giving up on cruise control because of traffic or due to a driver in front of you who keeps changing speed? You need a smart cruise control system.
Smart cruise control goes by many different names. You may see it listed as Radar Cruise, Adaptive Cruise or Intelligent Cruise control. Whatever it is called, it will allow you to set your cruise control and then stay with the flow of slower traffic.
Here's why we love it and why you need it. You get on the highway and set the cruise at 76 miles per hour. You also set the distance you want kept between you and the car in front of you. There are typically three or four settings so you can be close or keep a lot of space. Now you simply steer and your car will go 76 mile per hour when traffic allows it or there is no one in front of you. When someone is in front of you going 73 mph, the car automatically slows down to keep you the distance you choose from that car. This is indispensable in traffic and on long road trips.
Not all smart cruise control systems are the same. Some of work at all speeds, while others only work above a specific limit. Some systems can bring you to a complete stop in traffic and then restart without you needing to touch a pedal.
You can find adaptive cruise control on cars as cheap as $18,500 like the Toyota Corolla, and as an option on many cars below $30,000. Even on pricier cars you may need a higher trim level or special package to get this feature.