The 2018 Lexus NX is a bold compact luxury SUV with performance to back up the style. It is a perfect fit for buyers that want something smaller than the Lexus RX without sacrificing much more than cargo room.
Available in the standard NX 300 trim level which is very well equipped, as the Lexus NX 300h as a hybrid and in a performance version with the Lexus NX 300 F-Sport, there are options to fit the needs of a wide range of drivers and situations.
Is the 2018 Lexus NX a Good SUV?
The 2018 Lexux NX is a good compact luxury SUV with great styling, good handling and performance and a lot of standard safety and convenience features.
Inside, the compact SUV is luxurious, but you give up some backseat space and cargo room from the Lexus RX.
One major drawback is the infotainment system. While it is updated for 2018 with a larger screen and touchpad, it's still frustrating to use while driving. There is also no support for Apple CarPlay or Android Auto.
Helping the case is the Lexus NX's track record of reliability and good resale value.
Buyers should consider cross shopping the 2019 Acura RDX, Volvo XC60 and Infiniti QX50.
[letsreview]
2018 Lexus NX: What's New
The Lexus NX 200t is now the Lexus NX 300, but overall this is the same vehicle under the hood. The interior and exterior are both updated from the NX 200t that it replaces. New for 2018 is the Lexus Safety System+ standard and a bigger infotainment screen and Remote Touch Control. If you opt for the F-Sport, you can add on adaptive suspension dampers.
2018 Lexus NX Tested
I tested the 2018 Lexus NX 300 all-wheel drive with the Cold Weather Package, upgraded rear view mirror, Navigation Package with upgraded 10 speaker premium sound and the Premium Package that upgrades to 18″ wheels, heated and cooled front seats, LED daytime running lights, Blind Spot monitoring, and other upgrades. The 2018 Lexus NX retails for $44,920 as tested.
Driving the 2018 Lexus NX 300
The Lexus NX 300 handles nicely and is focused on delivering a comfortable, composed drive in the standard configuration. There's enough power on tap that you never feel sluggish or want for quicker acceleration to merge into traffic.
It's not a super engaging drive, but you can upgrade to a sportier version if you pick the Lexus NX 300 F Sport with adaptive variable suspension and a bolder exterior look as well. The BMW X3 offers a more engaging drive if that is a high priority.
I like that the 2018 Lexus NX doesn't try to be too many things at once. It excels at being a good compact SUV that absorbs road bumps and keeps most of the road noise at bay while you get around town and hit the highway.
The 2018 Lexus NX is rated for 22 MPG city, 28 MPG highway and a combined 24 MPG. If you need better fuel economy, look at the NX 300h, which delivers an estimated 33 MPG city, 30 MPG highway and 31 MPG combined.
2018 Lexus NX 300 Design
The new look of the 2018 Lexus NX is bold. The front end stands out with a very pronounced nose. This definitely falls into a love it or hate it style. While I love the grille, the nose ends up more pronounced than I'd like. That said, the look as a whole works very well and the rest of the design comes together nicely.
Inside the bold style continues, and it's accentuated by high-quality materials throughout the cabin. The NX looks and feels like a higher end vehicle than you'd expect at this price and as an entry-level model.
For my needs and uses, the Lexus NX is just the right size despite the more compact size. Even with a smaller overall size, you can still seat five in the Lexus NX. The back seat offers enough legroom for most passengers without cramping the front row.
Cargo area is limited compared to other compact SUVs and is closer to what you would find on a subcompact SUV. With the rear seats folded down, you get a decent amount of cargo space.
If you opt for the power liftgate with kick sensor, you can wave your foot under the rear bumper to open it when your hands are full.
2018 Lexus NX 300 Tech & Safety
Lexus upgrades the infotainment system for 2018 with an 8-inch screen, up from a 7-inch, and a larger Remote Touch Controller. The screen is easy to read and I like the ability to put two different sections of information on it side-by-side.
Using the trackpad control instead of a touchscreen isn't the best while driving with the Lexus software. There is also no support for Apple CarPlay or Android Auto, which is a notable omission in 2018. Lexus is bringing CarPlay to the 2019 Lexus ES, but there is no promise of upgrades for older models.
It's easy to pair Bluetooth and call quality is above average. The 10 speaker premium sound system sounds good, though not to the level of what you'll find in the RDX or the Volvo XC60.
With the new Lexus Safety System+ standard on the 2018 NX, you'll find a very useful set of safety features on all models. These include;
Pre-Collision System with Pedestrian Detection
All Speed Dynamic Radar Cruise Control
Lane Departure Alert w/ Steering Assist
Intelligent High Beam Headlights
Lexus' dynamic cruise control works very well and reduces driver fatigue on longer trips. It's great to see it as a standard feature alongside these other safety features.
If you opt for the Premium Package you get blind spot monitoring in addition to other upgrades. This is a handy feature, but not as essential on a smaller SUV like this as on bigger models. It's still a feature that I appreciate and that works well. If you can afford the $3,720 premium package it's a nice addition.
You Need These 10 Must Have Car Features: Find Out Why
Smart Cruise Control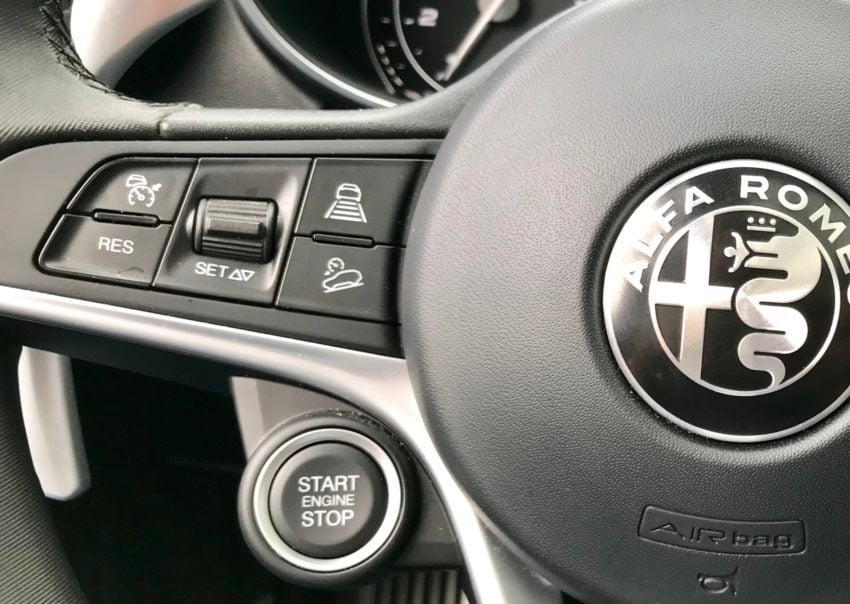 Do you hate constantly adjusting your cruise control, or giving up on cruise control because of traffic or due to a driver in front of you who keeps changing speed? You need a smart cruise control system.
Smart cruise control goes by many different names. You may see it listed as Radar Cruise, Adaptive Cruise or Intelligent Cruise control. Whatever it is called, it will allow you to set your cruise control and then stay with the flow of slower traffic.
Here's why we love it and why you need it. You get on the highway and set the cruise at 76 miles per hour. You also set the distance you want kept between you and the car in front of you. There are typically three or four settings so you can be close or keep a lot of space. Now you simply steer and your car will go 76 mile per hour when traffic allows it or there is no one in front of you. When someone is in front of you going 73 mph, the car automatically slows down to keep you the distance you choose from that car. This is indispensable in traffic and on long road trips.
Not all smart cruise control systems are the same. Some of work at all speeds, while others only work above a specific limit. Some systems can bring you to a complete stop in traffic and then restart without you needing to touch a pedal.
You can find adaptive cruise control on cars as cheap as $18,500 like the Toyota Corolla, and as an option on many cars below $30,000. Even on pricier cars you may need a higher trim level or special package to get this feature.