2018 Toyota Camry Hybrid Review
The 2018 Toyota Camry Hybrid is an impressive hybrid car that delivers over 50 miles per gallon, modern looks, a good selection of safety features standard and a modern design.
I tested the 2018 Toyota Camry Hybrid XLE, which is the top trim level for the Camry Hybrid. It's not as bold as the 2018 Toyota Camry XSE, but it's definitely the more practical choice for anyone with a long commute or a penchant for lengthy road trips.
The 2018 Camry Hybrid XLE starts at $32,400 and is $37,363 as tested with the Driver Assistance Package, Moonroof, Audio package and other options.
Is the 2018 Toyota Camry Hybrid a Good Car?
The 2018 Camry Hybrid is a good car, even though it doesn't include support for Apple CarPlay or Android Auto. The Toyota Camry Hybrid drives nicely and there's no sluggish response to accelerate like on the Ford Fusion Hybrid.
Toyota's Hybrid and gasoline only Camry models for 2018 both deliver everything you need in a daily driver, and a little bit more. The Camry XSE is a better fit for me personally with a bolder design, but if you're torn between the two models you can't go wrong.
[letsreview]
What's New for 2018
Toyota delivers a new design for the 2018 Camry. This includes a longer wheelbase, new exterior styling and changes to the rear suspension.
Depending on the trim level you choose, there are also different styles. If you want a sportier looking Toyota Camry Hybrid, look at the Camry Hybrid SE Trim level, but that is a lower trim level that doesn't include as many tech and safety options.
2018 Toyota Camry Hybrid Tech
While I like how the Camry handles and drives better than the Ford Fusion Hybrid, it's behind the competition when it comes to technology.
Toyota is slowly rolling out Apple CarPlay to select models, but isn't touching Android Auto. On the 2018 Camry Hybrid, you cannot use CarPlay or Android Auto.
You are left with Entune 3.0, which is Toyota's infotainment system and the GPS Scout Link system that uses your phone as part of a navigation system. This is better than a built-in system since you get up to fate maps without buying SD cards or subscriptions.
For entertainment, you can pair your phone to stream music and make calls over Bluetooth. You can also plug in the phone with a USB connection. The Entune system is easy to learn how to use and the touch screen is responsive and controls are accessible while driving.
The XLE trim level includes three USB ports for charging, one at 1.5A and two at a faster 2.5A, which will keep your phone charged even while under heavy use. The optional Qi wireless charger up front makes it easy for the driver to toss the phone down and charge.
On the XLE model you get an impressive 10-inch color heads up display. This is easy to see, and easy to use while you are driving.
With the Remote Connect app you can remote start your Camry, check fuel, monitor a teen driver and find your car's location. You can also use your Camry as a Verizon powered hotspot to keep passengers connected on road trips.
2018 Toyota Camry Hybrid Safety
Toyota packs in a lot of standard safety features across all of the 2018 Camry Hybrid trim levels. You'll get more features on the XLE, and can add to them with the Driver Assist option. The LED headlights on the XLE trim level do a good job of illuminating the road.
With Toyota Safety Sense, the Camry Hyrbid includes;
Pre-collision system with Pedestrian Detection
Lane Departure Alert with Steering Assist
Automatic High Beams
Dynamic Radar Cruise Control
On the XLE trim level you get a Blind Spot Monitor system with rear cross traffic alert, and it is an option on the lower trim levels. This performs very well and it helps with merging and lane changes on the highway. The rear cross traffic alert is an excellent feature when backing out of a spot in a busy parking lot.
A backup camera is standard, but with the Driver Assist package it is replaced with a 360 degree bird's eye view camera that you should invest in if you need to deal with tight parking spaces daily.
2018 Toyota Camry Hybrid Performance
The 2018 Camry Hybrid is rated at 51 mpg city and 53 mpg highway on the LE model, but with the SE and with the XLE trim level tested this drops to 44 mpg city and 47 mpg highway. Expect a combined 46 mpg with the 208 Camry Hybrid XLE.
Toyota delivers an above average driving experience with swift acceleration off the line at stop signs, plenty of power to merge onto the highway and a smooth shifting continuously variable transmission. You can switch between Eco, Normal, Sport and EV driving modes for subtle changes to the driving characteristics.
The Hybrid Camry XLE is quieter than the standard Camry. The suspension does a very good job of soaking up the bumps and road issues. Handling is improved from older models with a more connected feel and steering is more responsive at highway speeds.
One big thing to pay attention to as you test drive the Camry Hybrid is the brakes. The brakes are more grabby than on the gasoline online model. This takes some adjusting, but it's far from a deal breaker.
2018 Toyota Camry Hybrid Interior & Design
The redesign pays off with a higher end look that looks closer to the Lexus than to a Camry of years past. The roofline, sleek body lines and subtle changes elevate the Camry Hybrid style. Unfortunately the front grill on the LE and XLE just doesn't mesh well with the rest of the design. The SE trim level looks better, but you miss out on some options and features if you go with that body style.
Toyota includes a blue accent around the logo on the rear and hybrid badging, but overall this is a hybrid that doesn't scream, "Look at me, I'm a hybrid."
The 2018 Camry Hybrid XLE is roomy and this year you don't lose any trunk space by going with a hybrid. You can even fold the rear seats to add more cargo hauling capability when you need it.
Five adults fit in the Camry Hybrid, though the middle rear seat isn't something you'll want to put an adult on for any long road trips.
Toyota did a great job of adding class to the interior of the XLE with comfortable and beautiful looking leather seats that could just as easily be in an entry-level luxury sedan. There are soft touch materials throughout the cabin, and a faux wood trim that fits the style. While you will find hard plastic in the cabin it's hidden well.
You Need These 10 Must Have Car Features: Find Out Why
Smart Cruise Control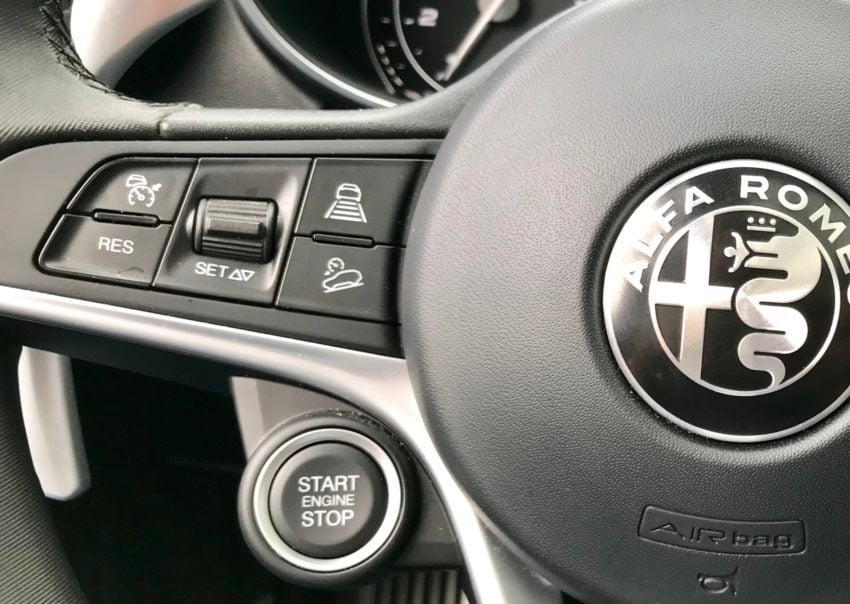 Do you hate constantly adjusting your cruise control, or giving up on cruise control because of traffic or due to a driver in front of you who keeps changing speed? You need a smart cruise control system.
Smart cruise control goes by many different names. You may see it listed as Radar Cruise, Adaptive Cruise or Intelligent Cruise control. Whatever it is called, it will allow you to set your cruise control and then stay with the flow of slower traffic.
Here's why we love it and why you need it. You get on the highway and set the cruise at 76 miles per hour. You also set the distance you want kept between you and the car in front of you. There are typically three or four settings so you can be close or keep a lot of space. Now you simply steer and your car will go 76 mile per hour when traffic allows it or there is no one in front of you. When someone is in front of you going 73 mph, the car automatically slows down to keep you the distance you choose from that car. This is indispensable in traffic and on long road trips.
Not all smart cruise control systems are the same. Some of work at all speeds, while others only work above a specific limit. Some systems can bring you to a complete stop in traffic and then restart without you needing to touch a pedal.
You can find adaptive cruise control on cars as cheap as $18,500 like the Toyota Corolla, and as an option on many cars below $30,000. Even on pricier cars you may need a higher trim level or special package to get this feature.