2019 Ford Ranger: 8 Things To Know in 2018
The 2019 Ford Ranger marks the return of the midsize pickup to the U.S. market. Shoppers looking for a smaller pickup than the 2018 Ford F-150 may want to wait for this new Ford pickup.
Sold for years in other countries, Ford is finally brining the Ranger back to the U.S. and it is being produced in Michigan.
Before you buy the Ford F-150 or opt for the Nissan Frontier or Toyota Tacoma, this is what you need to know about the 2019 Ford Ranger.
What is the 2019 Ford Ranger
The 2019 Ford Ranger is a midsize pickup that is making a comeback in the U.S. after a lengthy period of sitting out. Ford stopped selling the Ranger in 2011 in the U.S., but continued to sell versions internationally.
Ford announced the new Ranger in 2017, and now we finally have a good look at the 2019 U.S. Ranger.
Although not as small as the original Ranger, this mid-size pickup is much smaller than the Ford F-150.
2019 Ford Ranger Specs
The 2019 Ford Ranger specs and horsepower are still mostly under wraps, but we do know some of the details. We should learn about the 2019 Ranger horsepower and fuel economy in the near future.
Ford is packing the 2.3L EcoBoost engine in the Ranger with a twin scroll turbocharger and 16 valve design.
"Ranger's proven 2.3-liter EcoBoost provides a torque target on par with competing V6 engines, but with the efficiency of a four-cylinder," said Hau Thai-Tang, Ford executive vice president, Product Development and Purchasing. "When you pair that with its 10-speed transmission, you've got one of the most versatile, powerful and efficient powertrains in the segment."
Expect to learn more about the 2019 Ford Ranger towing, fuel economy and horsepower later this year.
Ford Ranger Trim & Packages
There are three 2019 Ranger trim levels, two cab configurations and multiple appearance and off road packages.
2019 Ford Ranger XL
2019 Ford Ranger XLT
2019 Ford Ranger Lariat
The new Ranger available in SuperCab or SuperCrew cab versions. The Ranger SuperCab comes with a 6-foot carbo box and the SuperCrew with a 5-foot cargo box. Buyers can choose from Chrome and Sport appearance packages and a FX Off Road package.
2019 Ford Ranger Off Road Specs & Capabilities
Overall Ford is making the 2019 Ranger to handle off road driving. Ford did not share exact specs, but states the Ranger prioritizes ground clearance to help clear obstacles.
If you opt for the FX4 Off Road Package you get off road shocks, all terrain tires, frame-mounted heavy-gauge steel front bash plate, frame-mounted skid plates and FX4 badges.
Ford includes a new Terrain Management System that is similar to the one we tested in the Raptor. This system can switch between normal; grass, gravel and snow; mud and ruts; and sand on the fly to change the throttle responsiveness and the traction.
You'll also find the all-new Trail Control technology that controls the acceleration and braking to each wheel to deliver better control and allow you to focus on steering. This is essentially off-road cruise control and it's a feature we are looking forward to testing.

















2019 Ford Ranger Release Date
The 2019 Ford Ranger release date is not confirmed for a specific date, but production starts later this year. With that in mind we should see the 2019 Ranger arrive in dealers in late 2018.
2019 Ford Ranger Price
Ford did not announce or even hint at the 2019 Ford Ranger price, but you can expect it to be in line with other mid-size pickups. With this in mind it would make sense to see the 2019 Ford Ranger XL start around $25,000 to $27,000 and to see higher trim levels go up to above $40,000.
2019 Ford Ranger Tech
The new Ford Ranger includes a lot of tech features that drivers will appreciate on and off road. You get standard Automatic Emergency Braking, while Lane Keeping Assist, Lane Departure Warning and a Reverse Sensing System.
Like the F-150, the Blind Spot Information System covers the Ranger and the trailer you are hauling. This is standard on XLT and Lariat trim levels. The Lariat trim level also includes Pedestrian Detection and Adaptive Cruise Control.
Sync 3 is the center of your infotainment system in the 2019 Ranger, with support for Apple CarPlay and Android Auto. You also get Alexa in the car and an optional FordPass Connect 4G LTE connection that can connect up to 10 devices.
Available AC power can keep your laptop or other devices powered and the B&O sound system should keep you entertained on the road.
2019 Ford Ranger Raptor
There is no 2019 Ford Ranger Raptor. Ford is not commenting on future products, but we did learn that the Raptor FX4 off road package is even more capable than what's in a F-150 FX4, so off road enthusiasts will want to pay attention to that trim level instead of hoping for a Raptor.
You Need These 10 Must Have Car Features: Find Out Why
Smart Cruise Control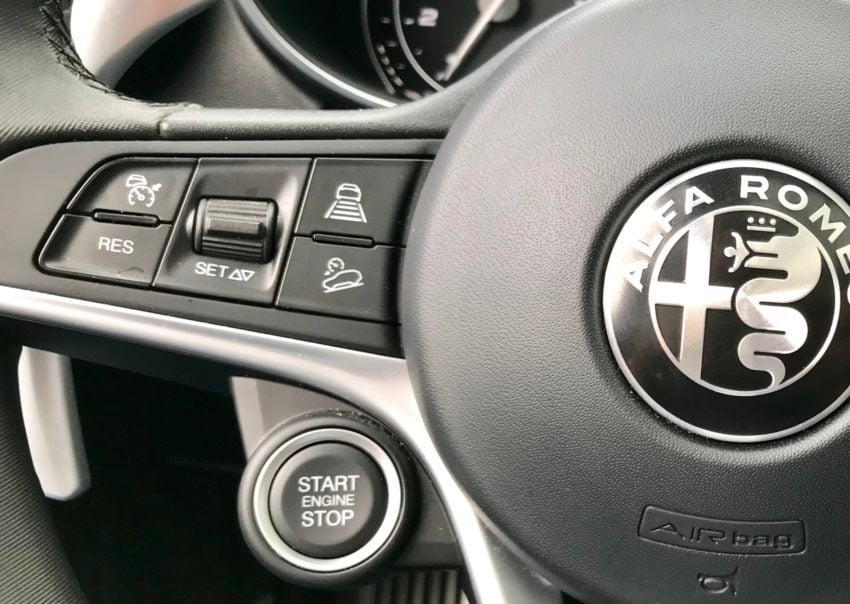 Do you hate constantly adjusting your cruise control, or giving up on cruise control because of traffic or due to a driver in front of you who keeps changing speed? You need a smart cruise control system.
Smart cruise control goes by many different names. You may see it listed as Radar Cruise, Adaptive Cruise or Intelligent Cruise control. Whatever it is called, it will allow you to set your cruise control and then stay with the flow of slower traffic.
Here's why we love it and why you need it. You get on the highway and set the cruise at 76 miles per hour. You also set the distance you want kept between you and the car in front of you. There are typically three or four settings so you can be close or keep a lot of space. Now you simply steer and your car will go 76 mile per hour when traffic allows it or there is no one in front of you. When someone is in front of you going 73 mph, the car automatically slows down to keep you the distance you choose from that car. This is indispensable in traffic and on long road trips.
Not all smart cruise control systems are the same. Some of work at all speeds, while others only work above a specific limit. Some systems can bring you to a complete stop in traffic and then restart without you needing to touch a pedal.
You can find adaptive cruise control on cars as cheap as $18,500 like the Toyota Corolla, and as an option on many cars below $30,000. Even on pricier cars you may need a higher trim level or special package to get this feature.