3 Reasons to Pre-Order NBA 2K20 & 5 Reasons to Wait
The NBA 2K20 release date is getting close and retailers are still taking pre-orders ahead of its arrival. And while some of you might want to buy the game today, others are better off waiting a few more days, or in some cases, until sometime after the game's release date.
It took awhile, but 2K Games and Visual Concepts finally announced the next entry of the long-running NBA 2K series.
NBA 2K20 is official and the game is headed to Xbox One, PlayStation 4, Windows PC, and Nintendo Switch on September 6th. The game is also heading to Google Stadia when the service launches in November.
Retailers like GameStop and Best Buy are currently selling three versions of the game. There's the standard edition which retails for the usual $60.
For $20 more you might opt for the Digital Deluxe Edition which comes with some bonus items that could come in handy during your play through.
There's also a $100 Legend Edition that features Dwyane Wade on the cover and comes with more bonuses than the Digital Deluxe Edition. If you're a hardcore 2K player, it's worth a look.
With the game's editions now set and the release date on the horizon, some of you might be thinking about putting in a pre-order this week.
There are some great reasons to pre-order a copy of NBA 2K20. Pre-ordering nets you some nice bonuses. There's also a nice deal from Best Buy that's exclusive to those that pre-order.
On the other hand, there are some reasons to think about waiting. You might want to wait until you try the free NBA 2K20 demo. We'll also have to wait a few more days for critical feedback about this version of 2K.
In this guide we'll take you through the best reasons to buy a copy of NBA 2K20 right now and the best reasons to put your wallet away and wait.
Pre-Order NBA 2K20 for These Bonuses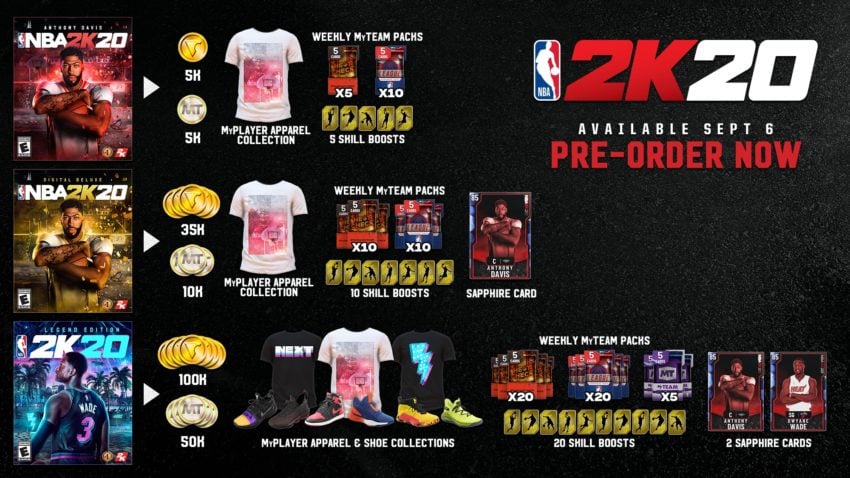 If you plan to invest quite a bit of time into some of NBA 2K20's game modes, you might want to pre-order a copy for the bonuses.
If you pre-order a copy of the standard version of the game, you'll get some nice bonuses with your copy in September.
These include:



5,000 Virtual Currency;
5,000 MyTEAM Points;
5 MyCAREER Skill Boosts;
MyPLAYER Clothing Capsule;
10 MyTEAM League packs (delivered one per week);
5 Heat Check packs (delivered one per week beginning at the start of the NBA season).
Those are all free with a pre-order and they'll give you a pretty good head start in the NBA 2K20's popular game modes.