4 Reasons Not to Install Galaxy S10 Android 10 & 12 Reasons You Should
Install Android 10 If You Use Device Care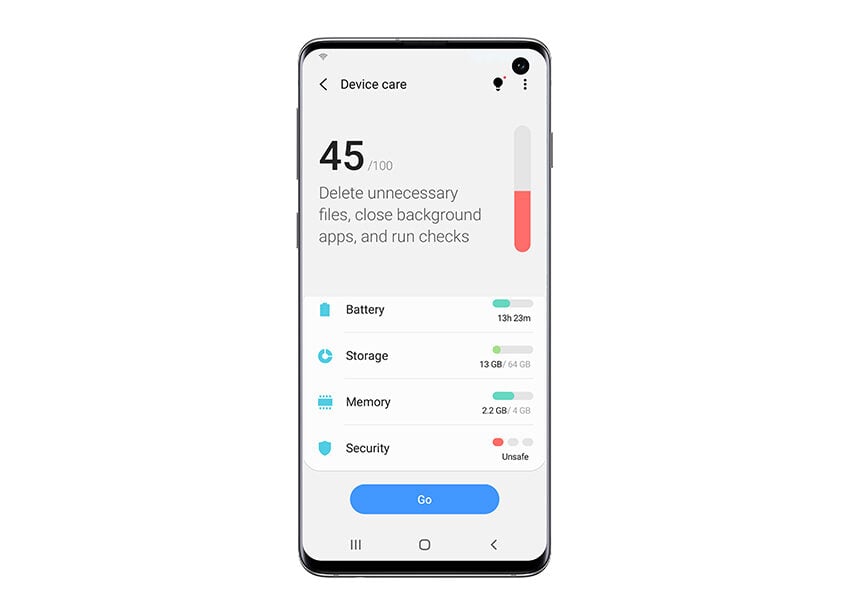 Device Care, formerly known as Device Maintenance, also gets some upgrades in Android 10.
Android 10/One UI 2.0 bring a nice makeover to Device Care. When you open it up, you'll now see a nice vertical list of the feature's four main categories which include Battery, Memory, Security, and Storage. You'll still see the score showing your phone's optimization at the top.
There's also a dedicated button located at the top of the Device Care section which gives you some tips that could help you improve your Galaxy S10's performance.
You'll also notice that the battery usage graph now provides more detailed information.
Samsung's also added a battery limit-setting and several other enhancements for the Galaxy S10's Wireless PowerShare.
If you're unfamiliar, Wireless PowerShare is the feature that allows you to use your Galaxy S10 to charge other devices.
With Android 10, you're now able to set the battery percentage your phone can drop to before it stops charging other devices. You can set it anywhere between 30%-90%.

As an Amazon Associate I earn from qualifying purchases.