5 Reasons Not to Install iOS 12.4 Beta & 3 Reasons You Should
Apple's iOS 12.4 beta gives developers and average users a chance to try the next version of iOS 12 before it officially arrives. Trying the iOS 12.4 beta might be tempting, but most iPhone, iPad, and iPod touch users are better off staying put on an official version of iOS.
The final version of iOS 12.4 will probably land sometime this summer. Apple hasn't confirmed a release date, but there's a good chance the update launches alongside Apple's new credit card, the Apple Card.
If you don't want to wait that long to try the new firmware, you don't have to. Apple's iOS 12.4 beta is live for developers and it'll become available to general public via Apple's Beta Software Program. The Beta Software Program is free and requires a working Apple ID.
There are some great reasons to move off iOS 12.3.1, iOS 12.3, iOS 12.2, iOS 12.1.4, iOS 12.1.3, iOS 12.1.2, iOS 12.1.1, iOS 12.1, iOS 12.0.1, iOS 12.0, or iOS 11 and try the iOS 12.4 beta on your device. There are also some great reasons to avoid it.
Trying pre-release iOS software can be exciting, but Apple's beta's are always plagued with bugs and performance issues and iOS 12.4 is no different.
If you rely on your iPhone or iPad to get you through the day, and you're having a great experience, you'll probably want to stay put on iOS 12.3.1 or whatever you're running right now.
If you're thinking about trying the iOS 12.4 beta today or sometime in the near future, and you're struggling with the decision, allow us to guide you.
In this walkthrough we'll take you through the best reasons to try the iOS 12.4 beta on an iPhone, iPad, or iPod touch. We'll also outline some of the best reasons to avoid iOS 12.4 beta.
It might not seem like it, but this will be a huge decision for some of you. If you're currently running a version of iOS 12 that falls between iOS 11.0-iOS 12.1.4 and you move to iOS 12.4 beta, you can't drop back down. You can only downgrade to iOS 12.3.1 or iOS 12.3.
Install the iOS 12.4 Beta to Help Improve iOS 12.4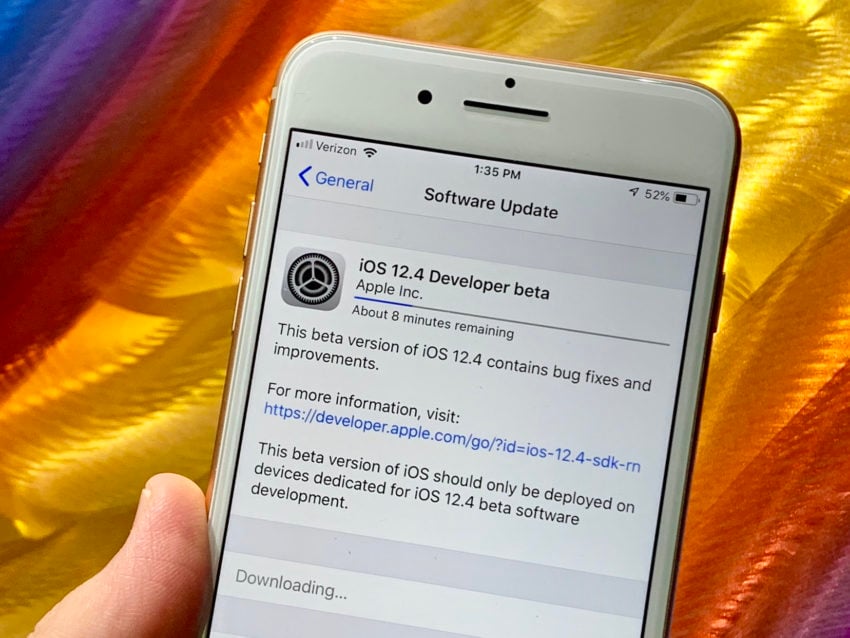 Your testing could help Apple improve the final version of iOS 12.4.
Using pre-release software on your device could lead to problems, but your testing could Apple squash bugs and deliver better all-around performance.
If you decide to download the beta and you find an issue on board, make sure you report it to Apple. This way, its engineers can get to work on a fix.
Apple will likely release several more betas before the official release and there's a chance your efforts will lead to a fix in a future release.
If you're sick and tired of dealing with iOS bugs and performance issues on your mobile devices, give the iOS 12.4 beta a try.