5 Reasons Not to Install Windows 10
The Windows 10 update is finally here and many Windows 7 and Windows 8 users are seeing an option to upgrade to the new version of Windows.
Unlike most Windows updates, the Windows 10 release is a free upgrade for most personal users that are currently on Windows 7, Windows 8 or Windows 8.1. The free option to upgrade to the latest and greatest version of Windows is tempting, but it is not an update that everyone should jump into right away.
Windows 10 solves a lot of Windows 8 problems, but it is not a walk in the park just yet. There are still upgrade problems and a lot of changes that users need to get used to in the upgrade.
Overall the Windows 10 update looks like it is exactly what we need from Microsoft to fix complaints about Windows 8 and deliver an upgrade that consumers want to install on their current computer or to buy a new computer. Still there are several important reasons you should not install the Windows 10 upgrade right away.
[contextly_sidebar id="H8N7LSCMNVx1JvhtAgiNuHhX9JABCMw8″]
You do not need to upgrade to Windows 10 now, and you only need to reserve your Windows 10 upgrade in the next year to make sure it is free. Here are the reasons you should not install Windows 10 yet.
Windows 10 Upgrade Problems
There are a lot of Windows 10 upgrade problems that are slowing down users who are trying to upgrade right of the bat. We often see similar issues when a new release arrives, and sometimes simply waiting a few days or a week can make all the difference.
https://twitter.com/zebrared/status/626782009076006912
Is there a graceful way to back out of the #Windows10 upgrade when it gets stuck 4 hours?

— SonaliRanade (@sonaliranade) July 30, 2015
https://twitter.com/csdeche/status/626666468223119360
If you are experiencing a long wait, cannot download Windows 10 even though you reserved it, see the Windows 10 Something Happened Error, are missing a Windows 10 key or any other issue, check out our fixes for these common Windows 10 upgrade problems.
You Aren't Ready for Windows 10
[contextly_sidebar id="m8Y9XRFzAilMdXTIChX48uyBrrNTynDJ"]If you just hear about Windows 10 and you are tempted to upgrade right this second, you should probably slow down.
Installing an upgrade is not difficult, but it does come with the chance for issues and if you are not ready these can range from annoying to devastating.
Make sure you back up Windows 7 or Windows 8 before you upgrade. If you don't at the very least back up your photos and documents, a problem could cause you to lose them. This is unlikely, but it is better to spend an evening backing up than it is to chance losing important or irreplaceable files.
Trying to upgrade to #Windows10. I'm stuck on the password page. Can't remember it, always used a fingerprint. It's not going well

— Mr. Shepard (@JShep33) July 30, 2015
You should also make sure that you know all of your important passwords. This is another area where you might run into a problem if you are not ready to upgrade.
You Use Your Computer for Work
If you use your computer for work and it is a company issued laptop you probably cannot update without approval from an IT department, so you should ask the right person for permission before you upgrade.
The same goes for a personal computer that you rely on for working from home occasionally.
Look! Something happened. Who knows what, though. #Windows10 pic.twitter.com/vaFtKJQCp6

— Rachel Appel (@RachelAppel) July 30, 2015
Checking with IT is important because some of the essential business apps might not work completely on Windows 10 yet, especially ones created in-house or that connect to old systems. Spending a day waiting for approval or a month waiting for testing is better than losing access to critical systems and data.
You Are Traveling
The Windows 10 upgrade takes a long time to complete and if you are downloading the update from Hotel or public WiFi it will likely take longer to arrive. Even after you download the upgrade, the installation process takes a very long time for many users.
I let my laptop upgrade to Windows 10 while I'm out here on the beach. It might be done or stuck at some step where I have to make a choice

— BΛÐ SΛRGΞ in NYC (@Sargene_) July 30, 2015
Couple this with the addition of new features and new ways to use the computer and it all adds up to stuff you don't need to deal with while you are traveling — especially if you are on vacation.
Windows 7 Isn't Going Anywhere Soon
The Windows 10 update is a free upgrade from Windows 7 and Windows 8. While Windows 7 is getting older, it is not losing support from Microsoft anytime soon.
Microsoft finally cut support for Windows XP last year, well after the Windows 7 update arrived. While the "mainstream" support for Windows 7 ended in January, the "extended" support will continue until 2020.
With five years of support for Windows 7 in one way or another and a free upgrade to Windows 10 as an option for a long time, there is no need to rush into an installation.
Windows 8 vs Windows 10: 10 Changes You Need to Know
Windows 8 vs Windows 10: Pricing & Updates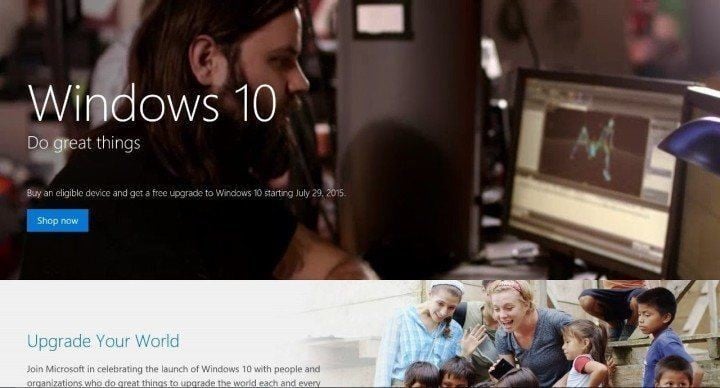 If you're running Windows 8 Home and Windows 8 Professional you'll get offered the Windows 10 update free of charge. It's up to you if you want to install the upgrade. If you decide to do the upgrade you'll have the opportunity to go back to Windows 8 for a solid month. You'll keep getting operating system updates on a regular basis too.
Windows 8 gave you the opportunity to pick what upgrades you wanted manually. Windows 10 doesn't, it'll upgrade itself and you can't be selective about what updates are installed. Microsoft is trying to keep Windows PCs secure. It's a welcome change from manual updates.

This article may contain affiliate links. Click here for more details.