5 Things to Know About the December Battlefield 1 Update (2017)
DICE's upcoming Battlefield 1 December update will deliver more than just fixes for lingering bugs and problems. It'll bring a ton of new content as well.
Slowly but surely we're starting to learn more about what DICE's got planned for Battlefield 1 in December and beyond.
The company recently confirmed plans to bring the Suez map to Frontlines in late November and it also confirmed new Turning Tides DLC details including the expansion's official release date.
Now the company is starting to talk about its next patch.
In this guide we'll take you through the most important things you need to know about the Battlefield 1 December update for your platform.
Our walkthrough goes through some of the potential changes, shows you how to try the content before it arrives, and takes you through the release date and time. Let's start with the update itself.
Bug Fixes
If everything holds up in testing, the patch should deliver quite a few bug fixes for Battlefield 1 problems plaguing all three platforms.
DICE's revealed a potential change log and it includes more than 10 bug fixes for the Xbox One, PlayStation 4, and Windows PC. The change log is subject to change based on testing, but here are some of the bug fixes that could make it on board the December update.
Fixed an issue where the gunner seats of the Y Lighters were not correctly displaying hitmarkers in ADS.
Fixed an issue where the soldier movement accelerations would not be corrected at different tickrates resulting in different accelerations at 30Hz, 60Hz and 120Hz.
Fixed an issue delaying the ability to fire the Mosin-Nagant M91 after throwing a grenade.
Fixed an issue where the gas cloud VFX would not be visible to players.
Fixed potential issue with hearing bayonet charge sound-state after cancelling a bayonet charge.
Fixed issues with 3P soldiers prone crawling sounds.
Fixed issues with not hearing an "incoming" sound from various shell rounds.
Fixed issues where unintended blur was being applied on certain maps while using ADS
Potential fix for the unintended increase in projectile deflection against certain vehicles
Fixed potential issue with hearing underwater SFX and mix-state when not in water.
Fixed M91 "scope wobble" after rechamber; realigned the iron sights.
Fixed an issue where stationary and airborne soldiers could potentially make footstep sounds.
Properly disabled scoring when one team wins.
It also looks like the December patch will finally deliver a fix for ADAD spam (spamming them makes you harder to hit). However, it appears that the update won't bring new time to kill changes.
Again, these are all subject to change, but this is what DICE's cooked up so far.
December Battlefield 1 Update Tweaks
The update should also deliver some tweaks to improve gameplay. Like the rest of the update, they're subject to change based on testing. Here are those changes:
Weapon Assignments will now display their progress as a percentage.
Advanced gameplay options – The player now can choose between hiding, always showing or making the network performance graph appear only when there are ongoing networking issues.
Infiltrator has both faction specific camo patterns and map specific camo colors for that hand painted feeling.
The MAS Torpedo Boat and Y Lighter Landing Craft no longer trigger AA gun detonation.
The MAS Torpedo Boat and Y Lighter Landing Craft can now self repair.
Made further improvements to the Snap on Zoom system to make it more subtle.
Adjusted the soldier accelerations to maintain the movements responsiveness after the tickrate correction.
Fixed bayonet sprint penalty on the Model1900 shotgun's bayonet which was lower than intended.
Improved spread and recoil decrease for the Model 1900 Shotgun.
Changed Dynamite to work properly in water. Covered in wax for waterproofing.
Spawn point reservation improvement when multiple players select the same spawn point simultaneously.
Vehicles will now remove nearby placed explosives such as AT Mines or Dynamite when they spawn.
Blocked swapping to an empty K bullet Martini Henry to fix an animation issue.
How to Try It Early
If you want to try these changes out ahead of the December update's release you can do via the Battlefield 1 CTE.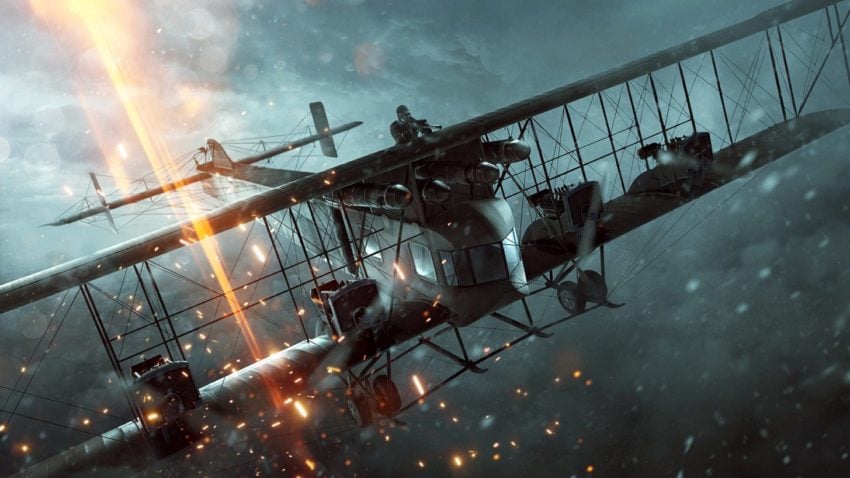 DICE's put the December update into public testing on the Windows PC, Xbox One, and PlayStation 4. If you're a member of the CTE you can try the update out on PC starting today.
DICE will push the update to Xbox One and PS4 owners just a day later on November 23rd.
Release Date & Release Time
The December update will likely roll out with Turning Tides which means you can expect it to arrive on December 11th, the Turning Tides release date for Premium Pass holders.
As for the release time, we expect DICE to follow protocol which means we'll most likely see servers go down the morning of December 11th.
If the company sticks to the usual downtime, we expect the release time to look something like this for Xbox One, PS4 and Windows PC:
PC: Multiplayer will be offline for 2h starting 08.00 UTC / 12.00 AM PT.
PS4: Multiplayer will be offline for 2h starting 10.00 UTC / 2.00 AM PT.
Xbox One: Multiplayer will be offline for 2h starting 12.00 UTC / 4.00 AM PT.
Turning Tides
DICE's December update is going to be a big one because it's almost certainly going to bring the first wave of Turning Tides content to Premium Pass holders.
We expect the update to be a mandatory download for all Battlefield 1 players, not just those who own the Premium Pass. We also expect it to be a massive download, several GB at least, thanks to Turning Tides.
We expect DICE to deploy the rest of Turning Tides' content in the January update. Content coming in January includes the Heligoland Bight map, Zeebrugge map, and the British Empire: Royal Marines faction.
For more on Turning Tides, take a look at our roundup below.
11 Things to Know About Battlefield 1 Turning Tides
Turning Tides North Sea Download Size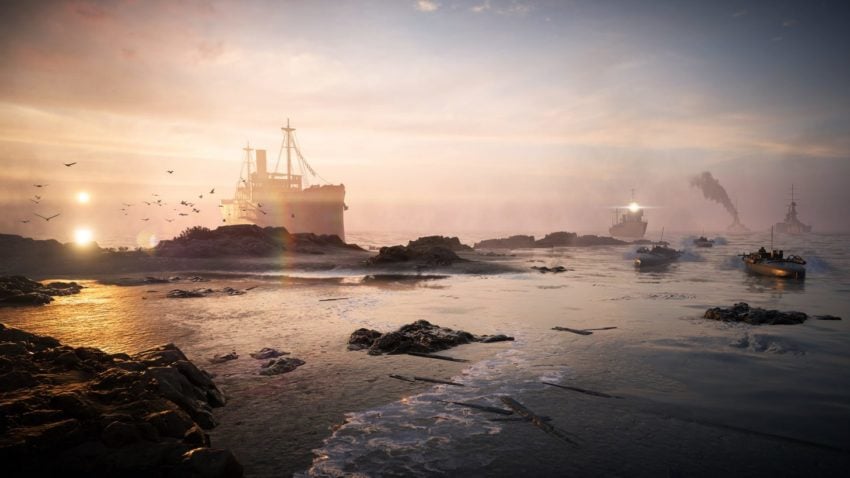 DICE's North Sea Turning Tides content has finally rolled out alongside the developer's January update. The January update, like the December update, is a big one for all consoles and all players.
If you plan on playing the game and Turning Tides North Sea you'll need to download a significant update to your console of choice. Here's what you can expect:

PS4: 6.5 GB
Xbox One: 6.9 GB
PC: 4.7 GB
Again, this Battlefield 1 update is a mandatory patch for all players, not just those who own the game's Premium Pass.

This article may contain affiliate links. Click here for more details.