New November Battlefield 1 Update: What You Need to Know
It won't deliver Turning Tides DLC content, but DICE's next Battlefield 1 update will bring a new map to the popular Frontlines game mode.
The first November Battlefield 1 patch rolled out with a nice list of changes including Operations Campaign which brings some new challenges to the Operations mode. The update also delivered bug fixes and balance tweaks.
DICE typically rolls out one Battlefield 1 update per month, but it looks like Xbox One, PS4 and Windows PC users will get a second update in late November.
The second November Battlefield 1 patch (Suez wasn't include in the previous November patch so we expect DICE to deploy a new update) might not come with a long list of changes, but it will bring the Suez map to Frontlines for the first time. The move comes after the map spent time in the Battlefield 1 CTE.
DICE's confirmed the Suez's release date for November 27th. That's the release for all three platforms and it could mean server down time on Sunday/Monday morning.
The release date is confirmed, but DICE still hasn't revealed a change log for the update so it's unclear if it will have additional changes on board when it rolls out.
The new map will be joined by a new Premium Trials event. This event will give non-Premium owners a chance to play DLC content for free.
DICE is running two Premium Trial periods. The first runs from November 22nd to December 4th while the second stretches from December 8th to December 10th.
These trials won't let you try the Turning Tides DLC, but they will let you play They Shall Not Pass and In the Name of the Tsar for free. They are the game's first two DLC expansions.
DICE's third Battlefield 1 DLC pack, Turning Tides, is confirmed for release on December 11th. This is the date for Premium Pass holders who get Turning Tides two weeks before everyone else.
While most of Turning Tides' content will arrive next month, some features won't. DICE's next release will extend into 2018. The Turning Tides features coming to players in January include:
New Map: Heligoland Bight
New Map: Zeebrugge
New Faction: British Empire: Royal Marines
New Vehicle: C-Class Airship
Battlefield 1's Turning Tides DLC will focus on World War I's amphibious combat and two major battles including the infamous Gallipoli Offensive.
For more on the DLC and its release, take a look at our roundup below.
11 Things to Know About Battlefield 1 Turning Tides
Turning Tides North Sea Download Size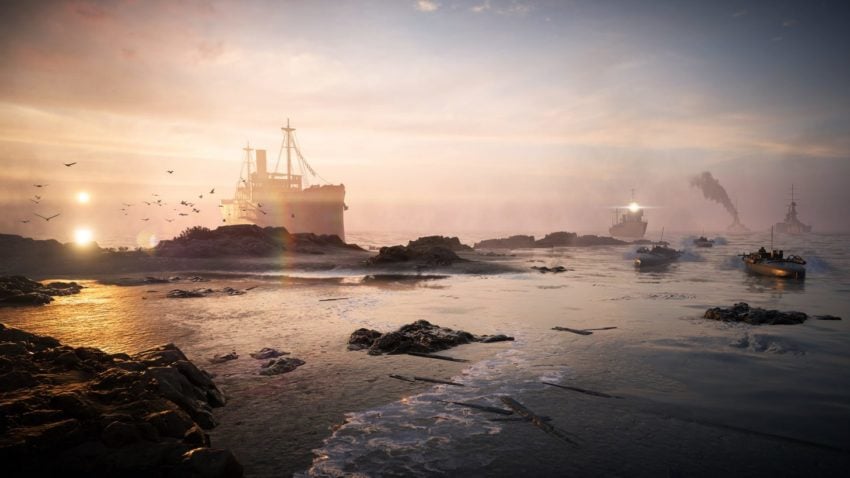 DICE's North Sea Turning Tides content has finally rolled out alongside the developer's January update. The January update, like the December update, is a big one for all consoles and all players.
If you plan on playing the game and Turning Tides North Sea you'll need to download a significant update to your console of choice. Here's what you can expect:

PS4: 6.5 GB
Xbox One: 6.9 GB
PC: 4.7 GB
Again, this Battlefield 1 update is a mandatory patch for all players, not just those who own the game's Premium Pass.

This article may contain affiliate links. Click here for more details.