5 Things to Know About the iOS 16.1 Update
Apple's confirmed a new iOS 16.1 update for iPhone and the software is currently in beta testing ahead of its official release later this year.
iOS 16.1 is a milestone upgrade and it will bring more than just bug fixes and security patches to iPhone users. It will deliver new features as well.
Apple hasn't confirmed the iOS 16.1 release date yet and it will be a few weeks before it touches down. If you don't want to wait for the stable release, you can try an early version of the software on your iPhone right now.
With iOS 16.1 in the works, we want to take you through everything there is to know about the next major iOS 16 update for iPhone.
In this walkthrough we'll take you through the iOS 16.1 update's known changes, what you can expect from the iOS 16.1 release date and release time, information about the iOS 16.1 beta, and more.
iOS 16.1 Beta
If you want to start using iOS 16.1 on your iPhone you can do so right now.
Apple's pushed the iOS 16.1 beta to developers which means those enrolled in the company's developer program can download a pre-release version of the firmware right now.
The company's also pushed the iOS 16.1 beta to those enrolled in the Beta Software Program. A developer account requires an annual fee while the Beta Software Program is free to anyone with a compatible device and working Apple ID.
Before you download the iOS 16.1 beta, note that pre-release software is typically always plagued with bugs and performance issues.
These issues could impact the performance of your core apps, your iPhone's battery life, and its overall speed which can make it tricky to use as a daily driver. For instance, the iOS 16.1 beta is currently breaking GPS on some iPhone 14 Pro models.
You should be able to fix some problems on your own, but some bugs and performance issues will probably require a fix from Apple down the road.
If you can't stand the iOS 16.1 beta's performance on your iPhone, you can downgrade back to iOS 16.0.2, iOS 16.0.1 (iPhone 14 only), iOS 16.0 or iOS 15.7. The downgrade path to older iOS firmware is closed.
Apple is currently on iOS 16.1 beta 3.
iOS 16.1 Release Date
Apple hasn't confirmed the iOS 16.1 release date but it should arrive sometime in October.
The company is planning to launch the first version of iPadOS, iPadOS 16.1, in October. It's also planning to release macOS Ventura for Mac in October. As of right now we expect iOS 16.1 to arrive alongside these updates though that hasn't been confirmed.
For more about the iOS 16.1 release date, check out our guide.
iOS 16.1 Release Time
We don't have an official iOS 16.1 release date yet, but we know exactly when Apple will roll the software out on the date it chooses.
The official version of iOS 16.1 will most likely arrive in and around 10AM Pacific. It sometimes takes a few minutes for iOS updates to show up so there's no need to worry if you don't see new software right away.
Apple will also release iOS 16.1 beta updates for developers, and those enrolled in the Beta Software Program, around 10AM Pacific as well. The company typically releases new betas every 1-2 weeks.
Keep this timeline in mind if you plan to install new iOS 16.1 betas, or the official version of iOS 16.1, right away.
iOS 16.1 Features
Apple's milestone updates (x.x) almost always bring new features, enhancements, security patches, and bug fixes to iPhone users and that's what you'll get from iOS 16.1.
Developers are digging through the iOS 16.1 beta and they've spotted a number of changes on board Apple's first milestone upgrade for iOS 16. Highlights include:
Battery Percentage Icon in Status Bar for iPhone 13 mini, iPhone 12 mini, iPhone 11, and iPhone XR
Redesigned battery indicator
Improved Screenshot UI
Ability to Delete the Wallet app
Clean Energy Charging
Charging indicator on the lock screen
Live Activities including live sports scores in Dynamic Island on iPhone 14 Pro models
New toggle in the App Store's settings that lets you pre-load an app's content
Various bug fixes
Apple could add to, or subtract, from the iOS 16.1 beta as testing progresses and we'll let you know if there are differences between the beta and the final release.
iOS 16.1 Jailbreak
If you still jailbreak, make sure you avoid the iOS 16.1 beta.
We don't expect developers to release a tool that's compatible with the iOS 16.1 beta. They haven't released one for the official version of iOS 15 or iOS 16 yet.
We'll let you know when we learn more.
4 Reasons Not to Install iOS 16.0.2 & 11 Reasons You Should
Install iOS 16.0.2 for Better Security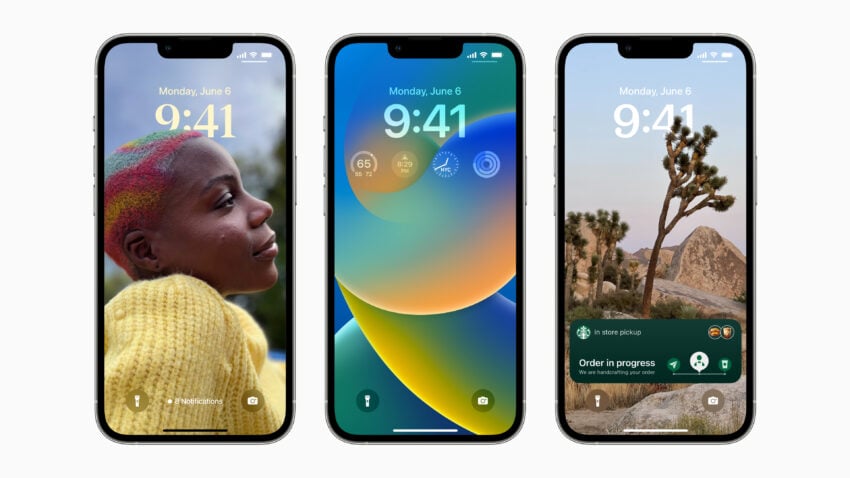 If security is important to you, and you're still lingering on iOS 15, think about installing Apple's iOS 16.0.2 update right away.
iOS 16.0.2 doesn't have any security patches on board, but if you're still running iOS 15 your iPhone, you'll get a bunch of new patches when you upgrade.
iOS 16.0 brought new security patches to the iPhone. If you're interested in the exact nature of these improvements, you can read about them over on Apple's security website.
If you skipped iOS 15.7, iOS 15.6.1, or any older versions of iOS, you'll get the security patches from those updates with your iOS 16 update as well.
In addition to those patches, iOS 16 brings some additional enhancements to privacy and security including Safety Check which, according to Apple, will help "people in domestic or intimate partner violence situations review and reset the access they've granted others."
The feature also resets system privacy permissions for apps and restricts Messages and FaceTime to the device on hand.
Apple's also made some improvements to Passkeys in Safari. iOS 16 brings a brand new sign-in method that's end-to-end encrypted and safe from phishing and data leaks.

As an Amazon Associate I earn from qualifying purchases.