50 Exciting Things You can Do with Alexa
The Amazon Echo, Amazon EchoDot and Amazon Tap let owners do hundreds of cool things using Alexa voice commands. Users can play music, listen to audio books, and get the news of the day to name a few popular ones. However, there are some lesser known Skills that may not jump to mind quickly. We looked at the long list of Skills and found the coolest 50 things you can do with Amazon your Echo, Tap or Dot. These also work on a newly updated Amazon Fire TV thanks to the voice feature in the remote control.
Read: Which Amazon Echo to Buy
Using the Built-in Alexa Skills
Amazon keeps adding new third-party skills as developers create them, but they're also adding built-in skills. These work for all Alexa users. Here's list of the most useful built-in Alexa skills.
Set Alarms or Sleep Timers– Tell Alexa to "set an alarm for tomorrow at 7:00 a.m." For a repeating alarm, say "Set a repeating alarm for weekdays at 7:00 a.m." You can also tell Echo to turn off after 30 minutes of listening to music or a book by saying, "Set a sleep time for 30 minutes or 45 minutes."
Find Movie Times – Ask Alexa "When is Star Wars: The Force Unleashed playing?" or "What movies are playing?"
Read Kind Books – Say "read my Kindle book" and it reads the open book on your Kindle. "Read Red Storm Rising" prompts Alexa to read that book from your library using the same text to speech technology from the Kindle eReader. This also works with Audible audio books.
Find Local Businesses or Restaurants – "Find me a nearby Mexican restaurant" calls up search results via Yelp. If you need to find it later, just open the Alexa app on your phone or tablet and look at the recent interactions in what Amazon calls "cards". The app shows reviews and further details. It also finds other business types.
Check Your Google Calendar – If you link your calendar in the Alexa app, you can have your device tell you what your appointments show for that day by saying Alexa, "what does May Day look like?"
Re-order Amazon Prime Items – If you regularly order things like toilet paper or bags of candy on Amazon Prime, tell Alexa "Order more Charmin" and it will place the order asking you for a voice code first.
Get Weather Conditions – Ask Alexa what the weather is like.
To find more, head over to the help page. Also, open the Alexa Cards and see all of your interactions with Alexa. Above, you'll see a screen shot of the website's detailed weather report.
How to Add Alexa Skills to Your Echo, Dot, Tap or Fire TV
Before using some of these Skills, the user will need to add them to their account so that the Skill works on their device. Open the Amazon Alexa app and tap on the menu button in the upper left corner of the app.
A menu slides in from the left side of the screen. Tap on Skills to open the Skills list. Each page lists ten Skills and the app shows over 60 pages of Skills. To narrow things down search the list of Skills using the search box at the top of the list. That's the best way to find the Skills listed below.
If you try out a Skill and don't like it, tap on Disable and that turns it off so that Alexa won't use it any more.
Please see: Amazon Tap Review
Amazon Alexa Skills for Echo, Tap, Dot and Fire TV
Find the complete list of current Alexa Skills at Amazon's website. If you're logged into your account, you can enable them from this page too.
Connect to Home or Car Automation with these services…
Stock Market Sensei – Get stock prices and find out what those stocks are doing that day.
ALOP Pilates Class – Guides users through a workout lasting 20-30 minutes long.
Ask Cloud Ninja – Do you use Amazon Web Services, then find news about the service from Cloud Ninja.
BoxOffice – Before going to see a movie, "ask Box Office what's the rating of Batman v. Superman" and it gives the BoxOffice rating for the film from 1 to 10.
The Pianist – If you "ask The Pianist for an A" it will play the note back. This is great for tuning an instrument. It also will offer a warm-up routine.
College Basketball Trivia – Play a game testing your college basketball knowledge.
Seinfeld Fan Trivia – Asks Seinfeld trivia questions by saying 'open Seinfeld Trivia"
Capital One – For customers of the bank just ask Alexa to "Open Capital One" or "Make a credit card payment" and it will pay your minimum payment. Also tells balance and recent transactions.
Quick Events – Connects to Google Calendar and lets users quick add events with voice commands like "Tell Quick Events to add Meet with John Lambert at 3:00 p.m. tomorrow".
MeatButler – If you "ask Meat Butler to help me prepare steak" it will give you the right temperature to cook the meat for sous vide or grilling to name a couple.
Package Tracker – The Sill will help you track shipments based on what it finds in your email inbox using services like Gmail, Yahoo, Exchange, iCloud and IMAP.
The Magic Door – An adventure game like those we used to play in the early days of computers. It includes three adventures – a forest, a garden and an ancient temple.
Area Code Lookup – Ask Area Code, "where is eight two eight" and it will tell you it's Northwestern North Carolina.
Bargain Buddy – Tells the user about daily deals from Woot and Meh shopping services.
Domino's Pizza – Orders your Easy Order which users set up using the Domino's Pizza app or website.
Toughguy – Tells Chuck Norris jokes.
Milo – Just "ask Milo where I can watch Lord of the Rings" and it searches the Milo database to find it streaming online.
TV Shows – Tells the user when a certain show airs on TV.
Teacher for Alexa – Teaches basic math skills to young people.
SMS with Molly – Uses the smswithmolly.com service to send free text messages from anyone in your contact list on the site.
Uber – Get a Uber ride by asking Alexa.
Bible – Use the Life.Church online Bible to get your Alexa device to quote or read portions of the Bible to you.
Star Wars Quiz – the official trivia game from Disney
Zip Code – Ask Alexa "where is 28690" and it will give you the city and state.
Meal Idea – Ask Alexa Meal Idea to give me meal ideas and it offers suggested meals.
Jeopardy – Play a game of Jeopardy by saying "Alexa, play Jeopardy."
7-Minute Workout – Do a 7-minute workout with Alexa guiding you along the way.
Use IFTTT With Alexa
Amazon and IFTTT got married. Now users can connect their Amazon Echo, Tap, Dot or Fire TV to IFTTT using Alexa. Head over to IFTTT and turn on the Alexa channel to get started. Once that's done, start using IFTTT with Alexa to do a slew of cool things. Here's a list of some of our favorites.
Add items to iOS or Android To Do lists or one of the other task list channels on IFTTT like Evernote, Wunderlist and more.
Find your phone using iOS Find My Phone or Android Device Manager.
Email your shopping list to yourself via Gmail.
Add songs played to a Google Spreadsheet.
19 Cool Things Your Echo and Alexa Can Do
Stream Music From Spotify, Apple Music Amazon Music, Pandora & More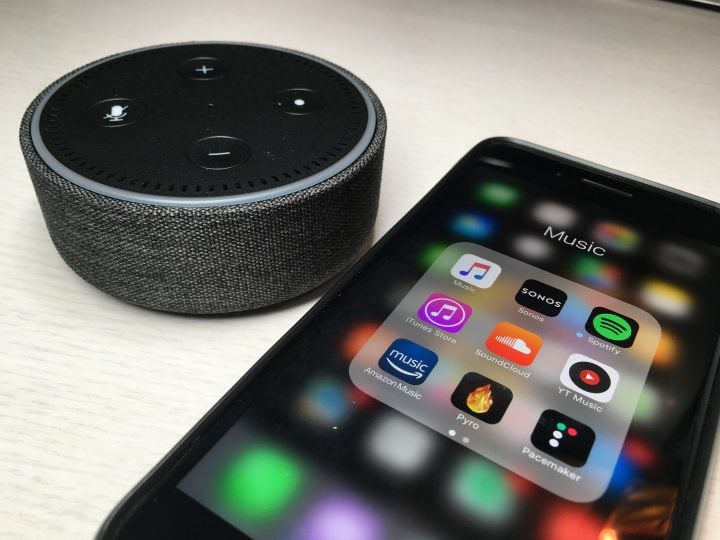 Alexa can stream music from Spotify to the Echo, Echo Dot or a paired Bluetooth speaker. You can also stream Amazon Music, Apple Music, TIDAL, Pandora, iHeartRadio or TuneIn radio to the Echo using your voice.
Open the Alexa app and tap on the menu in the upper left. Tap on Settings and then on Music & Media. Tap on the account you want to use and then link to your account by logging into the account. You need to have Spotify Premium installed for this service to work with Spotify.
You can log into all the accounts you have and when you ask Alexa to play you can say "on Spotify" or on a different service to choose where to listen. On the bottom of this page, tap on Choose default music services to pick the service Alexa should use if you don't specify.

As an Amazon Associate I earn from qualifying purchases.