Donate to Toys for Tots With Alexa and Amazon Will Match Your Gift
You can use Alexa to donate to Toys for Tots and Amazon will match the donation toy for toy through the end of the year. This kicks off on Giving Tuesday and runs through the end of the year.
Just say, "Alexa, donate to Toys for Tots." and then you will be able to use voice shopping to donate a product to charity.
This is now live and you don't need to add a skill to Alexa, just tell your echo to donate to Toys for Tots and you'll get a recommended gift. The items are approximately $20 in value.  You then confirm the purchase and it is sent to Toys for Tots directly.
Amazon will also send another toy as part of their matching program. Amazon will match up to $100,000 in toy donations. You can see how this works in the video below.
"Alexa provides an easy way to give back this holiday season enabling customers to donate an item to Toys for Tots in less than 60 seconds," said Chuck Moore, VP of Alexa Shopping. "This time of year is made brighter by the generosity of others. With Alexa Shopping, we want to make all kinds of shopping more convenient, whether you are shopping for yourself or for the wider community. We are pleased to help support Toys for Tots with Alexa."
This is not the only way you can donate with Alexa or Amazon. Other options include;
Alexa Donations: Customers who wish to make a monetary donation to the charity of their choice outside of Toys for Tots are still able to do so. Simply say, "Alexa, I want to make a donation" to get started.
Charity Lists: New this holiday season, customers can shop Charity Lists and donate an item to their favorite charity. Charity Lists is a new feature that provides non-profits an easy way to create lists while providing a convenient way for customers to donate needed items to the charity of their choice with the reassurance the curated list is managed by the charity. Customers can shop Charity Lists from hundreds of charities by visiting smile.amazon.com/charitylists.
AmazonSmile: AmazonSmile is a way for customers to support their favorite charity every time they shop with Amazon, at no extra cost. Customers who start their shopping at smile.amazon.com will find the same Amazon they know and love, with the bonus that AmazonSmile will donate a portion of the purchase price of eligible items to the charity they choose.
Additional information about the program is available on Amazon.
19 Cool Things Your Echo and Alexa Can Do
Stream Music From Spotify, Apple Music Amazon Music, Pandora & More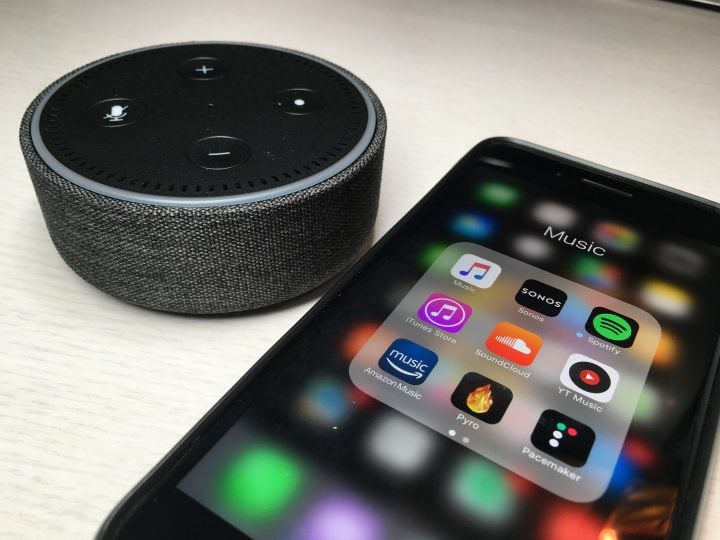 Alexa can stream music from Spotify to the Echo, Echo Dot or a paired Bluetooth speaker. You can also stream Amazon Music, Apple Music, TIDAL, Pandora, iHeartRadio or TuneIn radio to the Echo using your voice.
Open the Alexa app and tap on the menu in the upper left. Tap on Settings and then on Music & Media. Tap on the account you want to use and then link to your account by logging into the account. You need to have Spotify Premium installed for this service to work with Spotify.
You can log into all the accounts you have and when you ask Alexa to play you can say "on Spotify" or on a different service to choose where to listen. On the bottom of this page, tap on Choose default music services to pick the service Alexa should use if you don't specify.

As an Amazon Associate I earn from qualifying purchases.