Amazon Echo Show: 5 Things You Need to Know
The Amazon Echo Show is the newest Echo device from Amazon that brings Alexa to your screen with support for video, calls, photos and much, much more. We'll help answer your questions about the Amazon Echo Show, including what you can and can't do with the newest Alexa device for your home.
This is not a new Amazon phone and it's not even Amazon video conferencing, but it is Amazon's bigger play to replace your home phone, or at least get you to buy a landline again. With the option to do video and audio calls this is definitely a living room and kitchen kind of device, and there are a lot of things the Amazon Echo Show can do.
What is the Amazon Echo Show?
The Amazon Echo Show is a $230 Amazon Echo with a screen. You control it with your voice and a touch screen. The Echo Show can do everything that your Echo and Echo Dot can do, but now there is support for video and video conferencing.
This is a new type of device for most homes. It offers many of the features you'll find on an iPad or an Amazon Fire Tablet, but it isn't portable and there aren't really apps that you can use — just skills.
At this early stage there are definitely some limitations to what it can and cannot do, but with the current hardware, it is likely you will see new skills and features come to this device over time.
The Echo Show is available in white or black with a 5 MP camera and a 7-inch touchscreen, Dolby speakers, WiFi and eight microphones.
When Can I Buy the Echo Show?
You can pre-order the Amazon Echo Show on Amazon. There is no invitation needed and you don't need Amazon Prime or any existing Echo device to buy it.
The Amazon Echo Show release date is June 28th. If you order now, you should get yours on that day. There is a chance that over time the ship date will bump back if you wait to pre-order.
What Does the Echo Show Do?
https://youtu.be/WQqxCeHhmeU
The Echo Show can do everything that the Echo and Echo Dot can do, and now it can do more with the touch screen and the cameras. Watch the video above for a quick overview, and check out this list of what the Echo Show can do for more.
Play Music – Listen to Spotify, Amazon Music, TuneIn, Pandora & iHeartRadio.
Call Friends and Family  – This works even if they don't have the Echo Show.
Watch Videos – Watch a movie trailer or a YouTube video.
Control Your Smart Home – Control lights, tune into a baby camera or security camera and access other Smart home products.
Picture Frame – See your photos on Amazon Prime Photos.
Check your calendar
Check the weather
Send a Message to a contact.
Drop in on a friend or family member.
Add items to your shopping list.
Order stuff on Amazon.
Set alarms
Get a video flash briefing of news you care about.
Check movie showtimes.
Get a recipe from Allrecipes.
Play Jeopardy.
Flip a coin.
Read a book or listen to an Audiobook.
You can add more skills to the Echo Show using the Alexa app that is free on iPhone and Android. You can check out the current Alexa skills to see what all the Echo Show can already do.
Do I Need Two Amazon Echo Show Devices?
Some of the most interesting features are the video calls and the ability to "Drop In" on people who also have an Amazon Show.
You don't need to own two Echo Show devices to make use of most features, but it will simplify connecting with other people.
Amazon is rolling out voice calling and messaging to the Echo and Echo Dot. In the video, we also see the Amazon Echo Show on a video call with a woman using an iPhone. This means that you can use the Echo Show as a home base, and connect without the need for two devices.
For a limited time, you do save $100 when you order two Echo Show devices at the same time and use the code SHOW2PACK.
What Can't the Echo Show Do?
There are some limitations to this device. Here is a list of things that the Echo Show can't do, or at least can't do yet. Amazon adds skills over time, but some of these may never come.
No Netflix support.
No TV shows outside of YouTube.
You can't install apps.
We could definitely see Amazon adding in Amazon Video support, and there is support for Hulu and Netflix on Amazon Fire devices so there is a chance this feature could arrive some day. Amazon Echo devices rely on skills, not apps. This means most activities start with your voice, rather than the touch screen.
19 Cool Things Your Echo and Alexa Can Do
Stream Music From Spotify, Apple Music Amazon Music, Pandora & More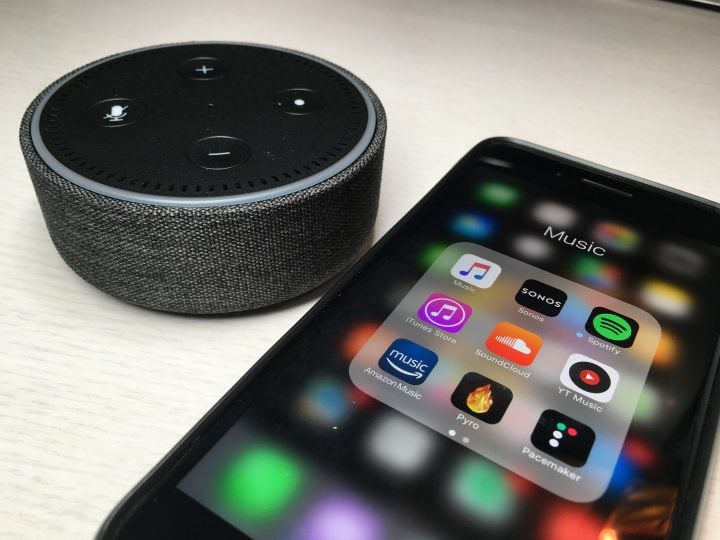 Alexa can stream music from Spotify to the Echo, Echo Dot or a paired Bluetooth speaker. You can also stream Amazon Music, Apple Music, TIDAL, Pandora, iHeartRadio or TuneIn radio to the Echo using your voice.
Open the Alexa app and tap on the menu in the upper left. Tap on Settings and then on Music & Media. Tap on the account you want to use and then link to your account by logging into the account. You need to have Spotify Premium installed for this service to work with Spotify.
You can log into all the accounts you have and when you ask Alexa to play you can say "on Spotify" or on a different service to choose where to listen. On the bottom of this page, tap on Choose default music services to pick the service Alexa should use if you don't specify.

As an Amazon Associate I earn from qualifying purchases.