Battlefield 1 July Update & Prise de Tahure Release Date Tips
DICE's pushed yet another Battlefield 1 update and it delivers more than just bug fixes to Xbox One, PlayStation 4, and Windows PC owners. It also brings a brand new map called Prise de Tahure.
In June, DICE released the game's first night map, dubbed Nivelle Nights, alongside its June update. The June patch also delivered a nice list of changes including the Frontlines game mode for Argonne Forest and Amiens.
The July Battlefield 1 update is equally as exciting because it delivers another brand new battlefield and the game's second night map, Prise de Tahure.
Per usual, DICE's latest Battlefield 1 update is a mandatory patch for all users which means you're required to download it if you want to continue playing the game online.
Thanks to Prise de Tahure and the patch's other changes, the July Battlefield 1 patch will take up a large chunk of space on your hard drive. And if you haven't fired up Battlefield 1 in awhile, you could be looking at a much bigger download thanks to the updates you missed along the way.
The July patch is now live which means right now would be a good time to prepare for it. These tips should help you do just that.
Clean Up Your Hard Drive
As expected, the Prise de Tahure update is a big one for the PS4, Xbox One, and Windows PC.
If you've got a ton of space freed up on your internal hard drive or your external, you're good to go. However, if you're running out of space, you might need to do some cleanup.
If you own a Windows PC, your patch should around 4BGB in size. If you own a PlayStation 4, you're looking at a 5GB download. And if you play Battlefield 1 on the Xbox One, your update could be close to 5GB.
If you're struggling with space on your console's internal hard drive, it might be a good idea to invest in an external hard drive. It'll give you peace of mind.
There are a ton of inexpensive options out there but this 2TB portable external hard drive from Seagate is a solid, and affordable, choice.
Prepare For the Download
Since the patch is big, it could take you awhile to download, particularly during peak hours.
If your wireless connection can be slow or if speeds often fluctuate, we highly recommend plugging an ethernet cord directly into the back of your Xbox One, PS4, or PC.
If you haven't done so already, it might be a good idea to turn automatic updates on. With automatic updates turned on the July patch will download while you're sleeping or out at school/work.
How to Download the July Battlefield 1 Update
If you don't want to flip automatic downloads here's how to manually update to the latest patch.
To get your download started, turn your console on and start up Battlefield 1. You should be prompted to install DICE's latest patch.
Remember, Prise de Tahure won't be released as a standalone download on the Xbox One Marketplace or PlayStation Store so you don't need to go looking for it. It's baked into the July update.
Where to Find the July Battlefield 1 Update Change Log
DICE's released the official July Battlefield 1 update's change log (the list of new features and fixes) and you can find those notes posted right here on its website.
The developer's latest game update includes several changes including adjustments to game modes and maps, Premium Friends, and some remedies for the game's user interface.
Get Familiar with Prise de Tahure
If you haven't already, now would be a good time to get familiar with DICE's second night map.
For a general overview of the map, check out EA's website. It outlines the historical nature of the map and provides some basic details.
If you want to see the map in action (Warning: the video is in French), check out the video above.
If you'd prefer to watch a shorter video, check out the unofficial trailer above.
Get Ready for Problems
The July Battlefield 1 update went through rigorous testing but problems and bugs have slipped through the cracks.
Once you download the patch onto your system, there's a chance you'll run into an issue or 10. Issues popup after every Battlefield 1 update and the July update is no different.
We're already hearing complaints about download problems, graphical issues, Prise de Tahure problems, bad connections, and other bugs.
It's extremely difficult to predict what you'll see so you should be prepared to face problems. We've put together a list of fixes for common Battlefield 1 problems. It's a solid resource and worth bookmaking.
If you do run into a problem with the new patch remember to report whatever you see to DICE. This way, the company's engineers can get to work on fixes.
DICE is planning to deliver monthly Battlefield 1 updates so there's a chance you'll see a fix for your problems emerge inside the next patch.
13 Things to Know About Battlefield 1 In The Name of The Tsar
In the Name of the Tsar Size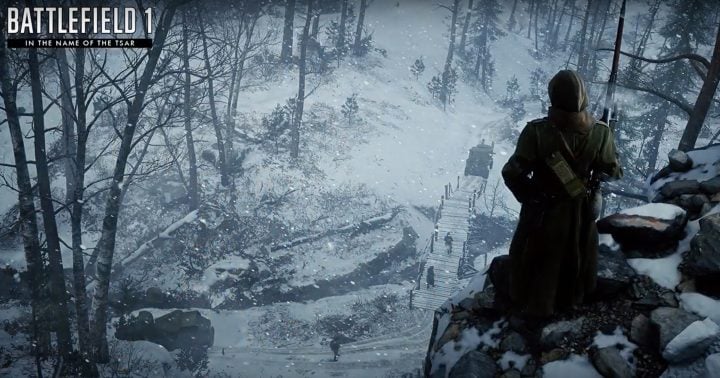 In the Name of the Tsar is now available, in full, to those of you who own the Premium Pass.
If you own the Battlefield 1 Premium Pass you'll simply need to download the latest Battlefield 1 update to unlock the rest of the DLC's content. The update is mandatory for all Battlefield 1 players.
If you're planning to play Battlefield 1 today or in the near future, here's what you can expect from the In the Name of the Tsar update's size. It's a huge download for all three platforms.
PS4: 10.1GB
Xbox One: 10.1GB
PC: 8.4GB
If you've skipped Battlefield 1 updates from previous months, you'll require even more space on your console's hard drive.
If you're running out of space on your system, you'll need to cleanup your hard drive. And if your connection can be slow, you might want to plug in an ethernet cord.

This article may contain affiliate links. Click here for more details.