5 Things to Know About the July Battlefield 1 Update
DICE's released another massive Battlefield 1 update and today we want to go over what we know about the July Battlefield 1 patch's size, contents, and its brand new map.
A few weeks ago, DICE delivered its June patch which brings new features and bug fixes along with the game's first night map, Nivelle Nights.
Today, the developer's released its July update and the game's second night map, Prise de Tahure. The map is available to They Shall Not Pass owners, Premium Pass holders, and those who take advantage of a very special offer.
Our walkthrough will take you through the July Battlefield 1 update's release, what's on board, a look at the new Prise de Tahure map, and a quick peek at what's coming in August and beyond.
July Battlefield 1 Update Size
If you want to play Battlefield 1 today you need to download the Prise de Tahure update. As expected, DICE's July patch is a big one and it requires a sizable chunk on your Xbox One, PS4 or Windows PC.
If you own a PlayStation 4, your patch should around 5GB in size. If you own a Windows PC, you're looking at a 4GB download. And if you play Battlefield 1 on the Xbox One, your update could be close to 5GB.
If you're running out of space on your hard drive you might need to do some cleanup. And if you're using a wireless connection it might be a good idea to plug an ethernet cord into the back of your console to help speed up the download.
Prise de Tahure
Prise de Tahure is the crown jewel of the July Battlefield 1 update.
Like Nivelle Nights, Prise de Tahure is a night map that features the Germans and the French. The precise battleground is located in the Champagne-Ardennes region in 1917.
The Prise de Tahure map isn't limited to Premium Pass holders and They Shall Not Pass owners, at least not right now.
The developer's released a new component called Premium Trials. When Premium Trials is active it "will give all players access to maps exclusive to Battlefield 1 Premium Pass owners."
So, even if you don't own They Shall Not Pass or the Premium Pass, you're able to play Prise de Tahure and other DLC-related maps right now.
Premium Trials will be active for seven days.
Bug Fixes, Tweaks & More
Prise de Tahure isn't alone. The July patch also brings a collection of tweaks, improvements, and bug fixes including some changes for Nivelle Nights, the game's first night map. Here's the full list of changes:
Maps & Modes
Soissons: Adjusted Flag D capture area in Frontlines to improve map balance.
Nivelle Nights: Fixed a bug where the Out of Bounds grayscale screen-effect would sometimes fail to enable.
Nivelle Nights: Fixed an issue where field kits in sector five in a Rush game could be used before the sector was active.
Fort de Vaux: Players should no longer be able to get on top of the fort around the courtyard area.
Other Fixes
Updated the Map Voting system to exclude the previous map (as well as the current map) from the random selection pool to prevent the possible A-B-A-B map play pattern.
Game will now cancel matchmaking whenever backing out of the Operations globe screen. This to prevent a lingering blur state of the globe.
Synchronized damage taken effect to the actual shooter networked state. Previously it lead to out of sync effects where the shooter was not yet visible.
Fixed a rare client crash that could occur when a player joined late and a player just dropped/picked up a weapon.
Fixed a disconnect issue that could occur when loading a map.
Premium
Premium Friends – Non-Premium players' score will now show 0 throughout the match on all Scoreboards and End-of-Round screens.
Rent-A-Server Program
Added new setting to allow for limited number of specific kits.
Added setting for round time limit multiplier.
Added setting for Unlimited Magazines.
Countdown stops if players drop: Lowered the required player count for countdown to start game round to the minimum number of players required to finish a game if preround is enabled. The player count is unchanged if preround is disabled.
Implemented a latency soft lock option where players with a ping higher than 100ms higher get kicked automatically.
UI
Fixed issue where the "Player-Created Content" option was grayed-out, unusable, and set to "Hide" after booting the title without a network connection.
Fixed the wrong transport driver chase camera caption in the controls UI.
The networking issues icons will not show up in Spectator Mode anymore.
The update's fixed quite a few lingering issues but we expect the July update to bring some problems of its own. If you run into trouble, be sure to check our list of fixes for the most common Battlefield 1 problems.
What's Next
After the July update comes the August update and the release of the first map from In the Name of the Tsar.
DICE recently confirmed plans to release the Lupkow Pass map in August, a few weeks before the DLC's official release date in September. The company is planning to put the map into the CTE in July and we could see two to three other In the Name of the Tsar maps put into the CTE in July if everything goes according to plan.
Lupkow Pass will be included alongside a mandatory base game update though we expect the map to be limited to Premium Pass holders. One other note: The map won't include any of the weapons from the DLC.
After that, we'll see a few more updates before DICE releases its next piece of Battlefield 1 DLC, Turning Tides. Turning Tides is confirmed for December.
In early 2018, the company will release its fourth and final piece of DLC, Apocalypse. A specific month for the last DLC hasn't been confirmed.
13 Things to Know About Battlefield 1 In The Name of The Tsar
In the Name of the Tsar Size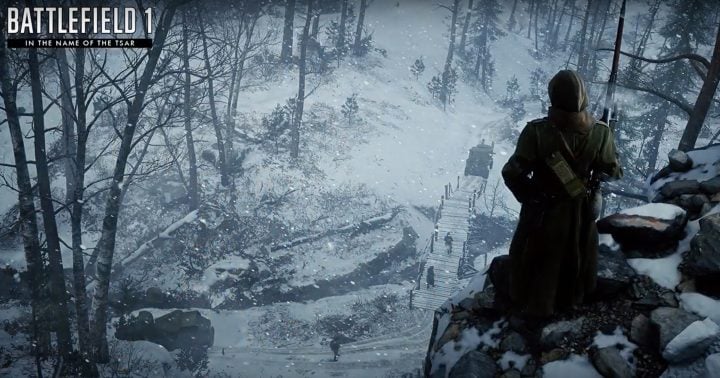 In the Name of the Tsar is now available, in full, to those of you who own the Premium Pass.
If you own the Battlefield 1 Premium Pass you'll simply need to download the latest Battlefield 1 update to unlock the rest of the DLC's content. The update is mandatory for all Battlefield 1 players.
If you're planning to play Battlefield 1 today or in the near future, here's what you can expect from the In the Name of the Tsar update's size. It's a huge download for all three platforms.
PS4: 10.1GB
Xbox One: 10.1GB
PC: 8.4GB
If you've skipped Battlefield 1 updates from previous months, you'll require even more space on your console's hard drive.
If you're running out of space on your system, you'll need to cleanup your hard drive. And if your connection can be slow, you might want to plug in an ethernet cord.