How to Get Missing Best Buy Xbox One Black Ops 3 Beta Code
The Xbox One Call of Duty: Black Ops 3 beta is well underway and there are many users still waiting for an email from Best Buy with their Xbox One Black Ops 3 beta code that users need to register for the beta so that they can start the Black Ops 3 beta download.
Activision and Treyarch started the Xbox One Black Ops 3 beta late Tuesday, earlier than planned. Immediately there was an issue redeeming the Xbox One Black Ops beta tokens for many users.
But another group of users are still waiting for their Best Buy Call of Duty: Black Ops 3 beta codes that come from a pre-order. If you ordered online from Best Buy, there is a good chance you did not get the code you need to register with Call of Duty to get the download codes.
Here's how you can ask Best Buy for a new Xbox One BO3 beta code without waiting on hold, waiting for a Twitter reply or going to a store for a new pre-orders.
Over the last 24 hours we've seen a number of users asking Best Buy where their Xbox One Black Ops 3 beta codes are. Best Buy states that it can take up to 72 hours for a code to arrive, but for many users it is a week or longer.
This is how we contacted Best Buy to get a Xbox One Black Ops 3 beta code after waiting for it to arrive for weeks. Once we contacted the right person at Best Buy, we had a code by the next morning.
You'll need to register for an account on the Best Buy Unboxed forums. This is a login separate from your Best Buy login, so keep track of the password and username.
Once you are set up there, you need to send a message to Mike-BBY asking for a beta key. Here is the message you should send and the subject you should use. Go to this profile page and send click on Send this user a private message.
Subject – Call of Duty: Black Ops 3 Xbox One – Beta Key
Hello I ordered Call of Duty: Black Ops 3 on DATE and still do not have the beta code.

BBY Order Number

email – Your Email

Can you help provide the code so I can play the Call of Duty: Black Ops 3 beta on Xbox One with this pre-order.

Thanks,
Mike is fast and in our experience is doing a great job of filling in the gaps of the automated system that failed for a number of users.
@BestBuySupport I preordered BO3 and didn't receive my code please help

— Anthony (@IIDarkGhostII) August 26, 2015
@BestBuySupport it's been over a week and I'm still waiting for my black ops 3 beta code to be emailed to me. Getting frustrated.

— Kevin Andrews (@b00mheadshot94) August 26, 2015
@BestBuySupport hey I haven't received my bo3 beta code I pre ordered from you guys I have been waiting a while still no email

— Dos (@DosRunsSolo) August 26, 2015
@BestBuySupport i didnt receive a email for my black ops 3 beta code for pre ordering the game

— mrpokemon908 (@mrpokemon908) August 26, 2015
The list above is just a sample of the users who did not get their Best Buy Black Ops 3 beta code email.
Once you get that code you need to use these instructions to sign up for the Call of Duty: Black Ops 3 beta. This will result in an email from Activision that will include three Xbox One Black Ops 3 beta download codes that will let you download the Xbox One Call of Duty: Black Ops 3 beta and share two others with friends.
Xbox One Black Ops 3 Beta: 10 Things to Try
Try Out Each Specialist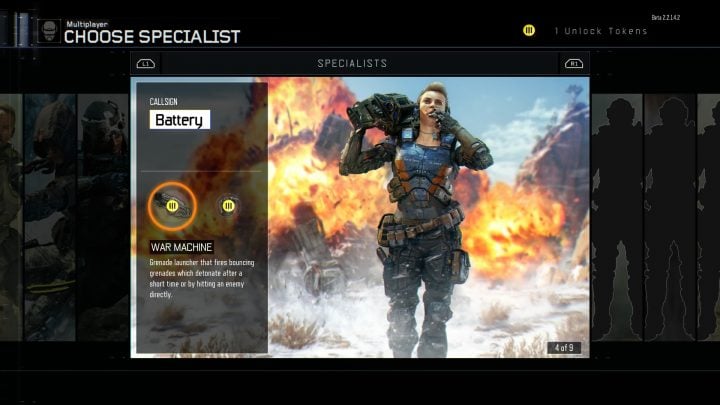 Black Ops 3 is going to be introducing several new elements to the Call of Duty franchise. One of the biggest is the addition of Specialists. Specialists come with their own look but more importantly, they come with unique weapons and abilities.
Here's the breakdown of the Specialist classes that you'll most likely encounter during the Xbox One Black Ops 3 beta:
Battery: Battery operates ahead of the front lines. Her War Machine fires salvos of bouncing grenades, while her Kinetic Armor can deflect enemy bullets when active… though she remains vulnerable to headshots and non-bullet damage.
Ruin: A reckless infantry soldier who prefers to surprise his enemies. He rushes into battle with his Overdrive ability, and can deliver a devastating shockwave with his Gravity Spikes.
Outrider: A hunter-tracker who stalks her prey from afar before moving in for the kill. Use her Vision Pulse ability to reveal the location of nearby enemies or her Sparrow compound bow with its deadly explosive bolts.
Prophet: Prefers to disrupt opponents' tactics before moving in for the kill. His Tempest is a charge-shot weapon that delivers chain electricity to all nearby enemies. He can confuse enemies with his Glitch ability, which flashes him back to a previous position.
Seraph: Known for extreme focus and discipline in combat. Her high-caliber Annihilator revolver fires powerful rounds with increased bullet penetration taking out enemies with one shot. She's also able to earn Scorestreaks more quickly using her Combat Focus ability, which triggers a brief bonus multiplier.
Nomad: Prefers to turn the environment against his enemies. Case in point: His H.I.V.E. weapon, which deploys trap pods filled with deadly nano-drones. When near death, Nomad can recover using his Rejack ability.
You'll want to try out each Specialist so that you develop a comfort level with one or more of them. There's a good chance that one will fit your style better than the other so you'll want to use the beta to do a bit of experimentation.
In order to really dig in though you'll need to play as each one. As you level up, you'll gain unlock tokens that allow you to access new weapons and abilities. So, give each a shot and that way, you'll be better prepared for the public release in November.

As an Amazon Associate I earn from qualifying purchases.