20 Best Chromecast Apps for Google's Streaming Devices
These are the best Chromecast apps you can download and use to do more with your Google streaming device. Google's Chromecast dongles turn your TV or speakers into smart devices. It's the easiest and cheapest way to get the most popular content anywhere you want.
With our help, you can turn your Google Chromecast dongle into an extremely helpful entertainment tool. While the most popular uses are casting music, movies, YouTube or photos, that's not all the Chromecast can do.
Read: How to Fix "Cast Device Not Connected Error"
So, whether you want to play Angry Birds, stream HBO, listen to podcasts or watch your favorite Twitch streamer on the big screen, we have you covered. Instantly upgrade your home entertainment, TV, or speakers with a Google Chromecast. Then, use these apps, games, and extensions to enjoy it to the fullest.
What makes Google casting great is also a pretty big con. These dongles connect to the same apps, games, and streaming services already on your phone, tablet, or laptop. You don't have to download anything new. Simply open YouTube or Sling TV, and hit the square "cast" icon in the corner. You'll instantly start casting what's on your phone to the living room TV, or speakers on the patio. It just works, almost like magic.
However, this also means you won't find a dedicated app store for the Chromecast. This makes finding the best casting apps and games a bit of a challenge. Don't worry though, as we've found the best ones. At this point, most iOS or Android apps work great with Google's streaming dongles. Just open your favorite apps and look for the cast button. Otherwise, check out this list of the best apps and do more with your Chromecast today.
Google Home App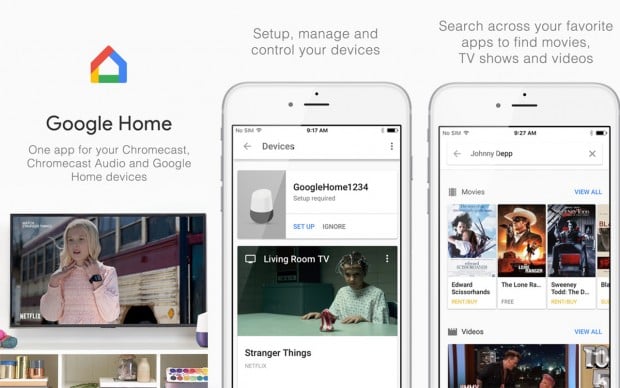 First things first, you'll want the official Google Home App. It acts as the central hub or control center for your entire Google Chromecast experience. Before Google changed it to the Home app, it was known as the "Chromecast app".
The Google Home App has built-in search, app recommendations, tools, custom settings, and lets you control anything and everything that connects to your Google Home or Chromecast devices.
Additionally, if you own more than one cast device (like an audio for the garage, or an Ultra for the bedroom) you'll want the Google Home app to manage everything.
Download the Google Home App