The best FIFA 19 deals cut $10 to $12 off the game when you pre-order, and there is an incentive to order sooner rather than later if you prefer to buy your games at Amazon.
Locking in a deal is one of the best reasons to pre-order FIFA 19, especially when you consider that you can always cancel later if you decide that the game isn't for you.
The FIFA 19 release date is September 25th if you buy the Ultimate Champions Edition and September 28th if you don't splurge on the FUT extras. No matter which FIFA 19 edition you buy, you can save with these deals.
Best FIFA 19 Deals
The best FIFA 19 deals are at Best Buy, Amazon and Newegg. If you are a Best Buy Gamers Club Unlocked member from before the program was cancelled, you can save more, and if you pre-order before August 28th at Amazon as a Prime Member you can save more.
Here are the best FIFA 19 deals you can get today, if you pre-order.
You may want to wait another week or two to see if Best Buy brings back the FIFA 19 trade-in deal that may cut the price down to around $20 if you stack all the deals together.
Be sure to check out all the cool new FIFA 19 features and read our pre-order guide below to find out if you should pre-order now or wait for more information.
FIFA 19 Pre-Order Guide: 3 Reasons to Buy & 3 Reasons to Wait
Pre-Order If You Want an Edge in FUT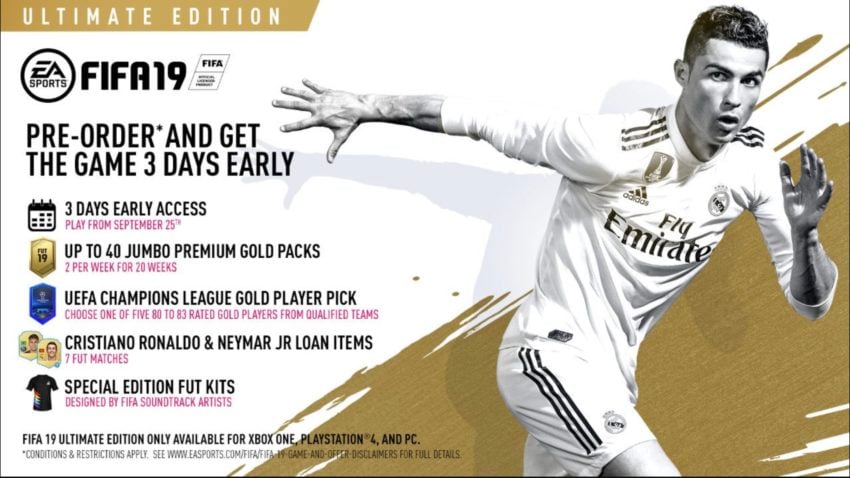 Do you love playing FIFA Ultimate Team? If you want to get a head start you should plan on buying the FIFA 19 Ultimate Edition which lets you play three days early.
This also comes with a ton of FIFA Ultimate Team extras. While you won't get the FUT Jumbo packs all at once, you can still benefit from the early access.
You can build up your team and start checking the auction house where you might be able to pick up some players early to help get a better team.
At the end of the day, if you are buying FIFA 19 Ultimate, you should pre-order at some point, even if you wait until September to do so.

As an Amazon Associate I earn from qualifying purchases.