Best Google Pixel 3 and Pixel 3 XL Alternatives
The Google Pixel 3 and Pixel 3 XL have a lot to offer and run the latest version of Android, but they're pretty expensive and might not be for everyone. Even with a big 6.3-inch display and one of the best cameras, some phone buyers want something else. If so, here are a few phones worth considering over the Pixel 3 and 3 XL.
Whether you don't like the huge notch in the screen, want something smaller or just can't afford it, we have you covered. Whatever the reason, there are plenty of great alternatives with similar big screens, stock Android, great cameras, fast performance and more.
Best Pixel 3 (and Pixel 3 XL) Alternatives
OnePlus 7 Pro
Google Pixel 3a
Galaxy S10 
iPhone Xs Max
Google Pixel 2 XL
OnePlus 6T
These alternatives are all available now, and most of them are more affordable. It's a short list, but these are best equipped to deliver a similar experience. Plus, other exciting phones are coming in early 2019 worth considering too.
OnePlus 7 Pro
The first phone on this list has to be the latest OnePlus 7 Pro, for a variety of reasons. Not only does OnePlus' new phone have a big 6.7-inch Quad-HD 90Hz display with absolutely NO bezels or notches, but it's blazing fast and runs nearly stock Android 9 Pie.
OnePlus phones are the closest you can get to a Pixel experience without getting a Google device. They run clean software with subtle changes and improvements, and it even supports the Android Q beta. The OnePlus 7 Pro has the latest Snapdragon 855 processor, 8 or 10GB of RAM, so double that of the Pixel 3, which is the Pixels biggest downfall.
Plus, you're getting three cameras on the back, a pop-up front camera, no bezels or notches in the screen, a big 4,000 mAh battery and one of the absolute fastest phones on the market. And yes, you get all of this and a phone that's nearly a year newer than the Pixel 3 XL for only $669.
Buy the OnePlus 7 Pro for $669
Google Pixel 3a
While Google's Pixel 3 and 3XL are great phones, you can get 90% of the experience for only $399 with the newer Pixel 3a. Yes, Google is going directly after the iPhone XR and Samsung's Galaxy S10e with its own budget phone, one that's almost 50% cheaper than the competition's cheapest phone.
Released on May 7th, 2019 the Pixel 3a has a 5.6-inch screen while the bigger Pixel 3a XL has a 6-inch display. And while it's slightly smaller than the Pixel 3 XL, those are perfect sizes for some people. You're getting the latest Android 9 Pie (and soon Android 10 Q) the same great camera, and a similar design all for $399 or $479.
These phones don't have dual front-facing speakers or wireless charging, but for the price, the Pixel 3a is extremely hard to beat. It'll likely be our #1 most-recommended budget phone for the rest of 2019.
Buy it Now from Google, Verizon or T-Mobile for $399
Samsung Galaxy S10 (or S10+)
In my opinion, the best Android phone on the market for almost everyone right now is the Samsung Galaxy S10. It's not too big and not too small, delivers a beautiful 6.1-inch display, has all the best specs and features, plus triple rear cameras and an in-display fingerprint scanner. It's an excellent Pixel 3 XL alternative if you're ok with waiting for software updates.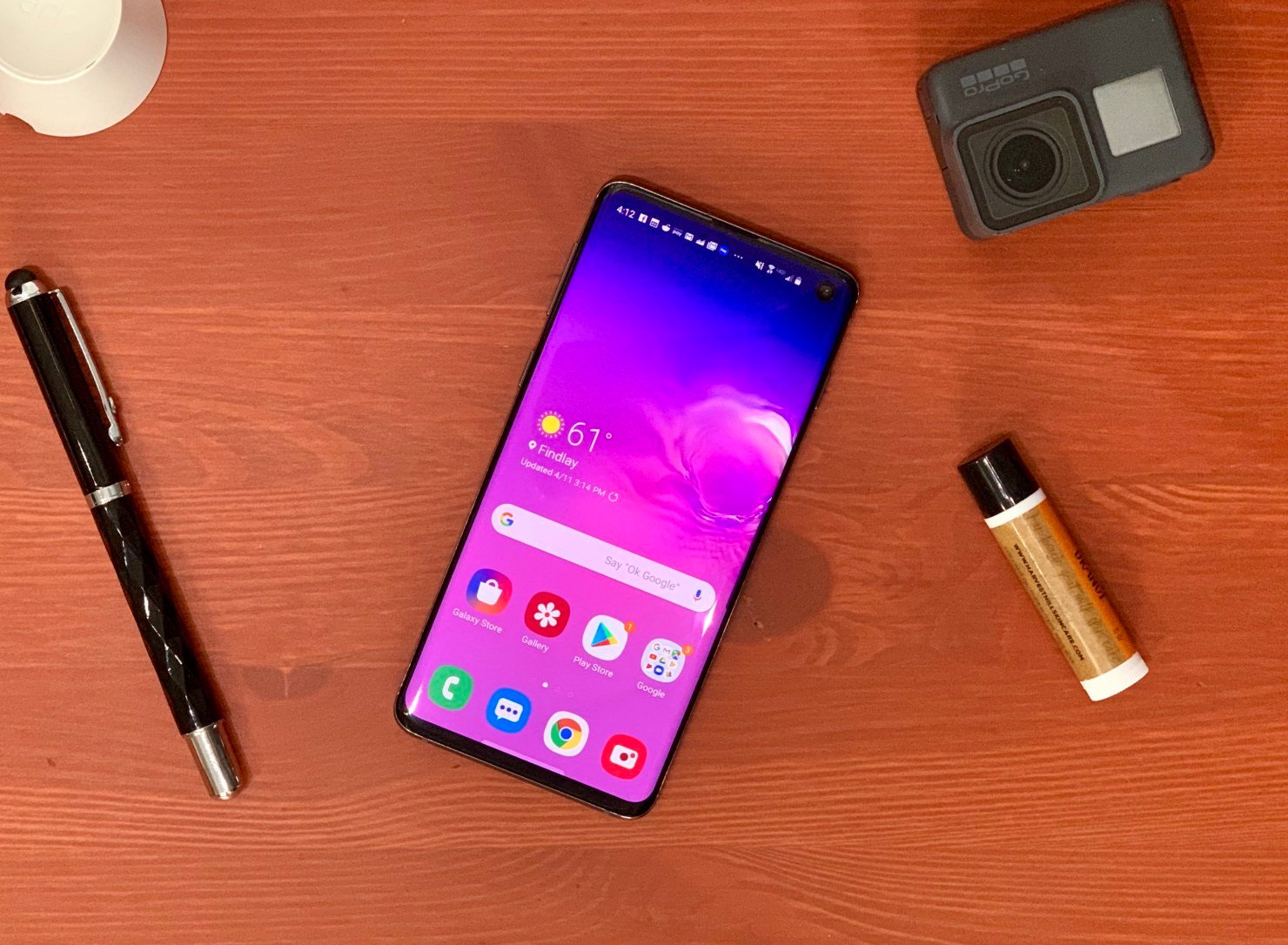 Aside from the slightly smaller (but no notch) screen, the Galaxy S10 offers a faster Spandragon 855 processor, way better performance with double the RAM at 8GB, and 128GB of storage, plus microSD expansion options. The battery is a lot bigger too, so it lasts plenty long. Not to mention the triple cameras are highly capable and are probably the closest to giving Google a fight, and it has wireless charging too.
Read: Pixel 3 XL vs Galaxy S9+: Which One to Buy?
You could even get a Galaxy S9+ at a discount and enjoy it, but we prefer the newest model. Or, the huge Galaxy Note 9 if you want an even bigger screen and the S-Pen.
Buy the Galaxy S10 for around $799
iPhone Xs Max
Honestly, a lot of Pixel or Pixel 2 owners bought a Pixel instead of the latest iPhone in 2016 or 2017. So, if you're looking at Google's new phones and aren't a huge fan of what you see, the iPhone Xs Max is something worth going back to. We wouldn't go as far as to call it an alternative, but it's your choice.
In September of 2018, Apple unveiled the all-new iPhone Xs Max. A massive phone with a 6.5-inch display. Yes, that's bigger than the Galaxy Note 9, Pixel 3 XL, and many other huge Android devices.
Apple's sleek new iPhone 10s Max still has a huge notch in the screen, so that might turn you off. You'll also get a premium design, a dual camera setup on the back, FaceID, and pretty great battery life. Not a lot of Android users switch back and forth between iPhone or Android, and if you never have now is a pretty good time.
This is a big iPhone. Bigger than anything they've ever released. It's an Apple phablet running iOS.
Get the iPhone Xs Max for $1,099
Google Pixel 2 and Pixel 2 XL
If you love just about everything Google is giving us with the Pixel 3 XL, except maybe the notch, consider the older Pixel 2 XL instead. It's nearly the same experience, the same 4GB of RAM, a top-tier camera experience, and a similar huge display.
Better yet, most of the best Pixel 3 features came to the older Pixels with software updates.
With the Pixel 2 XL you get a big 6-inch Quad-HD display, dual front-facing speakers, the latest Android 9 Pie software and pretty excellent battery life. It's as well-rounded as it gets. In fact, some might say it's even better than the 3 XL. The only main feature you'll miss is wireless charging, which is only a novelty and convenience at this point.
Buy the Pixel 2 XL for $649 or 699
OnePlus 6T
And finally, we have the impressive OnePlus 6T. This phone competes with Samsung, Apple and Google's latest and greatest from late 2018 for nearly 50% cheaper. You're getting a big edge-to-edge screen with almost no bezel, a fingerprint scanner in the display, not to mention top-notch hardware and software.
Offering a similar 6.38-inch display with nearly zero bezels, the same specs under the hood as the 3 XL, powerful dual cameras, and twice as much RAM at 8GB, all for $549. Plus, you can try the Android Q beta on OnePlus phones too.
With the 6T they added a bigger 3,800 mAh battery so it lasts plenty long, longer than the Pixel 3 XL. It's a solid choice that almost everyone will enjoy. Seriously, the OnePlus 6T is still one of the best phones for the money, especially considering the higher price of the OnePlus 7 Pro.
Final Thoughts
All said and done, the Pixel 3 and Pixel 3 XL are excellent phones with some amazing camera features and more. Owners absolutely love them, even if they're not for everyone. If you're not convinced, one of these phones on our list surely has everything you want. If not, consider other viable alternatives from Huawei, Pocofone, or even wait for the OnePlus 7T or Galaxy Note 10.
In closing, if you're still interested in the Pixel 3 XL (and you should be) here's where to buy one. Personally, I'd wait for the new Pixel 4 later this year. Good luck and enjoy.