The iPad mini 5 is the most portable iPad that Apple sells and a tempting option for kids. Whether you are buying this for business, fun or for a kid, you'll need one of the best iPad mini 5 cases to protect it.
While Apple always shows the iPad without a case, you will want protection for your iPad mini. From wrap-around folio case options and the Apple Smart Cover to the rugged OtterBox Defender and bright cases with loads of color options and a place for the Apple Pencil, we have you covered.
You can also pair this with a screen protector to add the protection. Out of the box, the iPad mini 5 isn't waterproof by any measure, so you may want to look into an iPad mini 5 case that adds water protection. These cases will work with all the iPad mini 5 colors and storage sizes.
Here are the best 2019 iPad mini 5 cases and what you need to know about using an older iPad mini case with your new iPad mini 5.
Will my iPad Mini 4 Case fit the iPad Mini 5?
Many iPad mini 4 cases will work with the iPad mini 5. You cannot use an iPad mini 3 case or older case with the iPad mini 5 because Apple changed the design with the iPad mini 4 and that carries over to the current model.
One thing that you will miss out on is a place to keep the Apple Pencil since this is a new feature for the 2019 iPad mini. You can always pick up an Apple Pencil case or holder.
Best iPad Mini 5 Cases
Here are the best iPad mini 5 cases & covers as well as some of our favorite iPad mini 5 skins that can protect your new iPad mini from scratches and give you a colorful upgrade with added grip.
Click the links above to buy a 2019 iPad mini case or keep on reading through to learn more about each of these ways you can protect your new iPad mini.
STM DUX Rugged iPad mini 5 Case – $39.27

STM makes a really awesome looking rugged iPad mini case that will protect your new iPad mini while keeping it looking very good. A folio covers the screen when it is in your bag or you're on the move. This folio also holds the iPad mini up to watch videos or make a call.
This case offers quite a bit of protection without adding much bulk. It's a favorite of ours for the 9.7-inch iPad and it survived a round of kid testing, so it should be up for anything you or your kids throw at it.
$39.27 at Amazon, Best Buy and STM
Speck Balance Folio  – $39.95
The Speck Balance Folio case is an awesome option with protection and a kickstand. Speck makes great quality cases that offer a good deal of protection for your iPad mini without much bulk. This folio-style case protects the iPad from drops as well as transforms into a stand at several angles and propped up for easy typing.
$39.95 at Speck
Brydge iPad Mini Keyboard – $99.99

For anyone that plans to use an iPad mini for productivity, the Brydge 7.9 keyboard is a perfect companion. This backlit keyboard lets you type almost as fast as on a laptop with great keys and a nice layout. This connects with hinges to your iPad mini and easily comes off when you just want a tablet. It's an awesome option that you need to look at if you plan to use your iPad mini 5 for productivity in any serious way.
Apple Smart Cover – $39.00

The only official Apple iPad mini 5 case or cover is the Apple Smart Cover. This is a folio style case for the new iPad mini that clips to the left edge of the iPad mini and then protects the screen when you are carrying it or when it is in a bag.
You can prop the iPad mini up to watch a movie or make a video call in one mode and use it to get a better angle for typing with the other folding pattern. There are a lot of color options to complement your style.
$39 at Amazon, Apple and Best Buy
OtterBox Defender – $69.95
The OtterBox Defender is the measure of rugged iPad mini 5 cases. It offers full body protection with a screen protector built-in. You also get a shield stand with the case that provides hard cover for the front of the iPad mini when you aren't using it and turns into a stand when you need to prop the iPad mini up to watch a video.
Yes, you get some added bulk, but it will protect your iPad from drops and may be a better choice than AppleCare+ for some users.
$69.99 at OtterBox
dbrand skins – $14.90
For some users an iPad mini 5 skin is a better option. If you want to add color and texture to your iPad mini 5, this is an excellent option. We love how easy dbrand skins are to install and how well they last over time. You can combine this with the Apple Smart Cover if you still want something to protect your screen when you are on the go. There are numerous texture options and a lot of different color options.
You can even get an Apple Pencil Skin if you want to add some style there. You can choose a back and a front, or just get the option that you want, and you can mix and match colors or textures.
$14.90 and up at dbrand
Catalyst Waterproof iPad mini Case – $89.99

The Catalyst iPad mini waterproof case is an awesome option if you are taking your iPad mini to the pool, camping or using in rugged environments. This is an excellent option that can protect your iPad mini in water up to 6.6 ft deep and it's rated for up to four feet of drop protection.
While you shouldn't submerge it on purpose, it is a great way to keep your iPad mini safe and secure. It's pricey, but it is well made and an awesome option that you may want to explore over AppleCare or a carrier warranty.
Waterfield iPad Mini Travel Case – $59.99
Waterfield makes some of our favorite bags and this iPad mini travel case is a really handy way to keep the iPad mini safe when you are traveling. You can use your Apple Smart Cover or thin case every day, and when you are on the go, just slide it into this travel case.
It includes a dedicated Apple Pencil slot so you don't have to worry about losing your Apple Pencil. You can pick from four color options and there's also a nice zipper on the outside to store a charging cable or other small items.
$59.99 at Waterfield
Clear iPad Mini 5 Case – $8.99

For anyone looking to get a clear iPad mini 5 case that doesn't break the bank, here's your best bet. The AVIDET iPad mini 5 case is a thin clear case that is anti-scratch. This is a cheap case that allows you to protect the iPad mini and show off your color option. It's especially handy if you want to wait for iPad mini cases with Apple pencil holders built-in or for something to catch your eye.
$8.99 at Amazon
10 Cool Things the iPad Mini 5 Can Do
Take Notes with the Apple Pencil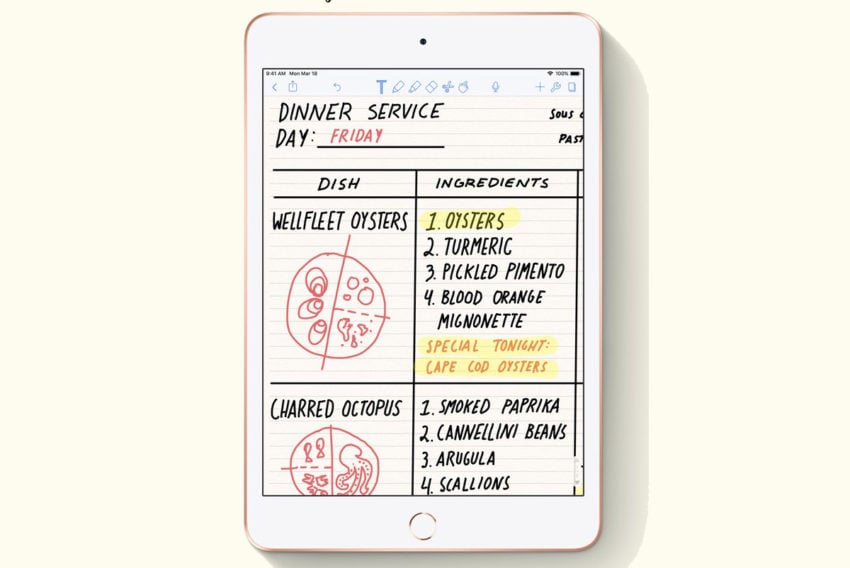 The iPad mini 5 works with the Apple Pencil for the first time. This allows you to take notes on the iPad mini just like you would on a small notepad. It is easy to use and you can start taking notes in the Notes app or invest in a more full-features Notes app.
You need to buy the Apple Pencil (1st gen) for $94 at Amazon or $99 at Apple and Best Buy.
This is much better than taking notes with the old style soft nub styluses that you could buy to use with the older iPad mini models.
We used the first gen Apple Pencil on the iPad Pro for a long time and it is a great tool for taking notes when you are in class or in a meeting. Even with the smaller screen it is a handy tool.