Best iPhone X Warranty & Insurance Options
The iPhone X is an expensive phone to repair without a warranty. You could pay up to $549 for an out of warranty replacement if you completely break your iPhone X. Many users will want some kind of iPhone X insurance or an extended iPhone X warranty as well as a good iPhone X case or screen protector.
We'll look at AppleCare+, out of warranty iPhone X replacement costs and carrier insurance for your new iPhone as well as third party options. While it's getting more expensive to replace and repair the iPhone, there are some new options that make some fixes more affordable if you pay for an extended warranty with accidental damage.
Yes, your credit card may cover some of the accidents, but if you buy the phone on a payment plan you don't qualify for many of these and you should explore all of your options. Even if you choose one of these, you should still consider an iPhone X case to keep your phone safe from minor drops since there is no reason to waste money on a repair you could have avoided with a $20 case.
The iPhone X is water-resistant, so you may not need repairs due to water exposure, but you will need to worry about the glass back breaking, which is not a simple $29 fix like the screen if you have AppleCare+.
If your iPhone X screen breaks without AppleCare+ or another warranty service you will need to pay $279. Don't count on third party repair options for a while as these screens are going to be hard to find. Other damage like a broken back or a completely mangled iPhone X is $549 to replace outside of AppleCare+. That's significantly more than the iPhone 8, iPhone 7 and iPhone 6s.
iPhone X Insurance vs AppleCare+
The AppleCare+ iPhone X price is $199, which is more than you'll pay for the other iPhones. iPhone X insurance through your carrier is about $11 a month and includes loss, theft, damage, next day replacements, same day cracked screen repair in some markets and extended warranty coverage. AppleCare+ won't replace a lost or stolen iPhone X, but carrier insurance will.
After two years you'll pay $264 for Verizon Total Mobile Protection, or $199 for AppleCare+. Each option offers you something the other doesn't. If you only plan to keep your iPhone X for a year, you may be better off going with the carrier protection since it will be cheaper for a year of coverage without the hassle of asking Apple to refund the remaining year of unused service.
iPhone X Insurance & Warranty Options
Here are the best iPhone X insurance options and best iPhone X warranty options. The options are much different than when you last purchased for an iPhone 6S or even the iPhone 7. We've narrowed down our options to three that we think are worth considering. As we mentioned, don't count on a credit card warranty if you buy the iPhone X with monthly payments like most users.
| iPhone X Insurance & Warranty | 2 Year Price | Deductible/Replacement | # of Claims | Accidental? | Loss/Theft |
| --- | --- | --- | --- | --- | --- |
| AppleCare+ | $199 | $99 total/$29 screen | 2 | Yes | No |
| Verizon | $264 | $199 total/$29 screen | 2 per 12 months | Yes | Yes |
| AT&T | $192 | Up to $299 total/$89 screen | 2 per 12 months | Yes | Yes |
| SquareTrade | $129 | $99 total/$25 screen | Not limited, but capped at total price of phone. | Yes | No |
| Out of Warranty | $0 | $549 total/$279 screen | No limit | Yes | No |
AppleCare+ for $199
The AppleCare+ plan is one of the best options if you live in the Apple ecosystem and it's even better if you live near an Apple Store since you can get same day service in most stores as long as you book an appointment. It's $29 to replace a broken screen and $99 for any other damage.
This is more affordable than carrier insurance, but you miss out on coverage for loss or theft. Verizon just leveled the playing field on screen repair, but AT&T is still more expensive if you need a replacement.
If you are on AT&T or Sprint go with AppleCare+. T-Mobile includes AppleCare+ as part of the Device Protection. On Verizon it comes down to what kind of protection you need.
Carrier Insurance for $8 to $17 a month
Verizon offers the best carrier insurance option you can find. They outline what is covered in an easy to understand fashion cover the repairs and replacements you would normally buy AppleCare+ for and you also get coverage for a lost or stolen iPhone. Verizon is $11 a month for one line and includes a $199 deductible for all damage or $29 for screen repair which may be possible to have done in one day.
AT&T iPhone X insurance is $8 a month, but the deductible is $299. That drops to $224 after six months with no claim and to $149 after a year with no claims. A screen repair is $89.
T-Mobile Device Protection with AppleCare+ is $15 a month. With that you can get the AppleCare+ replacement. T-Mobile support told us that the deductible for a lost iPhone X replacement is up to $175, which seems low. We'll update when we have more info.
Sprint charges $13 a month for a protection plan, and will charge $17 a month starting in January. Add in the fact that they do all they can to hide the costs of the deductible payments you need to make and you should skip this option unless you're incredibly worried that someone is going to steal your iPhone X.
SquareTrade iPhone X Warranty
If you want an AppleCare+ alternative, the SquareTrade iPhone X warranty is a nice option. You pay less up front, $25 to fix cracked screens and you pay $99 for larger repairs. There is even an in home repair option for the screen in 700 cities. With these plans, you can also add on an additional year after the first term for $69 a year and the plans transfer to a new iPhone, so even if you upgrade often you don't waste coverage. If you need to cover two phones there is a family plan discount that drops the price to $119 per phone for two years.
You can also purchase this at any time, not just within 30 days of buying the iPhone. You'll use the app and it will check for any existing issues before you can buy.
With SquareTrade you can still walk into an Apple Store and have a genius repair your broken iPhone X and SquareTrade will pay the bill for you, minus the deductible.
The Best iPhone X Cases
x-doria Defense Lux iPhone X Case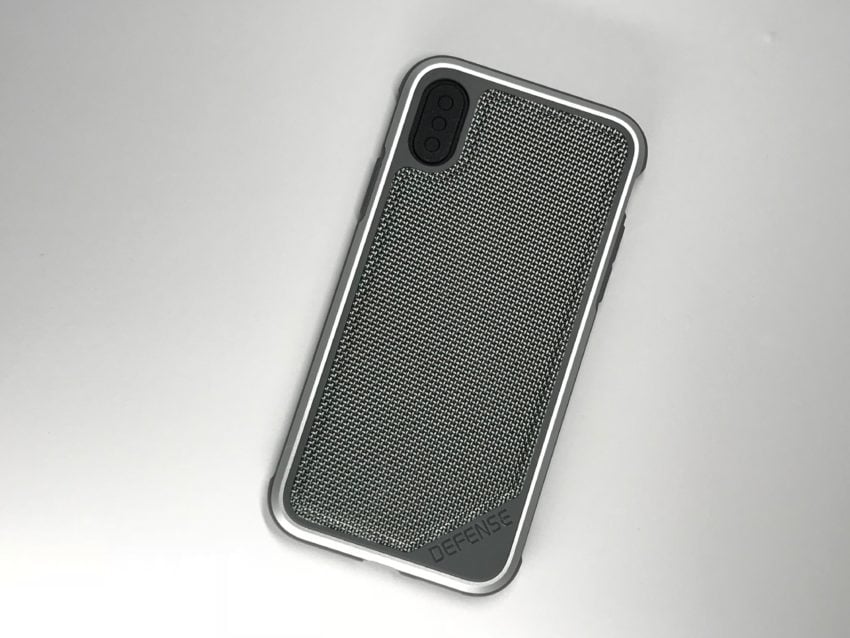 The x-doria Defense Lux iPhone X case is amazing. This case looks great, feels awesome and offers military grade drop protection without adding much bulk.
We love the look of this case in Ballistic Nylon and Black Carbon on the iPhone X. These cases not only offer a cool look, but the back is actually textured like the material listed. The Ballistic Nylon case has a soft, but grippy feel to the back just like you'd expect from looking at it. The Black Carbon feels like textured carbon fiber and looks awesome.
We didn't mean to, but we did drop our iPhone X in this case and our doorbell camera caught it on video. The case iPhone survived without any problems.
x-doria designed this case to protect your phone from drops up to 10 feet on concrete and there is . sound channel to direct the speaker towards you instead of straight out the bottom. The raised edge keeps the screen safe when setting the phone face down on a table.
$34.99 at x-doria