Best Nintendo Switch Deals for December 2017
With the best Nintendo Switch deals for December 2017, you can save money when you add Nintendo's unorthodox console to your gaming line up. Nintendo Switch deals can save you $20 on the cost of the new system. That's enough for a MicroSD card or a game download from the Nintendo eShop.
You need these promotions because the Nintendo Switch isn't the great deal it appears to be on paper. The system comes with a dock that allows it to morph from handheld console to living room console in just seconds. Its two wireless controllers – Nintendo calls them Joy-Cons – allow two people to play a game without any extra hardware. You get all this for $299.99.
That sounds like Nintendo is saving buyers some money, but there's still plenty to pay for. Because it doubles as a home gaming console, games for the Nintendo Switch games can cost $59.99, not $39.99 like games for the Nintendo 3DS. Also, you don't get a free game with most Nintendo Switch bundles.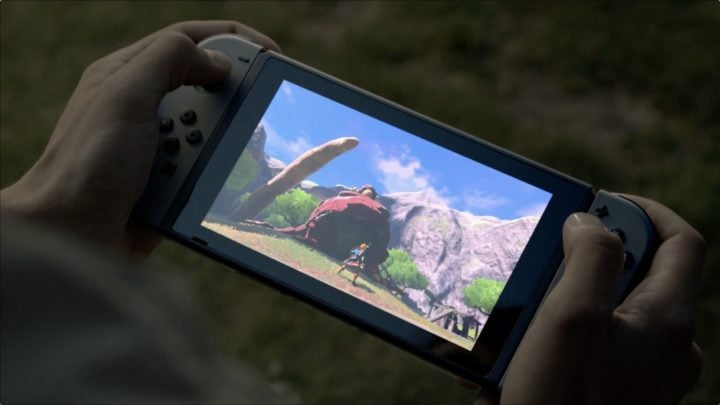 Read: Nintendo Switch review 
Expect essential accessories to drive up the price of the console, too. You do get two wireless controllers with the Switch, but they're uncomfortable to use for long periods of time. You may need a $69.99 Nintendo Switch Pro Controller. To avoid buying a game you can't play, plan on picking up a MicroSD card too. The Switch only has 32GB of storage and there are games that require a lot more than that.
Use these Nintendo Switch deals to save money on your new console.
Best Nintendo Switch Deals
| Bundle | Store | Price | Savings | Details |
| --- | --- | --- | --- | --- |
| Pre-Owned Nintendo Switch with Neon Joy-Cons | GameStop | $279.99 | $20 | No expiration date. |
| Pre-Owned Nintendo Switch with Gray Joy-Cons | GameStop | $279.99 | $20 | No expiration date. |
| Nintendo Switch with Gray Joy-Cons and $5 Gift Card | Toys R Us | $299.99 | $5 | No expiration date. |
| | | | | |
Because the Nintendo Switch is fairly new, there are not many Nintendo Switch deals running. Retailers are discounting games, instead, and offering free shipping. That's when the console is in stock.
If you do find a Nintendo Switch deal that you like and the console is in stock at that retailer, buy immediately. In fact, just finding the Nintendo Switch in stock is a sort of deal itself. Nintendo is ramping up production of the system but it's still incredibly hard to find in some places. That's led to some very high resale prices on eBay and Craigslist.
Read: How to Find the Nintendo Switch in Stock
Best Nintendo Switch Accessories Deals
| Accessory | Store | Price | Savings | Details |
| --- | --- | --- | --- | --- |
| PowerA Joy-Con Charging Dock | Best Buy | $22.99 | $7 | No expiration date. |
| SanDisk 128GB MicroSD Card | Best Buy | $79.99 | $120 | No expiration date. |
| SanDisk 128GB MicroSD Card with Free Nintendo Switch Screen and Game Protection Kit | GameStop | $59.99 | $7.99 | Expires December 5th. |
| Hori Compact Playstand for Nintendo Switch | Amazon | $9.09 | $3.90 | No expiration date. |
| Nintendo Switch Pro Controller | Amazon | $64.99 | $5 | No expiration date. |
With Nintendo Switch stock so low, many retailers are discounting Nintendo Switch accessories. These discounts include $5 off stands, bags and battery packs. None of these deals require you to sign up for a discount program or join a warehouse club for savings.
Read: Nintendo Switch Buying Guide: Bundles, Games & Accessories
Used Nintendo Switch Deals & Trade-Ins
If you really want the new console this year, don't hesitate to make your own Nintendo Switch deals. Three retailers will give you money or store credit for your existing gaming system. In turn, you can use that credit toward the purchase of your Nintendo Switch and save yourself some cash.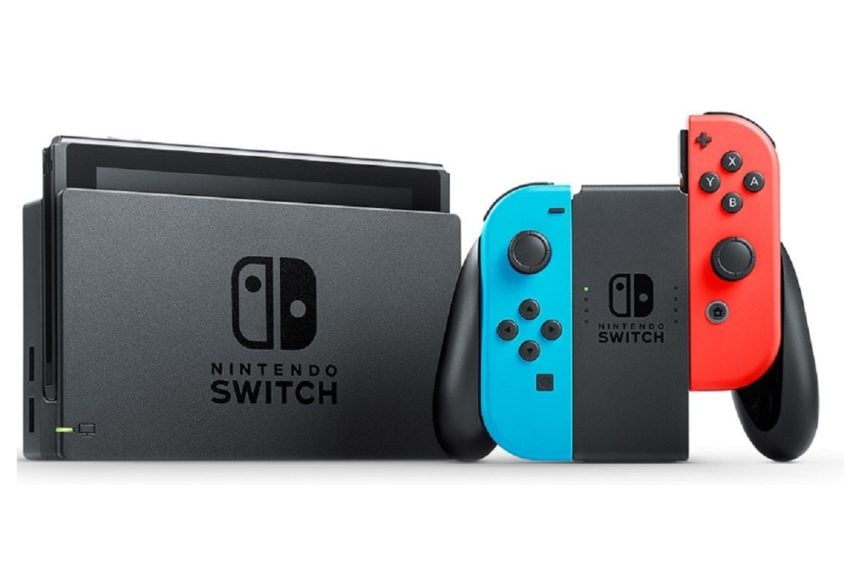 A Nintendo Switch can replace your Nintendo 3DS for handheld gaming, provided you're ready to move on to a new selection of games. GameStop will give you $45 in-store credit when you sell your Nintendo New 3DS XL to them. You don't need a Power Up Elite Pro or Power Up Pro Member to get that store credit. A standard Nintendo 3DS XL gets you $35 in credit and a Nintendo 2DS gets you $30 in store credit.
Amazon and Best Buy also have trade-in programs that reward you with store credit for your used game systems and accessories. Expect $49.35 when you trade in a Nintendo New 2DS XL at Amazon. The Nintendo 3DS XL gets you $64.18 in credit there. Best Buy's Trade-In program will give you $34 for a Nintendo 3DS XL in black.
Don't forget that your Nintendo Switch can also replace your living room gaming console. You could trade-in your Xbox One or PS4 to get save even more on your purchase. Just know that the Switch won't get all the great third-party games that an Xbox One or PS4 will. Trade one or the other for savings if you have them both, but don't leave yourself with the Nintendo Switch as your only system unless you really love Nintendo's franchises.
Read: Best Nintendo Switch Games Coming
To take advantage of these programs, you will need to trade your stylus and power cable with your console.
Check eBay for Nintendo Switch Deals
Finally, check eBay for Nintendo Switch deals. You may be surprised by what you find there.
Don't expect to see major Nintendo Switch deals on the auction site. Because the console is so popular, shoppers are reselling their unopened consoles for around $350. That's $50 more than what the console normally costs.
That being said, there are some deals on the site. You can buy a Nintendo Switch without any accessories for $209.99 from one reseller. It's a great deal for anyone that's replacing their broken Nintendo Switch or plans to game with just the Switch Pro Controller.
If you buy a Nintendo Switch on eBay, scrutinize the online listing. Know exactly what you're paying for and take advantage of Buy It Now options instead of Auctions to keep your costs down.
The Best Nintendo Switch Cases & Covers
Hori Tough Pouch for Nintendo Switch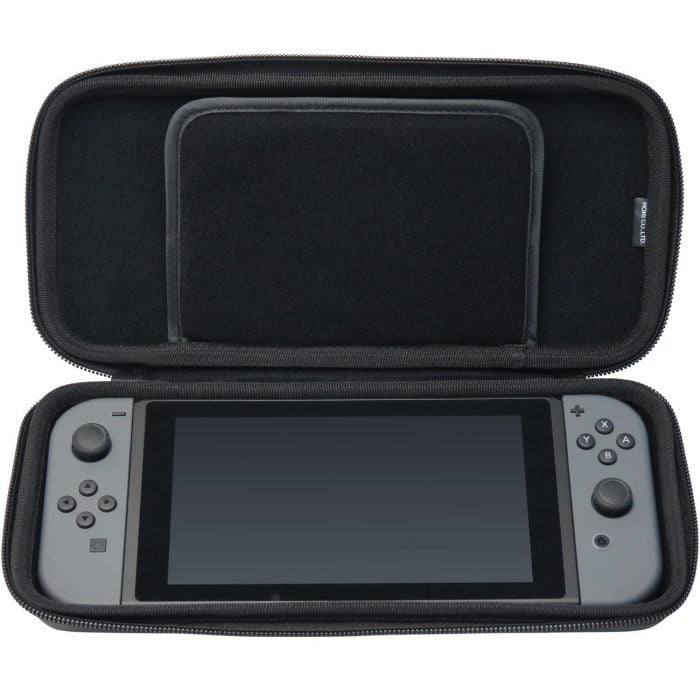 The Hori Tough Pouch for Nintendo Switch protects your device between gaming sessions without much effort. A flap inside shields the console's touchscreen. Its shell is reinforced to handle impacts from other things in your bag,
Also, unlike some other cases, the Hori Tough Pouch strikes a gentle balance between protection and convenience. Because you only put your Switch into it when you're done playing, it doesn't change how you grip the console or its Joy-Con controllers.
Amazon has the Hori Tough Pouch for Nintendo Switch available for $17.99. Because it's an officially licensed accessory, the front is embossed with the Nintendo Switch logo.

As an Amazon Associate I earn from qualifying purchases.