6 Best Xbox Controllers & Remotes
It's not enough to launch consoles with the best gaming experience possible. Sony, Nintendo and Microsoft all had to continue to improve on their offerings and listen to feedback. Microsoft, makers of the Xbox One, clearly got a lot of feedback about Xbox controllers back in 2013. Since then, it's improved its own offering in huge ways. It's also managed to foster an ecosystem of accessories that take gaming in the living room to places the original controller absolutely didn't. You can get by with a regular controller, but the best Xbox controllers all improve your experience in different ways.
Some of them add a splash of color and grips that weren't there before. The controller that shipped with the Xbox One could slip out of the hand a bit too easily, so these new additions are very much appreciated. Microsoft's own refreshed Xbox controllers include new ways to connect to Windows 10 PCs and a headset jack so that you can use any headphones that you have laying around.
The best way to interact with the Xbox One isn't always what you picture in your head either. There are convenient ways of using the console that don't have a huge array of buttons and two joysticks. These Xbox remotes and sensors make its software a lot easier to navigate for the members of your family that aren't gamers.
Read: Xbox One Controller Details: USB Port, New D-Pad & More
Here are the best Xbox controllers and Xbox remotes for Microsoft's Xbox One and the Xbox One S.
What Makes a Good Xbox Controller?
At the heart of all the best Xbox controllers is a sense of purpose. Xbox means lots of different things to lots of people. The best games and the best controllers know exactly what type of user they're trying to appeal to and what features those people need. The Xbox Elite Controller is a perfect example of this kind of focus. It's made specifically for users that know they game often. These users want durability and customization. They want to be able to count on their controller to work in any situation. The Xbox Elite Controller has interchangeable joysticks to let these gamers get the best feel possible. Its software allows buttons to be re-mapped to whatever function they need.
Read: How to Update an Xbox One Controller
Everyone willing to spend a little more money on their Xbox controller can infuse it with a bit of their own personality. A service Microsoft launched in 2016 called Xbox Design Lab makes it possible to get an Xbox controller in the hue that screams you.
This isn't to say that every one of the best Xbox controllers provides new levels of customization. Some people – particularly those that are new to the system – want an affordable controller. They don't want to worry about charging it. They don't want to spend a fortune on it in case it breaks.
What Makes a Great Xbox Remote?
Controllers offer lots to consider. The best Xbox remotes are comparatively simple in nature. Xbox remotes allow you and the less tech-inclined to navigate the Xbox OneGuide or entertainment apps without the use of a controller. For many, finding the right Xbox remote is more important than finding the best Xbox controllers. Not everyone knows how to operate a controller but you can bet they'll appreciate being able to watch Netflix, Hulu or Sling TV with just a voice command or a few button presses.
Best Xbox Controllers & Remotes
Xbox Design Lab Controllers – $79.99
Xbox Elite Controller – $149.99
Xbox One Media Remote – $24.99
PDP Afterglow Prismatic Wired Controller for Xbox One – $49.95
Kinect for Xbox One – $99.99
PDP Official Face-Off Wired Controller for Xbox One – $49.99
Xbox Design Lab Controllers - $79.99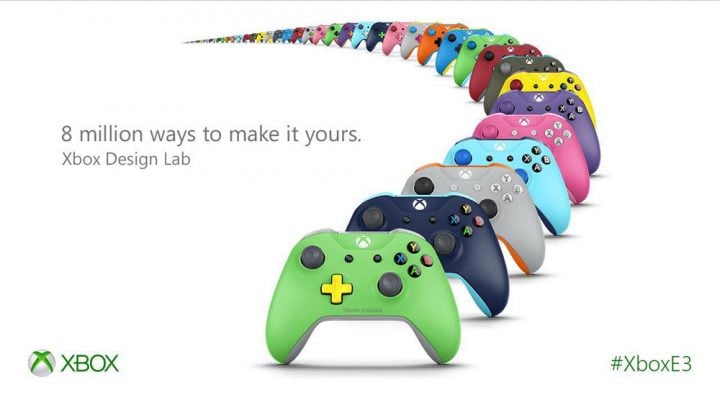 The Xbox Design Lab debuted to lots of fanfare. The site was a huge part of Microsoft's E3 2016 reveal.
For years, the only way to get a custom Xbox controller was to buy one and give it a paint job through companies like Coloware. They'd take the controller apart and paint it to your specifications. Colorware continues to do an amazing job, but it's cost prohibitive for many gamers. What's more, it takes time.

Read: Xbox Design Lab: How to Get a Custom Xbox One Controller
What Xbox Design Lab does is remove the hassle involved in getting the look you want. Every outward facing area of the Xbox Design Lab controller has a palette of different colors. You choose from these colors to create your custom controller. Microsoft says that there are millions of different color combinations to choose from. You can also have your Gamertag or a message engraved on the controller. Design Lab Controllers are based on the latest Xbox Controller design. They each come with Bluetooth connectivity and a headset jack. Their grips are lightly textured to prevent them from slipping out of your hand.
An Xbox Design Lab controller costs $79.99, and Microsoft takes care of the shipping costs. Those that aren't great at creating nice color combinations can borrow one from the Xbox community at large.

[ Buy an Xbox Design Lab Controller from Microsoft for $79.99 ]

As an Amazon Associate I earn from qualifying purchases.