We'll show you how to buy a cheap PS4 so that you can spend your money on exciting PS4 games and save big on your new PS4. This guide includes where you can buy PS4 and save $75 to $120 any day of the week.
The PS4 is normally $399, but if you know where to look and you have a little patience you can save $100 or more when you buy a cheap PS4. You don't need to meet a shady character on Craigslist to score a great PS4 deal, although that is one option to consider. You also don't need to trade in a Xbox 360 or PS3 to buy a cheap PS4.
Forget waiting around for the next PS4 deal that includes a free game or a free year of PS+ membership and learn how you can buy a cheap PS4 without waiting around for Sony to deliver a PS4 price cut.
Read: PS4 Review
The PS4 is over a year old, which makes it easier to find PS4 deals than a year ago, but if you want to buy a really cheap PS4 you need to know where to look, what to look for and what to avoid.
How to Buy a Cheap PS4
If you want an insane PS4 deal that you'll end up bragging about to your friends you will need to cut a few corners, and you might need to wait a few days or weeks for the right offers to align, but you can buy a cheap PS4 without waiting for big events like Black Friday.
2015 PS4 Deals
You can keep an eye on PS4 deals that come and go, but many of these deals only include a free game. Saving $5o to $60 is great, but it is not the best you can do if you want to buy a cheap PS4. If you are on the lookout for 2015 PS4 deals you will need to focus on deals that let you stack a coupon on a sale or monster discounts that are often short-lived and online only.
Pay attention to eBay Deals and to deal sites that track big PS4 deals that appear for limited times and in limited quantities. You can use a service like CamelCamelCamel to get an alert when Amazon drops the PS4 price to a certain level, but the quicker road to buying a cheap PS4 isn't from scanning weekly ads.
Used PS4 Deals
The fastest way to save over $100 on a PS4 is to buy a used PS4 from a reliable source. Right now it doesn't make sense to buy a used PS4 at GameStop because the discount is only $20 — but there are plenty of places you can go for a used PS4 deal that works just like new. You can even add a warranty for $37 on some of these options to protect your purchase.
$279 PS4 Deals
CowBoom offers the cheapest PS4 deals around. These are fully functional PS4 units, but there may be some missing accessories and there may be cosmetic damage. You may not know of CowBoom, but it is a Best Buy brand, so you aren't buying from a random person with a used PS4. Right now you can buy a cheap PS4 for $279 on CowBoom.
To make the most of this service you need to choose the PS4 you want to buy. This is an important step because some consoles are missing a controller and others are scratched up considerably. Remember that a PS4 controller is $50, so it's best to look for one that includes a controller, but is missing a HDMI cable or is scratched up.
You can click on the photos to see what the console looks like. This is an easy way to see how bad the scratches are. We found a few Cheap PS4 deals that include everything but the Sony wired headset and owner's manual for $279. There are many scratches on this model, but you can use a microfber cloth and scratch remover to hide some scratches or buy a [easyazon_link cloaking="default" keywords="PS4 skin " localization="default" locale="US" nofollow="default" new_window="default" tag="gbm-ea-20″]PS4 skin [/easyazon_link] for $15 to $30.
Used PS4 at Amazon
If you prefer to go with Amazon, you can still buy a cheap PS4. Used PS4 deals on Amazon regularly offer $75 or more in savings on a previously owned console. The condition of the used PS4 varies, but a very good PS4 is easy to find for $75 less than retail. Many times you need to pay shipping so make sure it is reasonable.
We found a used PS4 deal that dropped the price to $324.99 plus $3.99 shipping for a console that includes a controller, power cable and small scuff marks on the console, but no HDMI cable.
You can also look at more buying options to see other used PS4 deals on Amazon. If you see an Amazon Warehouse PS4 deal, that is one to jump on as it is sold direct from Amazon. These are not as easy to find, so if you are set on that option you may wait longer.
Now that you saved a ton of money buying a cheap PS4, check out the most exciting PS4 games for 2015.
15 Exciting 2015 PS4 Games
MLB 15 The Show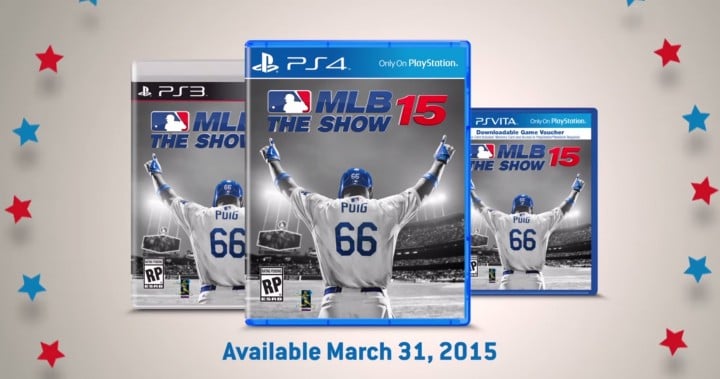 MLB 15 The Show Release Date - March 31st Confirmed
Sony is the undisputed king of baseball games with MLB The Show and we know that MLB 15 The Show is coming in early 2015. Sony just shared five key details about MLB 15 the Show and gamers are excited.
MLB 15 The Show is a PlayStation Exclusive, that is coming to the PS4, PS3 and PS Vita. There is a chance that this will be one of the first big hits among the 2015 PS4 game releases. I
Watch the MLB 15 The Show teaser video above for a glimpse at what's new.