10 Cool Things the iPad Mini 5 Can Do
The iPad mini 5 is here and it comes with an updated display that supports the Apple Pencil and an array of exciting features. It's more affordable and more portable than the iPad Pro, and it's a very tempting option. Here are the cool things you can do on the iPad mini.
The iPad mini is tiny, but it is mighty and it can do many of the things that bigger ipads can do. Yes, it is a great place to read ebooks, play games like Fortnite Battle Royale and now handle more Augmented Reality, but it can also help you get get in shape, save money, lose weight be more productive, make more money and much more.
We're going to help you figure out what your iPad mini can do, and what you need to get all these features into action. This focuses on the new iPad mini 5, but many of the features also work on the iPad mini 4.
You can buy the iPad mini 5 starting at $399, and there are already several iPad mini 5 deals.
What Can the iPad Mini Do?
The iPad mini lets you use two apps at once, watch videos, take a handwritten note, create art with the Apple Pencil, run your small business and much more. Everything listed here works on iOS 12 and the iPad mini 5 will get iOS 13 later this year with new features.
This isn't the only iPad you can buy, but it is the smallest and one that many people have been waiting years to buy. Here are the cool things the iPad mini can do, including a few you didn't know about.
Take Notes with the Apple Pencil
Run Two Apps at the Same Time
Dive Into AR Experiences
Read eBooks Longer with True Tone
Connect a Keyboard When You Need To
Watch a Movie Picture in Picture
Use Apple Pay on the Web
Stream and Download Your Favorite Movies and Shows
Play Fortnite & Other Games
Make Cool Movies in Minutes
Click through the images below to learn more about each of these iPad mini 5 tips and tricks, plus more on how to do each of the tasks above.
Take Notes with the Apple Pencil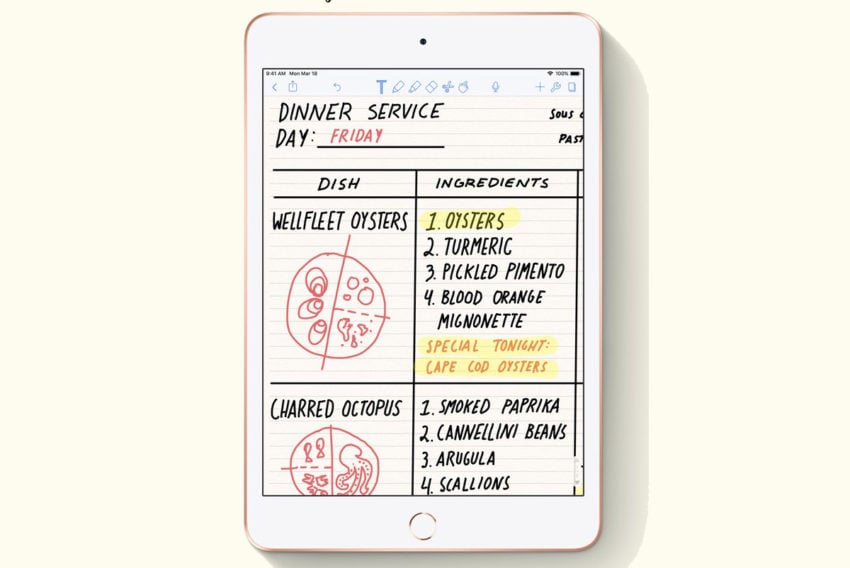 The iPad mini 5 works with the Apple Pencil for the first time. This allows you to take notes on the iPad mini just like you would on a small notepad. It is easy to use and you can start taking notes in the Notes app or invest in a more full-features Notes app.
You need to buy the Apple Pencil (1st gen) for $94 at Amazon or $99 at Apple and Best Buy.
This is much better than taking notes with the old style soft nub styluses that you could buy to use with the older iPad mini models.
We used the first gen Apple Pencil on the iPad Pro for a long time and it is a great tool for taking notes when you are in class or in a meeting. Even with the smaller screen it is a handy tool.

As an Amazon Associate I earn from qualifying purchases.