9 Exciting Star Wars: Battlefront Details
Between Star Wars: Battlefront and the new Star Wars trailer for A Force Awakens it's been a blockbuster week for fans of the science fiction universe. By the end of 2015 we'll be awash in new Star Wars settings and it's enough to get the blood pumping a little faster even in April.
We have to share 9 exciting Star Wars: Battlefront details that are sure to excite, including how the new Star Wars game will connect with Star Wars VII: A Force Awakens when both arrive at the end of 2015.
During a fan convention EA Star Wars, DICE and LucasFilm announced the new Star Wars Battlefront with an online reveal showing game engine footage, but there was more to see if you were at the convention and we can't wait to see the Star Wars: Battlefront PS4 game footage that attendees watched.
Here are the most exciting details about Star Wars: Battlefront that we discovered after digesting the announcement, the trailer and user accounts.
Star Wars: Battlefront Trailer
If you somehow missed the Star Wars: Battlefront trailer video you need to watch the two-minute video below. You'll see game engine footage in a variety of settings including Hoth with ground battles and dogfights. You can't miss iconic appearances from the Millennium Falcon and Darth Vader.
Where to Play Star Wars: Battlefront
If you don't yet have a new console or a great gaming PC, you better start saving.  The new Star Wars game is confirmed for the Xbox One, PS4 and Origin for PC. There is no mention of a PS3 or Xbox 360 Star Wars: Battlefront release and it makes sense to focus on the platforms that can deliver the best looking universe.
Star Wars: Battlefront Gameplay
For users who couldn't go to the event and see the Star Wars: Battlefront gameplay, you can read IGN's account of the seven minute PS4 gameplay video. It sounds like a longer version of the trailer that you can watch online. While it is similar the trailer shows the game engine while IGN was told that less controlled version they saw ran on a PS4.
"Inside, one of the rebels runs ahead, but is stopped and scooped into the air by an invisible force; he reaches for his throat; he's choking. Lord Vader comes into shot, throws the rebel to one side, and marches directly towards the camera; shots are fired in his direction but he deflects each one effortlessly with his lightsaber. Vader continues to walk forward until his mask dominates the screen."
The publication shares other details about the game and how production designed effects not to look like a video game, but to match the effects used in the original movies.
GameInformer delivers another detailed account of the PS4 Star Wars: Battlefront gameplay demo. This is definitely worth reading if you are curious about how the game could play out.
Win a Special Star Wars: Battlefront PS4 Bundle
You can win a special PS4 and Star Wars: Battlefront bundle inside an epic box. You can see the sweet package above. Three fans already picked up this awesome bundle, but there are two more available to users who enter before 6PM PST on April 19th.
Just follow @EAStarWars, tweet us what excites you the most about Star Wars Battlefront and include #BattlefrontPS4 in your tweet.
This is a very limited edition, but it wouldn't be a surprise to see official bundles available close to the release date.
Play as Darth Vader, Luke Skywalker or Boba Fett
One great part about the new Star Wars game is that you can play as iconic Star Wars characters. Much like you can unlock special rewards in Battlefield games, you can earn the ability to play as one of these powerful characters.
In Andy Leavy's impressions of Star Wars: Battlefront include details about how these will work. Leavy writes, "
This feature will thankfully make a return and these characters will be classified as 'reward characters', allowing players to play as them as a reward for getting a killstreak or something along those lines. The inclusion of this feature is an exciting one and one that many wanted. No footage was shown of the use of the force or a lightsaber but it will be something that DICE will have to get perfect, as there would be no point allowing players to use Darth Vader only for it to be an underwhelming experience."
This limits the roll of these characters, so you'll want to practice up if you are going to unlock Darth Vader for your team.
Switch Modes from 1st Person to 3rd Person
You can switch between first person and third person mode while you play Star Wars: Battlefront so that you can get the in game experience that you want. This happens in the single player game and in modes where you can play with up to 40 players at the same time.
Drive a AT-AT, Fly a TIE Fighter or X-Wing
Iconic vehicles play a large part in the new Star Wars game. You can pilot an AT-AT to take out a crowd of rebels in relative safety or you can hop on a speeder and fly away.
Battles also play out in the sky with Tie Fighters and X-Wings. Unfortunately you cannot fly them into space, but you are able to dogfight inside the atmosphere.
Star Wars: Battlefront Release Date
EA Star Wars confirmed the Star Wars: Battlefront release date as November 17, 2015. This is just a few weeks before the new Star Wars movie and right in the middle of the busy fall release cycle that publishers are starting to fill in with specific dates.
Star Wars: Battlefront is available for PS4, Xbox One and PC. You can already pre-order Star Wars: Battlefront, and if you do you get free early access to special DLC.
Star Wars: Battlefront Meets Star Wars VII: A Force Awakens
The first Star Wars: Battlefront DLC will arrive right after the release to provide access to Planet Jakku, If you pre-order you can play the Planet of Jakku DLC on December 1st, while other users will need to wait for December 8th. This is a free DLC package that will take place in the dessert planet that appears in Star Wars VII: A Force Awakens.
Learn what happened at the Battle of Jakku, which precedes the events of Star Wars: The Force Awakens
2 maps set on the all-new planet of Jakku
While DLC soon after releases are often frowned on, this free Star Wars movie tie-in is an exciting addition.
15 Exciting 2015 PS4 Games
MLB 15 The Show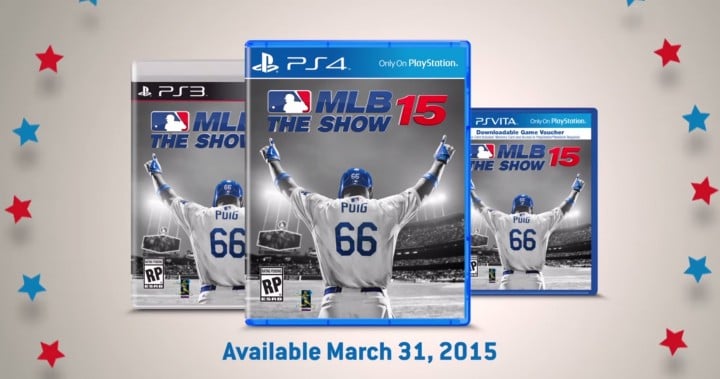 MLB 15 The Show Release Date - March 31st Confirmed
Sony is the undisputed king of baseball games with MLB The Show and we know that MLB 15 The Show is coming in early 2015. Sony just shared five key details about MLB 15 the Show and gamers are excited.
MLB 15 The Show is a PlayStation Exclusive, that is coming to the PS4, PS3 and PS Vita. There is a chance that this will be one of the first big hits among the 2015 PS4 game releases. I
Watch the MLB 15 The Show teaser video above for a glimpse at what's new.

As an Amazon Associate I earn from qualifying purchases.