Fallout 76: Which Edition to Buy?
The Fallout 76 release date is here and a lot of Xbox One, PS4 and PC owners are thinking about buying Bethesda's latest game. In this guide we'll take you through your options and help you decide which Fallout 76 Edition is the right choice for you and your budget.
Fallout 76 isn't your typical Fallout game. Instead of a lengthy single-player experience, Fallout 76 is an online game that puts players into a huge world with other players.
Fallout 76 features a massive map (four times the size of Fallout 4), quests, Fallout-style combat, and base building called C.A.M.P. The game can be played alone, but you can also team up with a group of friends or strangers to traverse the wastelands of West Virginia. If that sounds fun, you might be thinking about buying it right now or sometime during the holiday season.
Fallout 76 is available through most retailers and Bethesda and its partners are selling three versions of the game: The standard version, the deluxe version, and an expensive Power Armor Edition. It's 2018's version of Fallout 4's Pip-Boy Edition.
If you decide to buy a copy of Fallout 76 you'll want to purchase the correct version. This walkthrough will help you do just that.
Fallout 76 Standard Edition
The standard edition of Fallout 76 is the most basic version. It starts at $60, but you might be able to find a deal through a site like Amazon or NewEgg as we push away from the game's release date.
The standard edition comes with the least amount of bonus items, but it's the cheapest version of Fallout 76. Here's who should buy the standard version of the game:
Newcomers to the Fallout series.
People who don't have a ton of time to play games and aren't sure how much time they can or want to invest in an online RPG.
Fallout 76 Tricentennial Edition
Retailers are also selling a Fallout 76 Tricentennial Edition, also known as the Deluxe Edition, and it comes with some extra goodies.
The Tricentennial Edition is $80, $20 more than the standard edition, and it comes with an assortment of in-game items that will help get you started.
The bundle's bonus items include a Tricentennial Power Armor Customization for the T-51, T-45, T-60, and X-01 Power Armors, Tricentennial Weapon Customization for the 10MM Pistol, Hatchet, and Laser Rifle, a Vault Boy Mascot Head, an Uncle Sam Outfit, a Vault Boy Saluting Emote, Tricentennial Workshop Posters, and a Tricentennial Commemorative Photo Frame.
You should only buy the Tricentennial version of the game if:
You plan to invest a lot of time into Fallout 76.
You're really into customizing your characters.
You're a collector and a huge Fallout fan.
Fallout 76 Power Armor Edition
Bethesda and its partners are also selling a Fallout 76 Power Armor Edition. The Power Armor Edition requires a $200 investment without a deal, but it comes with a lot more than the standard and Tricentennial versions of the game.
In addition to a copy of Fallout 76, the Fallout 76 Power Armor Edition includes:
Full-Scale Wearable T-51 Power Armor Helmet with West Tek Canvas Carrying Bag: This wearable helmet faithfully replicates the in-game model and comes complete with voice modulator speaker, functioning LED head lamp and custom V.A.T.S. sound feature.

Glow-in-the-Dark World Terrain Map: This physical, fully-colorized 21"x 21" glow-in-the-dark vintage map showcases the six distinct regions of West Virginia complete with irradiated landmarks, towns and wildlife.

24 Collectible Fallout Figurines: Crafted from in-game 3D models, these detailed miniatures bring Fallout 76's Vault Dwellers, Power Armored Soldiers, Creatures and more to life.

Tricentennial Steelbook: Exclusive to the Power Armor Edition, this decorated metal case is the ultimate collectible celebrating America's 300 years of freedom.

Fallout 76 Tricentennial Edition Bonus In-Game Items: Celebrate 300 years of freedom with the all-new Fallout 76 Tricentennial Edition, commemorating the opening of Vault 76. Be the talk of the town when you emerge from Vault 76 fully prepared and patriotically styled in the new American frontier!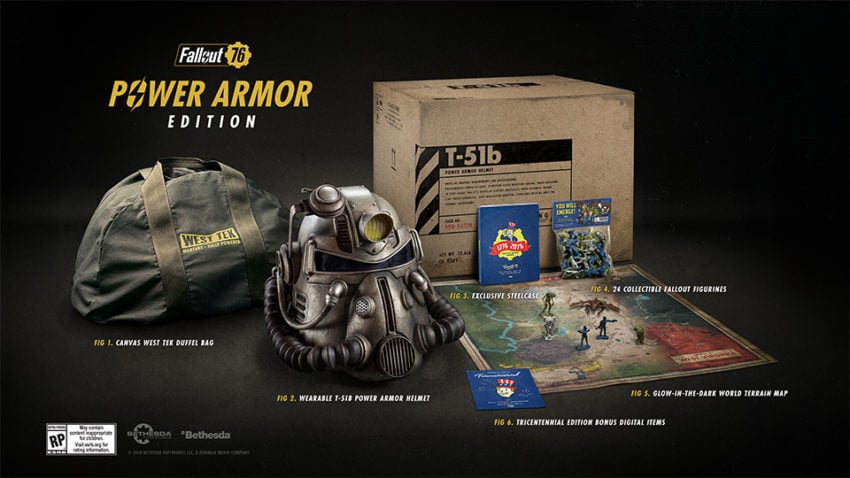 The bundle is still on sale through sites like Amazon, but you'll want to act quickly. Bethesda says supply is limited which means we'll likely see a complete sellout before the end of the year.
So who should buy the Power Armor Edition? Simple: Huge fans of the Fallout series who love collectibles. If you aren't a Fallout fanatic, you're better off buying the standard or deluxe version of the game.
Digital vs. Physical
You'll also need to decide between a physical copy or a digital copy of the game.
If you buy the game with a disc, you'll be able to sell it to a retailer like GameStop for credit toward another game once you start getting bored with Fallout 76's world. You'll also be able to sell the game for cash on sites like eBay or Craigslist if you prefer local currency.
If you buy the physical edition you'll be able to easily lend the game to a friend, family member, or co-worker if they want to try before buying or if you simply want to take a break.
If you buy the digital version of Fallout 76, you'll be able avoid damage to a disc and cut down on the clutter around your entertainment center.
If you're the type of person who misplaces discs or if you're someone who lives with a destructive child, think about going with a digital copy.
There's also that convenience factor. Instead of having to pull out the Fallout 76 disc from a case or sleeve every time you want to play, you'll be able to jump right in once your console boots up.
Fallout 76 Xbox One X Bundle
Fallout 76 is an Xbox One X enhanced game which means those of you with a 4K television might be thinking about making an upgrade to Microsoft's console this fall.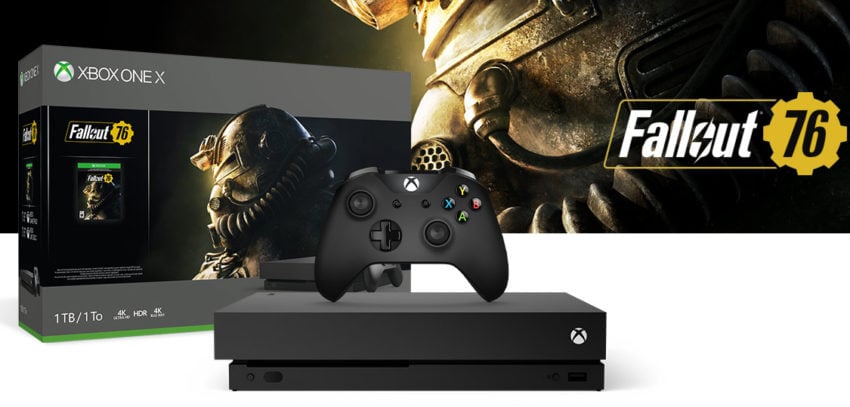 Microsoft recently announced a brand new $499 Xbox One X Fallout 76 bundle that comes with a 1TB console, a controller, and a copy of the game.
You'll also get a free month of Xbox Game Pass and a free month of Xbox Live Gold.
3 Reasons to Buy Fallout 76 & 7 Reasons to Wait
Buy If You Love Online Games & Fallout
If you like the sound of an online Fallout-style RPG, you might want to buy a copy of Fallout 76.
Fallout 76 is an online survival RPG inspired by games like Rust and DayZ.
It's much different than the Fallout games you're used to, but it still has quests, a leveling system, V.A.T.S. (though it's nothing like the V.A.T.S. from previous games) and tons of enemies to kill just like Bethesda's traditional single-player RPGs.
It also has base building (dubbed C.A.M.P.), something Bethesda introduced in Fallout 4 back in 2015. Fallout 76 allows you to build anywhere on the map.
Fallout 76 is more Fallout Online/Elder Scrolls Online than Fallout 5. If sharing an open, evolving Fallout world with friends sounds amazing, think about buying a copy of the game today, tomorrow, or sometime in the near future.