FIFA 19 Demo Release Date Locked In: Everything You Need to Know
You can play FIFA 19 early without EA Access or Origin Access thanks to a FIFA 19 demo that arrives on September 13th. Thi is the first chance you'll have to try the new FIFA 19 features.
Every year we see a FIFA 19 demo arrive before the release date, and this year it lands two weeks before the release date.
The FIFA 19 release date is September 25th with the Champions Edition and September 28th for the normal edition. No matter which of the editions you buy, you can still score some great FIFA 19 deals.
FIFA 19 Demo Release Date & Time
The FIFA 19 demo release date is September 13th according to TrueAchivements.
Expect a FIFA 19 demo release time around 10 AM Pacific, 1 PM Eastern. This is not confirmed, but it is typically when things go live.
If that time isn't spot on, you could see it at 1 PM Pacific, 4 PM eastern. These are the typical release times.
FIFA 19 Demo Systems
Count on seeing the FIFA 19 demo on the Xbox One, PS4 and PC. These systems always get the demo and it typically arrives at the same time.
Last year FIFA 18 came to the Nintendo Switch, but there was no Switch FIFA 18 demo. It's not clear if that will change this year.
FIFA 19 Demo Teams, Mode & Content
You won't get to try out all the FIFA 19 modes and new features in the FIFA 19 demo. We don't know the teams yet, but expect to learn about these in a few days.
Traditionally we see about a dozen clubs you can choose from, about four stadiums and exhibition game modes.
We could see the FIFA 19 Training mode included, which will allow you to test out your skills and improve with the new FIFA 19 features.
There is a good chance that you will get to play a small preview of The Journey episode for FIFA 19.
FIFA 19 Demo Limits & Progress
Your FIFA 19 demo progress will not carry over to the full release of the game. That happens with EA Access and Origin Access, but not with the demo.
Typically there is no time limit of hours played or an expiration date for the demo, but you may need to restart the demo after a game or two.
FIFA 19 Pre-Order Guide: 3 Reasons to Buy & 3 Reasons to Wait
Pre-Order If You Want an Edge in FUT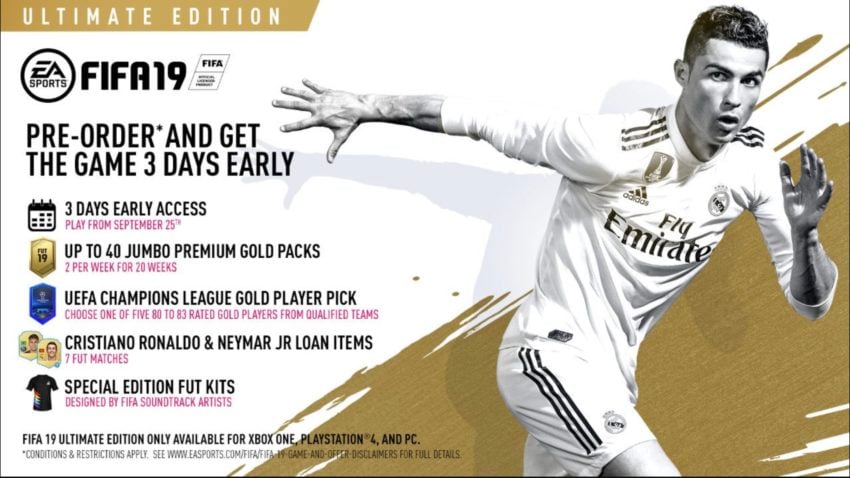 Do you love playing FIFA Ultimate Team? If you want to get a head start you should plan on buying the FIFA 19 Ultimate Edition which lets you play three days early.
This also comes with a ton of FIFA Ultimate Team extras. While you won't get the FUT Jumbo packs all at once, you can still benefit from the early access.
You can build up your team and start checking the auction house where you might be able to pick up some players early to help get a better team.
At the end of the day, if you are buying FIFA 19 Ultimate, you should pre-order at some point, even if you wait until September to do so.

As an Amazon Associate I earn from qualifying purchases.