Galaxy Note 7 Fan Edition Release: What to Know
The Samsung Galaxy Note 7 "Fan Edition" is official and available starting July 7th with Samsung Bixby on board. After two recalls in 2016 Samsung completely canceled the Galaxy Note 7 due to exploding batteries. It's back though and here's what you need to know about the Galaxy Note 7 Fan Edition release.
Brand new unopened Galaxy Note 7 phones were refurbished by Samsung and are available as a limited edition product. The company is reportedly selling around 400,000 initially, for those interested.
Read: 35 Galaxy Note 7 Tips & Tricks
Galaxy Note 7 "Fan Edition" phones are the same popular device released in 2016 only it has some changes to keep the phone safe. Not to mention upgrades to make it a worthwhile purchase. While a new Galaxy Note 8 is coming soon, this is the next best thing right now for Note fans. Read on for more details.
Galaxy Note 7 Fan Edition Release Date
Samsung's new and improved (and safe) Galaxy Note 7 Fan Edition is available exclusively in South Korea starting July 7th. We're not expecting this phone to become available in any other regions. That said if the initial production run of 400,000 units sells out the company may build more and release it in other popular regions like the United States. With Samsung stating they will "decide later" if it's worth releasing outside of South Korea.
Again, these are brand new Galaxy Note 7 smartphones that Samsung refurbished. This is part of an eco-friendly project to minimize waste and resources after the Note 7 got canceled.
Galaxy Note 7 Fan Edition Changes
The new Galaxy Note 7 "FE" is the same Note 7 the company released in August of 2016, only there are some minor changes and improvements.
Buyers will get a 5.7-inch Quad-HD display, a fast and powerful processor with 4GB of RAM and 64GB of storage. There's a micro-SD slot for storage expansion, an excellent 13-megapixel camera similar to the Galaxy S8, and the phone is IP68 dust and water-resistant.
So what's different? Samsung removed the unsafe 3,500 mAh battery and instead is using a brand new 3,200 mAh battery cell. This battery is using "enhanced safety designs" and went through a rigorous 8-point battery inspection. The company promises a safe and enjoyable experience for fans looking to get a piece of history.  There's even a heart on the box for those that love the Galaxy Note line of smartphones.
Other noteworthy changes include updated Android 7.0 Nougat software that matches the new Galaxy S8, and that includes its Bixby AI virtual assistant. Meaning potential buyers can get a similar experience to the Samsung's latest and greatest smartphones, along with the S-Pen stylus and other functions of the famed Note 7.
Galaxy Note 7 Fan Edition Colors
The phone is available in four colors: Black, Silver, Gold, and Coral Blue. Each phone has a big "Fan Edition" marking on the back, which notifies you that the phone is safe to use. Additionally, this should serve as a visual indicator for airport and transportation officials. Mainly because the original got banned from airports and other modes of public transportation.
Just know that the new phone comes in four fancy colors, is clearly marked as a Fan Edition and is safe to use.
Galaxy Note 7 Fan Edition Price
Samsung is asking about 2/3rds the price of the original. The Galaxy Note 7 Fan Edition is available in South Korea on July 7th for £470 won. This translates to around $600 US dollars, although we don't expect a release outside of their home country and if so pricing may change.
It's worth stating that rumors suggest a new and improved Galaxy Note 8 is coming in August or September. It will feature a bigger 6.3-inch curved Infinity Display, dual cameras on the back, and other improvements to make it a worthy successor. While most will likely pass on the Fan Edition and wait for the Note 8, the disastrous phone is available for those interested.
We'll keep an eye out for more details and update once we know more. Again, don't expect it to become available in the United States anytime soon, if ever. Those considering the Note 7 FE will want some cases from our slideshow below.
17 Best Galaxy Note 7 Cases
Spigen Rugged Armor Note 7 Case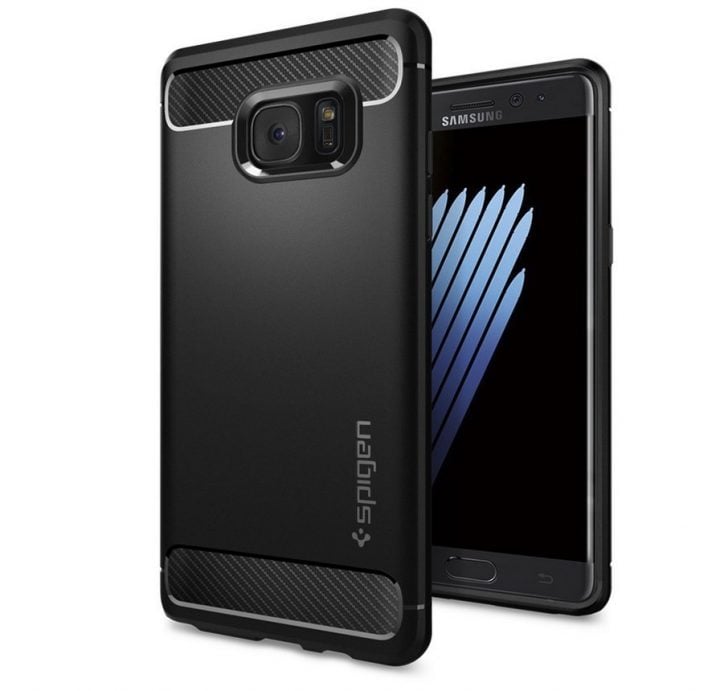 Spigen is a household name at this point, and if you've never tried one of their cases you should start with the Galaxy Note 7. Spigen makes everything from ultra-thin lightweight cases to some of the most durable options on the market.
Myself, I always choose the perfect middle ground model like the Spigen Rugged or Tough Armor. This is a durable and lightweight (and also cheap) TPU case with a flexible design, air-pocket technology to protect the phone from drops, and a small lip on the sides to protect the screen.
Even with the Edge curved glass laying face down this case will protect the Note 7. It's as good as it gets, has a faux carbon fiber design, and is under $12. You can't go wrong with anything from Spigen, and this probably won't be their only case on our list. Like this one.
Buy it Now on Amazon for $11.99