Galaxy Note 8 Concept Turns Leaks into Reality
Now that the Samsung Galaxy S8 is official with an April 21st release date attention and leaks have turned towards the upcoming Galaxy Note 8. Below is the latest Galaxy Note 8 concept render that teases a sleek new design based on all the Galaxy S8 and some Note 8 leaks and rumors.
Samsung recently confirmed the Note series will continue in 2017. After the recalled Galaxy Note 7 many expected the model to die, but that's simply not the case. The Galaxy Note is still extremely popular, and many will be waiting for the next big thing. Note users love their big phone and its stylus.
Read: Galaxy S8 Release Date& Pre-Order Info
With the new S8 we're getting a huge screen with nearly no bezel, the fingerprint scanner is on the back and more. It's looking pretty great, and you can learn all about it with our link above. We're expecting many of those key improvements and changes to make their way to the Note 8. Along with some additional upgrades like a fingerprint scanner built-into the glass. Read on for more details and the first Note 8 video leak.
Nothing is even remotely official yet, but it's highly plausible that Samsung will follow the same trend they've used for years. By releasing the stunning new Galaxy S8, then built on that for the Note series. Make it bigger, better, faster and add more features in addition to the S-Pen, and release it in August or September.
That's how the company has operated for years, which makes a potential Galaxy Note 8 extremely exciting. A huge screen, tiny bezels, and all the bells and whistles. Check out the concept video below for our first teaser. The guys at TechConfigurations used the info from the Galaxy S8, and combined it with the Note 7 to bring the possibilities to life.
Shown above is potentially a pretty close representation of what the Galaxy Note 8 will look like. Of course the screen will be around 6.4-inches or bigger, and some design changes may be in line, but we can't be sure.
Furthermore, what's being called the first official leak of the Galaxy Note 8 recently surfaced. However, this is just a rumor and leaked photo with nothing to confirm it's real. In fact, it's highly likely that this is the Galaxy S8+ with an old S-Pen stylus next to it. That said, it could be real but we'll have to wait and see. The photo is below courtesy of SlashLeaks.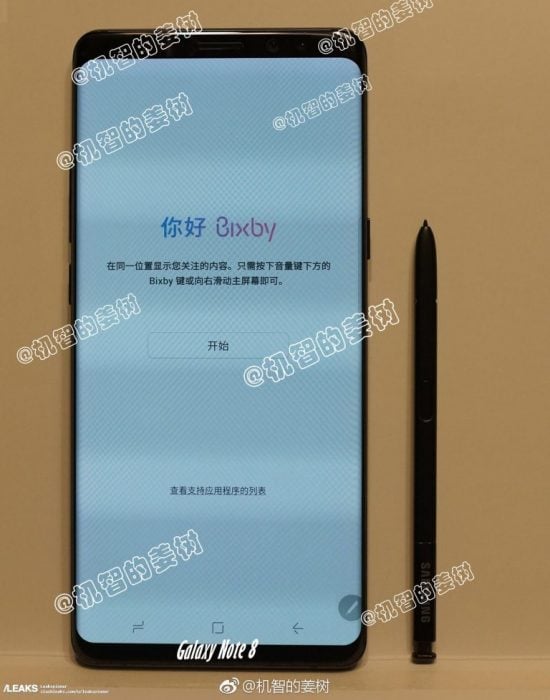 Could that be the Galaxy Note 8? We'll have to wait and see. Making the bezels tiny and the screen bigger, curving the front and back glass, and much more. Of course we're expecting the fingerprint scanner to be inside the front glass, and not on back like the Galaxy S8. The screen will also be massive and Samsung will need to trim down the S-Pen if they want it to fit.
Read: Get the Best Galaxy S8 Features Without Upgrading
Considering the Galaxy S8 has a 5.8-inch screen and the S8+ is 6.2-inches, the Galaxy Note 8 should be massive. Around 6.4 or even a 6.5-inch Quad-HD screen. Or even better, it could come with Samsung's first 4K screen in a smartphone.
Again, nothing is remotely official right now, but we can still wonder and debate. The spec list below combines typical upgrade cycle information along with the Galaxy S8 to complete what could be Samsung's Note 8 later this year.
Galaxy Note 8 Specs (Speculation)
6.4-inch Quad-HD (or 4K) Curved Infinity Display
8-core Samsung Exynos Processor with 6GB of RAM
64 or 128GB of storage and micro-SD expansion
Android 7.1.2 Nougat with TouchWiz (Or Android O)
12-16 DualPixel Camera with OIS, f/1.7 aperture, more
8MP front f/1.7 aperture wide-angle camera
Rear or Screen Embedded Fingerprint Scanner, Iris Scanner, Object Tracking Camera tech
3,600 mAh battery with Fast and Wireless Charging
IP68 Dust & Water Resistant
Improved Always-On Display
Dual Stereo speakers (top left and bottom right)
S-Pen Stylus, USB Type-C, more
This is all just speculation for now, but over the coming months more information will slowly surface. Samsung's Galaxy S8 will be released on April 21st, but that doesn't mean the company isn't already busy working on the successor to the failed Note 7.
Galaxy Note 8 Rumors
What we do know though, is the Galaxy Note 8 will be a thing. The company hasn't scrapped the phablet idea. Recently the first few reports have started to surface too. According to SamMobile the Note 8 is codenamed "Baikal" which stems from the name of the deepest lake in the world. Suggesting Samsung could offer the deepest clarity ever with a 4k display. Or dig deep and offer their best phone to date with the Note 8.
Additionally talks of a 4k display continue, along with Samsung's use of their new AI technology.
For what it's worth, the Galaxy Note 7 received glowing reviews and won plenty of awards before the recall. Arguably Samsung's best smartphone yet, but riddled with dangerous and explosive batteries inside.
If Samsung can get back to their A-game and blend the best of last years failed device with the new style of the Galaxy S8, the Galaxy Note 8 could be extremely impressive. Enjoy the video, photos and information above, and stay tuned for more details as 2017 continues.