Galaxy S8+ vs Galaxy Note 5: Worth the Upgrade?
With the Samsung Galaxy S8 readily available buyers are weighing all of their options or considering an upgrade. Here we'll be comparing the big screen and features of the Galaxy S8+ with the Galaxy Note 5 for those interested.
We'll help you decide if the bigger screen of the Galaxy S8+ and water-resistance is worth losing the S-Pen stylus, detail what's new, and go over some important aspects of both phones.
Read: Best Samsung Galaxy S8 Deals
From their excellent cameras to powerful processors and beautiful displays, these phones almost have it all. In fact, both the Galaxy S8+ and Galaxy Note 5 look pretty similar at first glance, which is why it's important to know about all the differences before you upgrade.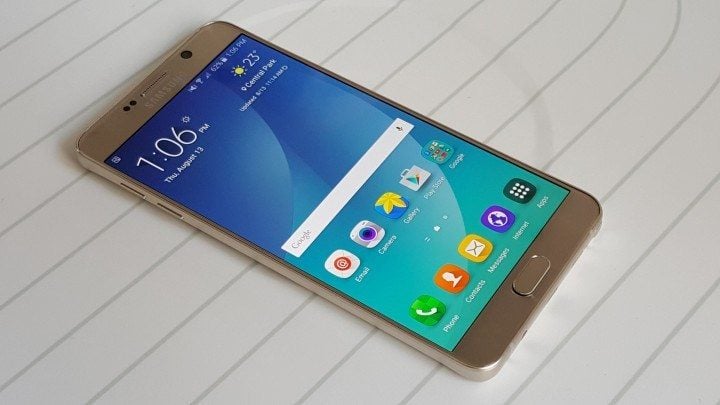 Samsung's Galaxy Note 5 is still a great phone. It offers a beautiful premium design that's all metal and glass. The screen is large at 5.7-inches with a Quad-HD resolution, and of course, there is a stylus. Owners know what it has to offer, and what makes it great.
However, it's now over two years old and there's no viable replacement in most Samsung users eyes. Samsung canceled the Note 7, and nothing else compares. The Galaxy S8 and S8+ don't have an S-Pen stylus, but there are other features that make up for it. We have bigger screens, water resistance, a micro-SD slot for storage expansion and more importantly, better battery life. Those are extremely important upgrades every user should consider.
The regular Galaxy S8 has a bigger 5.8-inch display, which is an important part of any buyer's decision. It looks about the same size as the Note 5 when you consider the rounded corners, curved edges and the taller design. Then there's the Galaxy S8+ with a massive 6.2-inch screen, which is what we'll focus on below.
Read: 13 Official Accessories for the Galaxy S8
If you're eligible for an upgrade and are trying to decide on what's available now, or to wait, we're here to help. We wouldn't recommend getting the Galaxy S7 right now, or the LG G5 and V20. Instead, get the Galaxy S8 or S8 Plus. Or learn some new Galaxy Note 5 tricks with our 45 tips and keep using it.
It all comes down to personal preference, needs and your budget. If you're still using Samsung's Note 5 here we'll be discussing what's new and different on the Galaxy S8+ and why it's worth the upgrade.
Galaxy S8+ vs Galaxy Note 5: Display
Obviously the first thing you're going to notice, and what most buyers are after, is the display. Samsung's lead the pack when it comes to screens for years, but they've outdone themselves in 2017.
The Galaxy S8+ has a massive 6.2-inch Infinity Display, in a package about the size of most 5.7-inch phones. It's using a new S-AMOLED Quad-HD display with an even higher 2990 x 1440 resolution, and it looks really good. The edges are curved, and Samsung did not offer a flat model this year. If you chose the Note 5 over the Galaxy S6 Edge Plus, you'll have to keep it or deal with a curved display.
That's a good thing though. It looks good, feels great, and doesn't get in the way or have accidental touches. I've even turned off the "edge" features and just enjoy the premium design. You can too.
As a comparison, the Note 5 has a 5.7-inch Quad-HD display that's completely flat. It isn't as tall, but it's a lot wider. The Galaxy S8+ screen is a little thinner, taller and easier to use and hold with one hand. At the end of the day just know the screen has a slightly higher resolution, it's much bigger overall, and it's long and skinny. Rather than wide and slightly taller like the old Galaxy Note 5.
If you can hold and manage the Note 5, you'll be fine with the Galaxy S8+.

As an Amazon Associate I earn from qualifying purchases.