Here's How Long the macOS High Sierra Update Takes
The macOS High Sierra update is big, but the longest part of the upgrade is the installation for most users. If you're prepared, the new upgrade shouldn't take too long to install on your MacBook, MacBook Air, iMac, MacBook Pro or other Mac.
Apple's High Sierra update first arrived in late 2017 with plenty of new features for your Mac. The new macOS 10.13.5 update is smaller and more focused, but it still takes a while to install.
The macOS High Sierra update is large, and you may see an even  larger update size if you are not coming from macOS Sierra. One of the most common questions is, "how long does the macOS High Sierra update take to finish?"
It will take longer to upgrade from macOS Sierra to macOS High Sierra. If you are already on macOS High Sierra and just need to install the latest release like macOS 10.13.5, it will take at least 20 minutes to install. Plan to set aside a little bit of time for this update, during which you cannot use your computer.
| Task | Time |
| --- | --- |
| Backup to Time Machine (Optional) | 5 minutes to a day |
| macOS High Sierra Download | 20 minutes to an 1 hour |
| macOS High Sierra Installation Time | 20 to 50 minutes |
| Total macOS High Sierra Update Time | 45 minutes to an hour and 50 minutes |
We don't know exactly how long your macOS High Sierra update will take since download times will vary based on your Internet connection and based on your device. We can help outline the most likely time you need to complete the upgrade.
One of the biggest factors will be if you are prepared for the macOS High Sierra update with a Time Machine backup. If not, that could take a long time to complete. Below you can see how much time you should plan on for each of the main steps that you need to take to install High Sierra.
Prepare for macOS High Sierra
You don't need to do a Time Machine Backup before you install macOS High Sierra, but we recommend taking that step as well as following the other prep that we outline in our things to do before installing macOS High Sierra.
This takes a little longer, especially if you don't have a Time Machine backup that is current, but it is something you should do unless you have another backup strategy in place.
macOS High Sierra Download Time
The biggest wild card is how long the macOS High Sierra download takes. This will vary based on your Internet connection and on the number of people trying to download the update when you are. If you don't see the update, you can click here to see it in the App Store.
It's nothing to see the update time remaining jump from an hour to eight hours and back to an hour during the first day or two of the release. Plan to spend at least an hour on this, possibly longer.
You can keep using your Mac while you download macOS High Sierra. This will take take less time for smaller macOS 10.13 updates, than for the full upgrade from macOS Sierra.
macOS High Sierra installation Time
The macOS High Sierra installation time should take about 30 to 45 minutes to complete if everything works right. This assumes that nothing goes wrong and is a best case scenario.
When you install a smaller update like macOS High Sierra 10.13.5, expect the installation to take about 20 minutes, but it could take over a half our. This was on the 2016 MacBook Pro, and your time may vary on older computers.
The computer will restart multiple times and you will see different countdowns showing you how long is left. You'll see different countdowns and when you see Completing Installation: About 10 minutes remaining you should be on your last part of the installation. You cannot use your Mac while the installation is taking place.
9 Things to Do Before Installing macOS High Sierra
Learn About macOS High Sierra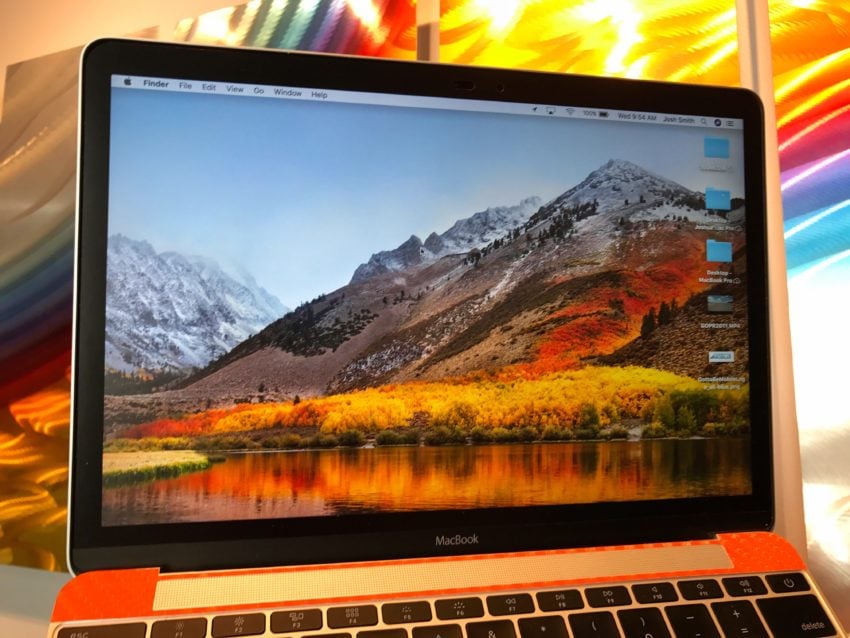 Apple announced macOS High Sierra in June, but it is just now coming out to your Mac. If you haven't investigated this update much, now is a good time to learn more about the major upgrade coming to your Mac.
The macOS High Sierra update adds a good number of new features, a ton of fixes and changes how your Mac and iPhone interact when it comes to photos.
If you are anything like us, some of these new macOS features will excite you, and others will annoy you. Before you start the download and install macOS High Sierra, you should learn more about it.
Here's a look at the major differences between macOS Sierra and macOS High Sierra that will show you what to expect. It's a great place to start, and you can dive into Apple's page for more information.