macOS High Sierra Release Date, Time, Features & Details
Apple announced macOS High Sierra at WWDC 2017. This is the next upgrade for macOS Sierra, and it includes technological upgrades as well as many refinements to the features Apple introduced last year. The macOS High Sierra release date is today, September 25th and the release time is at 1 PM Eastern.
The new macOS High Sierra update is coming to your MacBook and iMac with better security, enhanced privacy, support for VR and external graphics.
Here is what you need to know about the macOS High Sierra release date, features, and macOS High Sierra compatibility as the developer beta arrives and a public macOS High Sierra is on the horizon.
macOS High Sierra Release Date
Apple announced the macOS High Sierra release date as Fall 2017. This is as specific as Apple was during the WWDC 2017 keynote, but we expect that this will come in September or October. Apple traditionally releases macOS after iOS, which leads to October in most cases.
There is a macOS High Sierra developer beta arriving today for users who want to try the new features ahead of the macOS High Sierra release date this fall. Apple promises a public macOS High Sierra beta in late June. You can sign up for that as part of the Apple Beta program. This is how to install the macOS High Sierra beta, and here are the reasons you should and shouldn't install the macOS High Sierra beta.
macOS High Sierra Release Time
The macOS High Sierra release time is 1 PM Eastern, 10 AM Pacific based on past releases. This is what Apple did for macOS Sierra and for iOS 11, and we expect the same delivery for the macOS High Sierra update.
You should see it in the app store around that time, though it may not show up for all users immediately. We often see a lag of 15 to 20 minutes for some devices. Once we have the direct link we will update with that.
macOS High Sierra Compatibility
This refined update to macOS is coming to all Macs that support macOS Sierra. That means most users will get this upgrade without the need to buy new hardware. If you are running macOS Sierra, your computer will support High Sierra. There is a chance that some features will not come to older Macs, specifically VR features and the external GPU enclosure feature that relies on Thunderbolt 3.
New macOS High Sierra Features
Apple announced a selection of macOS High Sierra features at WWDC 2017 and we will see more as developers play with the beta and as Apple holds back some for a reveal later this year. Apple just updated the MacBook Air, MacBook, MacBook Pro and iMac lines so they don't need to hold back much. Here is a quick look at the new macOS High Sierra features.
Safari – Faster and more secure.
AutoPlay Blocking – Stops autoplay video from annoying you.
Intelligent Tracking Prevention – Stops advertisers from tracking you.
Photos Upgrades includes better face recognition that syncs across devices.
Photo Editing Upgrades This includes new editing tools like curve, selective color and more.
Photo edits sync back to photo library from Photoshop or Pixelmator.
Third Party Printing Services allow you to print wall art and books.
Apple File System on Mac delivers super fast file transfers and management.
Metal 2 delivers better graphics support.
External GPU Support with Thunderbolt 3
Metal for VR – Steam Engine, Unity and Unreal
That's just a quick overview of the new macOS High Sierra features coming to the Mac this fall. We'll learn more about which features won't make it to older devices. Apple normally needs to restrict some features from older devices due to hardware constraints.
14 New macOS High Sierra Features Worth Upgrading For
Upgrade for Messages in iCloud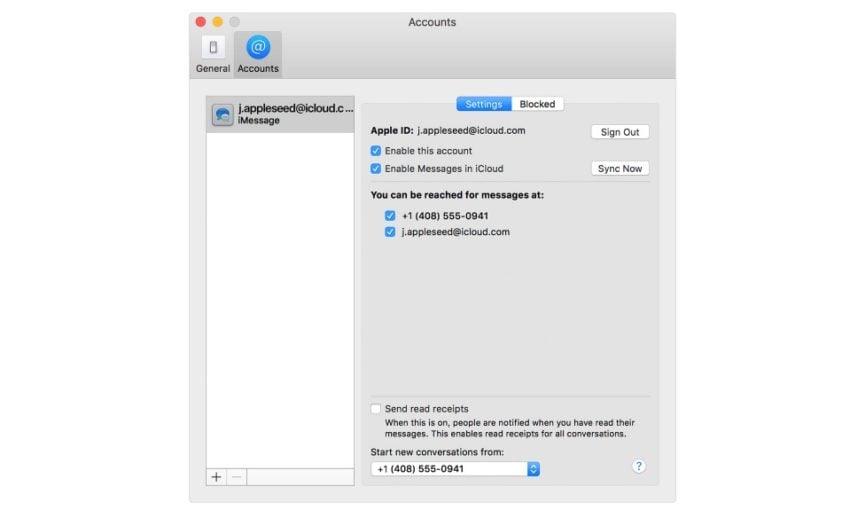 With macOS 10.13.5 your Mac can now sync messages from your iPhone and iPad even better than it could before. The new Messages in iCloud is in iOS 11.4 and macOS 10.13.5 and it can help save space on your iPhone and Mac as well as make sure your messages are always in sync.
With Messages in iCloud turned on across all of your Apple devices any changes you make in a conversation will sync to the other devices. This will remove parts of the conversation you delete, or even a whole thread when you delete it.
You This will also move all of your attachments to iCloud, which means you need less space on your Mac and iPhone. You'll need iCloud and you need two-factor authentication on your Apple ID.