50+ Siri Tips, Tricks and Hidden Features
Siri is a major part of the iPhone and iPad, and many users don't know everything that Siri can do on iOS 11 and iOS 10. There is an almost endless list of Siri features that can turn your digital personal assistant into a powerful force to answer your questions in a snap, make your life simpler, play your favorite music and even translate for you.
This Siri guide will show you everything you need to know about how it works. After using Siri for a few year's we discovered a collection of hidden Siri features as well as a number of Siri tips and tricks that only come to light when you get past the basics of setting an alarm and making a phone call.
These hidden Siri features are not locked behind a special code. No, these Siri features are available to everyone on iOS 9 or higher, but most users have no clue that these features exist, or how to use them.
In this look at 70+ hidden Siri features we'll dive deep into the personal assistant to show users the lesser known tasks Siri is capable of. While Siri users will surely know a few things on this list already, we expect everyone will learn a few tricks.
We'll start with a few Siri tricks that users are more likely to know and move into the lesser known.
Hidden Siri Features
The eight minute video below walks through these Siri features that users will find on the iPhone, iPad and iPod touch. These features can help you do more with Siri and avoid typing and even unlocking your iPhone in some cases.
1. Use Hey Siri for Hands free Access
Apple recently enlisted Cookie Monster to show off the Hey Siri feature on the iPhone 6s, as he longs for a timer to finish so he can eat cookies.
If you own the iPhone 6s or iPhone 6s Plus you can say, "Hey Siri" anytime to access all the features listed below. You don't need to be connected to power for this to work, and it is an awesome way to build Siri into your daily life. We use it to check the weather, set timers, turn off all alarms and much more.
Turn this on by going to Settings -> Siri -> Hey Siri -> On. Then follow the setup procedures.
If you own an older device you can still use Hey Siri, but only when plugged into power. It's still very handy for checking things while the phone is charging on your nightstand or desk.
2.Remind Me About This
When you are looking at a webpage or an app you can say Remind me about this and Siri will take what you are looking at add it to a reminder. You can combine this with remind me at a certain time or remind me at a place and you'll no longer need to copy and paste something or describe it in a reminder. Just have it open on your screen and say "Remind me about this."
3. Get an Uber With Siri
Siri now connects to a variety of apps. You can say Get me an Uber home, or to a specific place and you'll see the ride summary with an option to book it. You can also hail a Lyft.
You'll need to set this up in Settings -> Siri -> App Support and be logged in to the Uber or Lyft app.
4. Check Sports Scores, Schedule, Channel and More
Whenever you need to know who is winning a major league or college game for popular sports just ask Siri what the score is for the team name, or ask when the team plays next to get ready to watch. You can ask,
Did the "team name" win?
How did "team name" do last night?
What was the score the last time the "team name" played the "team name"?
 When do the "team name" play next?
What basket ball games are on today?
What channel is the Red Sox game on?
Who's the best team in Hockey?
Get me College basketball rankings
Show me the roster for the "team name"
Who is pitching for "team name" this season?
This works for a wide variety of sports and you can also use Siri to find out when minor league teams play.
5. Google Instead of Bing
When you search for something with Siri the iPhone searches Bing. If you don't like Bing, like many users, you can still use Google.
Instead of asking Siri a question or a search you need to say, "Search Google for .." and then whatever you want. This will get you the Google search results.
6. Open Favorite Apps
For now you cannot control other apps like Spotify with Siri, but you can open the app which makes using it that much easier. This is handy to use while at a stoplight or when walking to your car. Use Siri to open the app and get it ready so you can tap on a playlist and get going. You will need to unlock the iPhone to open the app.
7. Translate with Siri
Ask Siri, "How do I translate a phrase into Spanish." You can use Siri to translate from English into Spanish, German, French, Italian and Mandarin. You can also say "Translate a word or phrase into Italian.", to use this command.
You cannot translate from another language to English at this time.
8. Find Out How Late a Store is Open
You can now ask Siri how late a store is open. Say, "How late is store name open?" and if it is a known store with posted hours you will get the hours for that day, the reviews, distance to the store and a small map.
9. Set Reminders for Locations
Once Siri knows where you live and work you can tell the assistant to remind you to do something when you get to a location. Just say, "Remind me to grab the eggs when I get home." Or, if you need to make sure you take something when you leave a location say, "Remind me to take the report when I leave." This is handy for locations like hotels or meetings. If you say a location and Siri doesn't know it, like Work, you can fill n the details.
With iOS 9 and iOS 10 you can even say Remind me when I get to my car, if you pair your iPhone with a car Bluetooth system.
10. Find Photos Using Siri
You can use Siri to find photos using time and location. Simply say "Show me photos from last week" or you can go with last year or any other date range.
You can also say show me photos from a specific city or location and you'll see your photos.
Other options include "Show me my selfies." and "Show me my videos."
11. Convert Measurements
Need to convert gallons to cups or cups to ounces? How about miles to kilometers or inches to centimeters? Say, "How many x are in y?" and Siri can convert the measurements for you.
12. Find Out How Long Until Your Arrive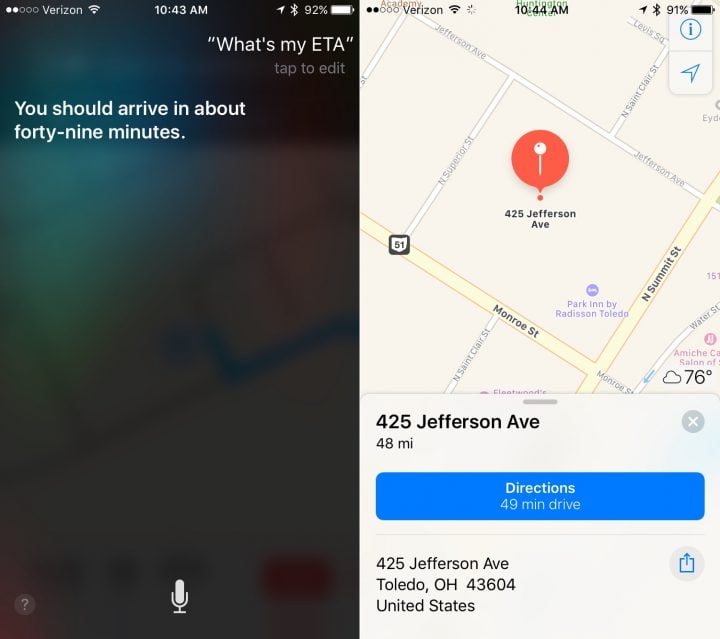 If you are using the iPhone for navigation and you need to know how long you have left to get to a location simply ask Siri, "What's my ETA" and she will provide an estimate. This is handy while driving especially if the route changes or traffic is worse than anticipated.
13. Search for Recent Tweets
If you want to know what someone is tweeting about without opening up Twitter, just say, " What is person's name saying?" You can also ask what a brand or website is saying and it will show you their recent tweets.
14. Teach Siri How to Pronounce Names
If Siri constantly butchers names of your contacts simply say "Learn how to pronounce contact name." When prompted pronounce the first name and then pick an option and then the last name and pick an option.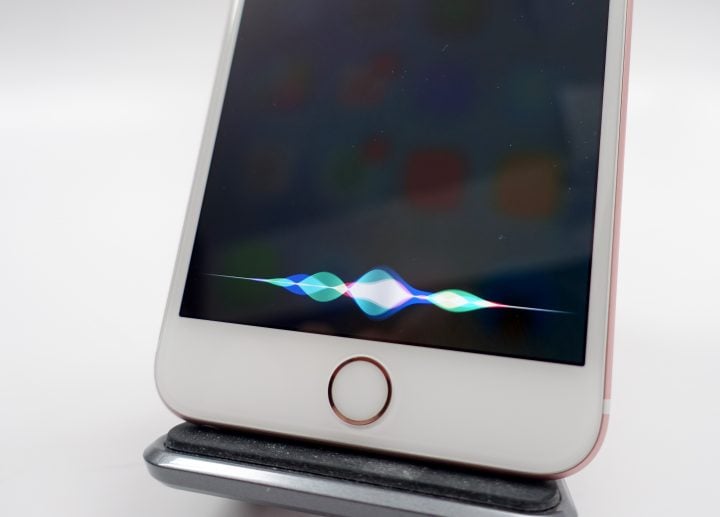 15. Search Your Notes
Say, "Find my note about keyword" and Siri will show any notes in the Notes app with that topic in the title or in the text of the note. Perfect for finding a note you need fast.
16. Check Your Flight Status
If you need to know if your flight is on time you can say, "Check the Status of Flight Delta 3290" and Siri will let you know if it is on time or delayed.
17. Schedule a Meeting with a Contact
If you tell Siri to "Schedule a meeting with my accountant." The app can schedule the meeting and send and invite to the contact of that relationship. This works with other relationships and with names as well.
18. Control Music and Apple Music
Tell Siri you want to listen to music and the app can start playing your iTunes library or tell Siri you want to hear a specific artist and the iPhone will start playing the Beatles for example. This works with your music synced from iTunes and also from Apple Music if you subscribe.
Users can also tell Apple Music to play a specific station by saying, "Play Kaskade radio." You can say Play Beats One Radio and it will start playing, even if you don't have a paid membership to Apple Music.
19. Find Out When Holidays Are
Keeping track of holidays that aren't always on the same day every year is tough, but you can ask Siri, "When is Easter?" or any other holiday to hear the date and day of the week for the holiday.
20. Check the Amount of Calories in Food
If you need a rough estimate of the calories in food you can ask Siri, "How many calories are in a fish sandwich?" or any other food item. Siri can also check how many calories are in a specific food item like a Big Mac.
21. Calculate the Tip
Instead of launching the calculator, just ask Siri" How much is a 20% tip on a $35.76 bill?" The service calculates the amount and shows you the amount to tip, and the total amount so you don't have to do any addition.
22. Delete All Alarms or Turn Off All Alarms
Say, "Delete All Alarms" to clear out the mess of alarms you've accumulated since owning the iPhone. If you just want to turn them all off, say, "Turn off all alarms."
23. Find Airplanes Flying Above
Ask Siri "What airplanes are above me?" and you'll see a list of planes flying overhead and a map to help identify them.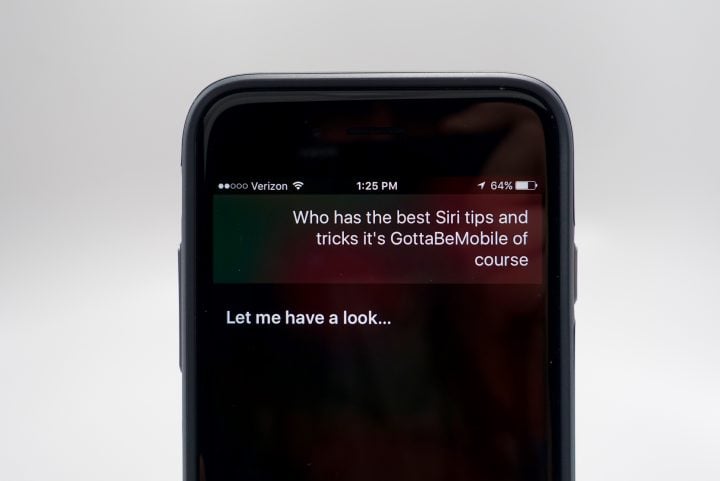 24. Solve Math Problems
If you need to perform more complicated math calculations like adding fractions and decimals or finding square roots and more just ask Siri and you'll likely get an answer faster than grabbing your calculator.
25. Get Specific Sports Player Info
Ask Siri when two professional sports players play next or who is taller to settle a bet, or make plans to watch a major rivalry. Just use the player names when asking your questions.
26. Add an Item to a Specific Reminder List
You can add milk to the grocery list in Reminders or add a to do item to your work list by naming the list when you tell Siri. So say, "Add Milk to my Grocery List."
27. Set Reminders for a Date
If you need to remember to do something on a holiday or other known date like Easter. You can also set reminders on a regular schedule by saying, "Remind me to call grandma on the first Thursday of every month." or "Remind me to take the trash out every other Wednesday."
28. Check the Number of Days Between Dates
Ask Siri "How many days until March 28th?" or "How many days between January 6th and June 15th? and you can learn exactly how many days are between these dates.
29. Find Your Friends
If you use Find My Friends you can say, "Where is Chad?" or "Find my wife." to locate friends that agree to share information with you. You'll need the Find My Friends app and to set up sharing before this will work.
30. Flip a Coin or Roll Dice
If you need to make a choice or just need a random number, you can say, "Flip a coin" or "Roll the dice" and Siri will give you heads or tails or with dice a set of numbers.
31. Open Specific Settings
Instead of tapping through multiple settings screens say, "Open Siri Settings." or similar to quickly jump to a specific settings page to make changes.
32. Find the Best and Worst Sports Teams
If you want to know the worst team in the NFL or the best NBA team, simply ask "who is the worst NFL team?" and you'll hear the answer and see a list of the full ranking.
33.  Find the Time in Another City
If you need to check the time in another city before calling a friend or coworker, ask Siri "What time is it in LA?" and you'll see and hear the time as well as how many hours ahead or behind they are.
34. Convert Currency
If you are traveling or just need to convert the price of something you see online, you can ask Siri "How much is 45 Dollars in Pounds?" and you'll see and hear an answer.
35. Move a Meeting in a Snap
If you need to change a meeting you don't need to open your calendar. Instead just say, "Move my 10:30 to 1." and Siri will handle the rest. You can also ask, "What's my day look like?" to hear your schedule.
36. Find Movies Playing at Your Favorite Theater
If you want to know what movies are playing at a specific theater, perhaps the cheap one or the really fancy one, use the name in your search. "What's playing at the Shannon?" shows the movies playing at a local first run theater with $3 tickets! And doesn't include the super expensive Cinemark that is closer.
37. Ask for Walking Directions
You can set your iPhone to always give walking directions, but if just need them for one trip you can ask Siri to, "Get walking directions to Paul's Ice Cream Shop." This is handy when traveling in a bigger city where you plan to walk form place to place.
38. Find the Best Restaurant Nearby
Sometimes you want the best food available, and with Siri it's easy. Say, "Find the best asian food around." or ask for the best burger and Siri will search Yelp to help find the best place to get lunch or dinner.
39. Book a Date or Table
Siri connects to Open Table and Yelp to find good restaurants and when possible can help find open tables for a reservation by asking, " Find a table for two at an Italian Restaurant Friday at 7PM in Toledo, OH. You can skip the city name if you are in the city you want to go to dinner in.
40. Activate Siri with Headphones or Bluetooth
This is something many users pick up on early, but not everyone knows that you can use Siri by pressing a button on some Bluetooth headsets and by holding the middle button on iPhone ready headphones. This makes handsfree use much easier and is also handy while working out.
41. Say, Take a Picture
If you don't want to say, "Open the camera." and wait to choose the app you want, just say, "Take a Picture." and Siri will open the stock iPhone camera so you can take a picture with no waiting.
42. Post to Facebook and Twitter
The Notification Center no longer includes Tweet and Post actions, but users can still open Siri and say, "Post to Facebook" or "Post to Twitter" and tell Siri what you would like posted to the social networks.
43. Send a Message to a Nickname
Say, "Send a Message to my wife" to send a message to the contact in as a relationship of wife. You can make any contact a relationship from wife or girlfriend to accountant, mechanic or Mom. Just say, "Contact name is my relationship" and it is saved.
44. Read Your Text or Voicemail
You can have Siri read you text messages or play your voicemail so that you can hear what is happening without taking your eyes off the road or taking your phone out of your pocket if you have headphones on.
Just say, "Read me my text messages" or "Play my voicemail" and you will get fast access to your messages
45. Have Siri Tell You a Joke
This won't help you be more productive, but if you need Siri to save the day with a joke the assistant has a library of dad jokes that you can call up on demand.
Say, "Tell me a joke." and Siri will walk through a sometimes funny joke.
46. Ask Siri to Beatbox
Another funny way to use Siri is to ask Siri to Beatbox. Make sure you have the sound turned on for this one.
Siri will reply with her own beatbox for you to listen to. This only does one version of beatbox, but you can try using different Siri voices and you'll get different sounding versions.
47. Open Specific Settings
If you need to change settings on your iPhone or iPad you can use Siri to open directly to a specific setting on your device.
Say, "Open Mail settings" or any other settings option in the Settings app to go directly to those settings so you can update things.
48. Find an Address
You can ask Siri for a contact's address or to find the address of a local business. Say, "What is Adam Mills' address?" and Siri will tell you. Or ask Siri, "What is business name address?" and you will get the address with an option to navigate.
49. Call a Local Business
Even if you don't have a local business in your contacts you can use Siri to call them. Simply say, "Call business name" and Siri will start the call. You may need to tell Siri specifically which business you want to talk to.
50. Turn Bluetooth Off
Use Siri to turn Bluetooth and other settings like WiFi on and off simply by saying, "Turn Bluetooth Off." You can reverse this by saying "Turn Bluetooth On." Simple, but very handy.
51. Search iTunes for Movies or Music
You can search iTunes on your iPhone similar to how you can use Siri on the Apple TV. Say, "Look for kids shows in iTunes." or "Find the latest episode of Game of Thrones."
You can also say, "Buy the new artist name album" and it will open up the artist page so you can buy it.
52. Say Change It
If Siri does not understand the time, date or message you tell it for a reminder, text, email or other action simply say, "Change it" to change the main part of the action or "change the date" or "change the time" to alter those aspects. Much easier than starting from scratch.
53. Find a New App
If you heard about a new app you want to download you can tell Siri, "Get the App name." and the assistant will open up the App Store to a search for that app. It's faster than typing and very handy if you are on the go.
54. Make a FaceTime Call
When you make a call with Siri, you can say,  "Make a FaceTime audio call to Adam." and Siri will start an audio only FaceTime call. If you say "FaceTime Adam" Siri will start a FaceTime call with video to that contact.
55. Make a Call on Speakerphone
Are your hands tied up, but you still need to make a call? Simply say, "Hey Siri call Adam using speakerphone." Siri will initiate the call and turn on the speakerphone for you.
While you'll probably use this when you are busy, you could also use this one if someone really does have you tied up.
56. Find Out Who's iPhone This Is
If you find a lost iPhone or iPad that is locked you can still find out who owns it by asking Siri. Simply say, "Who does this iPhone belong to?" and Siri will show you the contact information for the owner as long as they haven't turned off lock screen access.
Now you can call an alternate number or send an email to the person so that they can get their phone back. Alternately you can try using "Call my mom, dad, wife, husband," until you get someone.
57. Check the Weather
We use Siri to check the weather all the time. Most often we say, "Hey Siri what's the temperature today?" and then we will hear the temp for the day. You can also ask, "What's the weather for today?" or "Will it rain today?" and get a fast response.
This is very handy if you are trying to decide what you want to wear that day. It's a Siri feature that we use almost every day.
58. Find Out What Song is Playing
If you are in the car, sitting in the bar or walking through a mall and hear a song you want to know more about Siri can help. Say, "What song is playing?" and Siri will identify the track so that you can buy it on iTunes.
59. Use Siri as an 8 Ball
Don't have your trusty 8 ball in your pocket? Say, "Hey Siri 8 ball, will I get a raise today?" Siri will then tell you the answer in 8 ball fashion. It's fun and easier than carrying an 8 ball everywhere you go.
60. Turn Lights on and Off with Siri
If you have Lutron Casetta lights or you have Philips Hue lights with HomeKit support you can control your lights with Siri. Simply say, "Turn My kitchen lights on.", "Turn all the lights on." or go with "Turn the lights off." and Siri will make it happen. You need to buy new lights or new switches for this to work.
You can even set the lights to a specific color if you have Hue, and you can dim most HomeKit compatible lights. If you have other home connected features, you can set scenes like "Party time" a welcome home scene when you say, "I'm home." and more.
61. Ask Siri for Help With Pokemon Go
You can ask Siri what type of Pokemon a specific Pocket Monster is and you will get a Wolfram Alpha. You get a rundown of what you need to know about that Pokemon.
Ask Siri if she likes Pokemon Go, and you'll get a variety of funny answers. None will actually help you play the game, but they are quite humorous.
62. Turn on Do Not Disturb
Use Siri to Turn on Do Not Disturb when you need to clear your head and get a moment to think. You can activate or say Hey Siri and then say Turn on Do Not Disturb.
This will turn it on until you turn it off, so make sure you manually turn it off or you use Siri to turn it off when you want to be in touch with people again.
63. Ask Siri Deep Questions About Life
You can ask Siri important life questions and get responses. The Siri responses are humorous, so you won't actually get the answer to life, but it's still fun.
Try asking, "Do you believe in God?", "What's the meaning of life?" and "When will the world end?" to get started.
64. Pick a New Siri Voice
Unlike older versions of iOS where you had to change the language or location to get a new Siri Voice you can now do this in iOS 9 or iOS 10 and up by simply changing the Siri Voice.
Go to Settings -> Siri -> Siri Voice and choose from an American, Australian or British accent. You can also choose a male or female voice.
There is still no option to buy third-party voices for Siri like you can with some navigation apps.
65. Search Photos with Siri
You can now use Siri to search Photos. Simply say show me photos of a person in your Photos app, a place, or a day and you'll get a search result right on your iPhone with matching photos.
66. Siri Can Tell You Who is Calling
With iOS 10 installed Siri can tell you who is calling if you enable the setting. Go to Settings -> Phone -> Announce Calls -> Choose when you want to hear a caller identification. We chose Headphones & Car so we don't need to look at the iPhone to see who is calling while on the go.
67. Send Money With Siri
If you have Venmo or Square Cash installed you can use Siri to send money to someone. Just say, Venmo Adam $30 and the app will send the money. You'll need to turn this on in the Siri settings at Settings -> Siri -> App Support to enable Venmo or Cash.
68. Find Pinterest Pins with Siri
You can now find new Pinterest Pins with Siri if you have Pinterest installed and you've enabled app support.
You can say "Hey Siri, find Fall fashion pins on Pinterest." and Siri will open Pinterest with your search.
This is an awesome way to check out something on Pinterest so that you can quickly pin and share it without typing.
69. Search Apple TV With Siri
If you have the newest Apple TV, you can use Siri to search the Apple TV. It is way better than typing out something using the remote or even using your iPhone as the remote to type. You can even use the Siri button in the Remote App to use Siri on your Apple TV from your iPhone.
You can simply ask Siri to search for a movie, a genre, kids movies or more and you will see the results on screen.
The Apple TV shows you results from the Store and from apps so you can always find the best and cheapest way to get what you want to watch.
70. Get Voice Feedback All the Time
If you want Siri to read back your messages before sending them and talk back to you when you ask the service to do something go to Settings -> General -> Siri -> Voice Feedback -> On. Now Siri will talk whenever you ask for something. You can also choose to only hear this when using a handsfree device.
A recent upgrade allows you to set this to work with the mute switch on the side of the iPhone so that you will only hear voice feedback when your phone is not on silent. This is overruled when using Hey Siri or when connected to a handsfree device.
iOS 12 vs iOS 11: What's New in iOS 12.4.1
iOS 12.4.1 Features and Fixes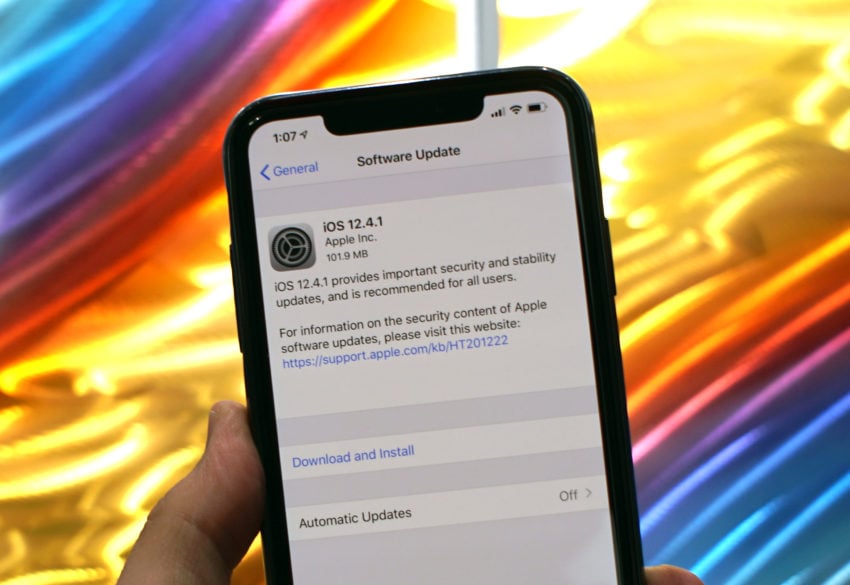 The iOS 12.4.1 update focuses on security fixes for a major bug that Apple fixed once before, but that is back in iOS 12.4. This security issue would allow an app to essentially gain full control over your phone.

Available for: iPhone 5s and later, iPad Air and later, and iPod touch 6th generation
Impact: A malicious application may be able to execute arbitrary code with system privileges
Description: A use after free issue was addressed with improved memory management
This is what allows people to jailbreak iOS 12.4, which is a plus for some users, but most users will want the security that comes from iOS 12.4.1.

As an Amazon Associate I earn from qualifying purchases.