Here's How Long the Galaxy S8 Oreo Update Takes
The Samsung Galaxy S8 Android Oreo update is a sizable download, but it shouldn't take you too long to install if your phone is up-to-date and you're prepared to make the transition from Android 7.0 to Android 8.0 and Samsung's new Experience 9.0 user interface.
The final version of Samsung's highly anticipated Galaxy S8 Oreo update is finally rolling out and it's expanded to devices in the United States.
As expected, the Android 8.0 Oreo update, which again includes Samsung's new Experience 9.0 UI, is a substantial upgrade for Galaxy S8 users.
The Galaxy S8 Oreo update delivers a lengthy list of changes ranging from new features to enhancements to important fixes for apps and services.
It's a big one and most Galaxy S8 users will want to make the move from Android Nougat to Android Oreo soon after the software arrives.
If you decide to download the Android 8.0 Oreo update onto your Galaxy S8 or Galaxy S8+, you'll want to set aside some time to complete the download and installation.
Moving from one version of Android to another can cause unforeseen issues so you'll want to be as prepared as possible for Android Oreo and its changes.
We can't tell you exactly how much time you'll need to set aside to complete the upgrade because everything will vary from person-to-person, device-to-device. That said, we can help you approximate how much time to set aside when your Galaxy S8 Oreo update appears.
If you're already prepared for your Android 8.0 Oreo upgrade, the process could take you just a few minutes to complete. If you haven't prepared, the process could take a lot longer.
| Task | Time |
| --- | --- |
| Backup (Optional) | 1-30 Minutes |
| Oreo Download | 3-15 Minutes |
| Oreo Update | 5-10 Minutes |
| Total Galaxy S8 Oreo Update Time | 10 Minutes to 1 Hour |
Prepare for Android Oreo
Before you start the Galaxy S8 Android Oreo download and installation, make sure you prepare yourself, and your device, for the change.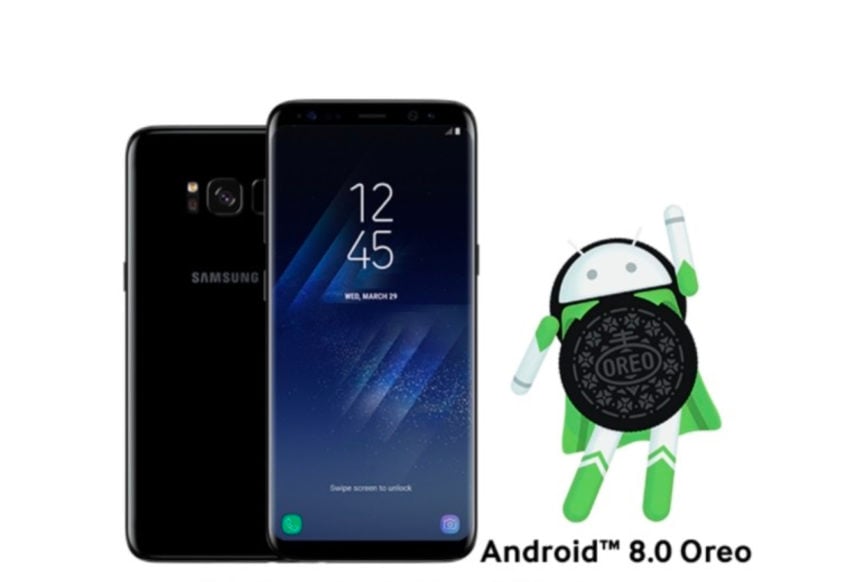 We've put together a guide that will take you through the steps we typically take before we install new Android software on our devices.
If you haven't backed up your data in awhile, make sure you do so before you download Oreo. And if you have an IT department at your job, make sure you check in with them before you make your move. Oreo could give you some major headaches if you don't.
For some of you, these steps will take just a few minutes to complete. For others, it'll take longer. It simply depends on your skill level.
You don't need to follow every single step, but the more prepared you are the better off you'll be if and when Android Oreo starts throwing problems your way.
Galaxy S8 Oreo Download Time
The Android Oreo update Samsung's pushing out to Galaxy S8 users is between 530MB and 1.5GB. Those upgrading from the Android Oreo beta will see the smallest download size.
If you have a fast Wi-Fi network at your disposal, the Galaxy S8 Android Oreo update should download in less than three minutes.
Mileage will, of course, vary from device-to-device, person-to-person.
Galaxy S8 Oreo Installation Time
If you're transitioning from the final Oreo beta to the official version of Android Oreo, your installation should only take a few minutes to complete.
If you're currently on the beta, you don't need to unenroll from the beta program or do anything special to install the final version of Android Oreo. Once the prompt appears, download the file and start the installation. It should take less than 10 minutes to complete.
If you aren't running the beta, the installation could take a lot longer depending on your situation.
If you're running the latest version of Android software for your Galaxy S8, it shouldn't take longer than 10 minutes to download and install Android Oreo and Experience 9.0.
If you aren't running the latest version, you might be forced to download all of the security and bug fix updates you skipped. If you don't want to deal with this, we highly recommend getting your Galaxy S8 up-to-date before Android Oreo arrives. This way, you'll have the shortest route to Android 8.0.
Post-Installation
After the Android Oreo update completes on your Galaxy S8 you might need to spend some time logging back into your various accounts and services. Major Android upgrades will occasionally do this.
We recommend combing through your apps and services to ensure that you're still logged in. This could take you a few minutes depending on how many apps and services you've got on your device.
After that, we recommend testing your core applications and services to ensure that they're functioning normally. Apps will sometimes go haywire after an update.
If you notice something wrong with an app, check the appropriate store for an update. Samsung's rolled out a number of Android 8.0 support updates for its apps. If that doesn't help, get in touch with the developer and report your issue.
Next, you'll want to check on your important data. Items like photos, videos, and music. Data loss is rare, but you'll want to make sure everything is in order.
You'll also want to be keep an eye out for bugs and report them to Samsung or your carrier. You should also monitor your Galaxy S8's performance as Oreo could cause a dip.
If you run into an issue with your Galaxy S8's Oreo update, take a look at our list of fixes for common Galaxy S8 software and hardware problems.
11 Samsung Galaxy S8 Oreo Release Date Tips
Start Preparing Right Now
Your Galaxy S8 Android Oreo update could be just a few days away so use this time to prepare yourself and your device for its arrival. This way, you won't be scrambling when the OTA (Over-the-Air) update pops up for your phone.
Use this time to dig into your device's storage and delete files (apps, videos, etc) you no longer need. Cleaning up your Galaxy S8's storage could improve your device's overall performance and it'll clear out space for Android Oreo.
Now would be a good time to start backing up all of your Galaxy S8's data on a regular basis if you aren't doing so already.
You'll also want to track down all of your login information before Android Oreo update lands for your Galaxy S8.
Have your Samsung login and the login info for your important apps and services ready to go because Oreo could, and probably will, log you out of some of them.
It's also important to keep your device charged up throughout the day. This way, you'll be able to install the Android Oreo update soon after it arrives (if that's what you choose to do).
Most Galaxy Android software updates require you to have 20 percent of battery charge to complete the installation process.
We recommend keeping a 50% battery charge for Android Oreo because we expect it to be a significant download. You should also keep a charger handy.
This might seem tedious, but doing some early prep work will save you a lot of time down the road.
We've put together a pre-installation guide that will help you prepare yourself and your device for Android Oreo and it's worth a look if you're new to Android or just want some additional advice.