How Long the Samsung Galaxy A Oreo Update Takes
Samsung's Android Oreo update for the Galaxy A7 (2017), Galaxy A5 (2017), and Galaxy A3 (2017) is a big download, but it should only take you a few minutes to install.
Android Oreo is rolling out right now to select Galaxy A series models. The updates are currently limited to a few select regions, but we expect the roll out to pickup steam as we push through the month.
Oreo is a substantial upgrade for the Galaxy A7, Galaxy A5, and Galaxy A3 bring base level Oreo features and Samsung's Experience 9.0 user interface to the mid-range phones.
Android 8.0 Oreo a sizable upgrade and one Galaxy A series users should think about downloading soon after the prompt appears.
That said, moving from one version of Android to another can cause problems. Galaxy A users are complaining about bugs and performance issues and there's a chance you'll run into some issues of your own. That's why it's important to set aside some time and prepare for the upgrade.
We can't tell you exactly how much time you'll need to set aside to get Oreo on board because it'll vary based on your skill level and your state of your device. That said, we can help you approximate how much time to set aside when Oreo appears for your Galaxy A7, Galaxy A5, or Galaxy A3.
If you've already spent some time preparing for your Android 8.0 Oreo upgrade, it could take you just a few minutes to finish up. If you haven't prepared, it could take longer.
| Task | Time |
| --- | --- |
| Backup (Optional) | 1-30 Minutes |
| Android Oreo Download | 3-15 Minutes |
| Android Oreo Update | 5-10 Minutes |
| Total Galaxy A Oreo Update Time | 10 Minutes to 1 Hour |
Pre-Installation
Before you initiate the download, make sure you're prepared for Android Oreo. A little prep work can go a long way toward preventing problems.
If you don't know where to start, check out our pre-installation walkthrough for the Galaxy A. It'll take you step-by-step through the process we typically use before we install a major Android update.
You don't need to follow every single step, but we highly recommend making sure all of your files are backed up properly before proceeding with the download.
Data loss issues are rare these days, but you can never be too sure.
Galaxy A Oreo Download Time
The exact size of the Galaxy A Oreo download will likely differ from device-to-device, region-to-region, and carrier-to-carrier, but here's what we know right now.
The Android Oreo update Samsung's pushing out to Galaxy A3, Galaxy A5, and Galaxy A7 users is a little over 1 GB, same as Samsung's Galaxy S8 Oreo and the Galaxy Note 8 Oreo update.
If you can find a fast Wi-Fi connection, you can expect your Android Oreo update to download in just a few minutes.
Galaxy A Oreo Installation Time
If you're running the latest version of Android on your Galaxy A series device, it shouldn't take longer than 10 minutes to get the software up and running on your phone.
If you aren't running the latest version of Android, you'll likely be forced to download the security and bug fix updates you skipped along the way. This will obviously increase the download and installation time.
If you don't want to deal with a lengthy installation time, we highly recommend getting your Galaxy A7, Galaxy A5, or Galaxy A3 up-to-date with the latest patches before Android Oreo appears for your phone.
Post-Installation
Once Android Oreo and Experience 9.0 are up and running, you'll want to spend some time making sure everything is in order.
First, check on your important data (music, game saves, photos, videos, etc) and make sure everything is there.
After that, we recommend testing your core apps and services to make sure they're working properly. If you notice something wonky, see if there's a patch available for the app. Some apps require an update to work on Android 8.0.
You'll also want to poke around for bugs and performance issues. If you notice something, report it to Samsung and/or your carrier so they can get to work on bug fixes.
4 Reasons Not to Install Galaxy A Oreo & 6 Reasons You Should
Install for Better Security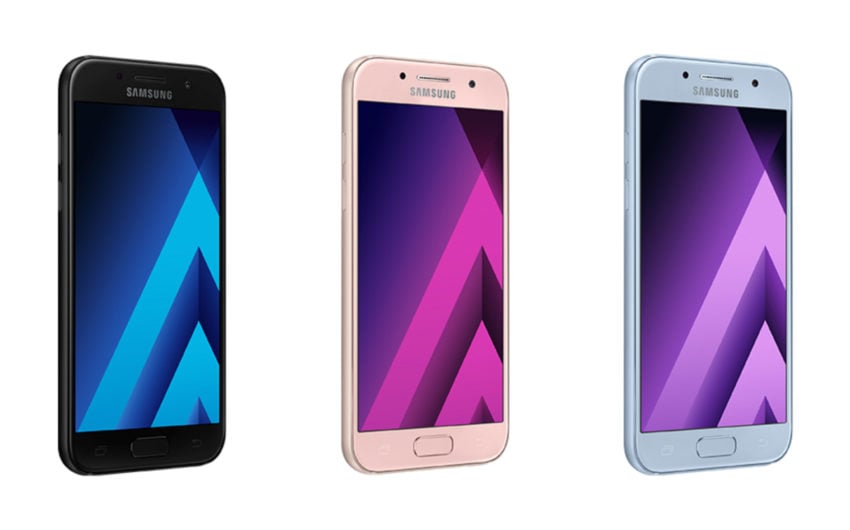 If security is important to you, you'll probably want to install Android Oreo on your Galaxy A8, Galaxy A7, Galaxy A5, or Galaxy A3 soon after the prompt appears.
Your Galaxy A Android Oreo update should deliver the latest security upgrades and features from Google and Samsung.
The first batch of Galaxy A Oreo updates comes with Samsung's April security patches and the next round of updates could come with the May security updates.
If you failed to download a security update from another month, you'll get those patches when you go to install Oreo on your Galaxy A8, Galaxy A7, Galaxy A5, or Galaxy A3.
Each of these monthly updates comes with important patches to protect the sensitive data you store on your device.
It also looks like the Galaxy A Oreo update comes with improved Biometrics.
Features that use biometrics like your face, fingerprints, and irises are now only available when you use a secure screen lock type (pattern, PIN, or password).
If at some point you decide to switch to a non-secure screen lock type (Swipe or None), the device will automatically suspend biometric authentication for unlocking and for verification in popular apps like Samsung Pay and Samsung Pass.
Samsung's Android Oreo update also comes with security improvements to Samsung Pay and Find My Mobile.
Android Oreo enables the ability to remotely back up Secure Folder to Samsung Cloud when you lose your phone. It also comes with a way to lock up Samsung Pass using Find My Mobile.