How to Burn DVDs on Windows 10
No matter what kind of Windows 10 PC you own, you need to know how to burn DVDs on Windows 10. DVDs are a pretty easy way to share videos, pictures, documents and back up files when you don't have the latest tools handy.
For years, DVDs were the best way to store things. They offered more space than CDs did, and it was cheaper to purchase a handful of DVDs and back up everything on your computer than it was to buy a hard drive as big as the drive inside your PC. Cloud storage services, like Google Drive and OneDrive, weren't available to everyone yet.
Read: OneDrive vs Dropbox: What Windows 10 Users Need to Know
Even with cheaper hard drives and cloud storage of today, you need to know how to burn DVDs on Windows 10 because the more options you have, the easier it is for you to save your files. Also, many people have a DVD player or know how to use one.
How to Know if Your Drive Can Burn DVDs on Windows 10
Before you can burn DVDs on Windows 10, you need the right hardware. Because we're all burning fewer DVDs, PC makers have removed DVD drives from most of their desktops and laptops. Your PC may not have one.
Check to see if you have a drive that can burn DVDs by looking over the paperwork that came with your PC. If you can't find that paperwork, look for a DVD-R or DVD-RW symbol on the front of your PC's disk drive.
Read: 52 Windows 10 Tips & Tricks You Need to Master Your PC
Buying a DVD Drive for a Windows 10 PC
PCs that don't have a disc drive can still burn DVDs, but you must purchase an external DVD burner that connects to your PC through a USB port. The LG Electronics Ultra Slim Portable DVD drive connects through USB and has great reviews. Amazon sells it for just $24.99. Asus' ZenDrive Ultra External DVD Drive also has solid reviews. It sells for $29.99.
There are DVD burners that you can install inside a desktop computer. However, it's a good idea to stay away from those if you don't have any experience making upgrades to your PC. If you're determined to install one, take your PC to a tech bench service like Geek Squad or Staples Easy Tech to make sure your desktop PC has enough space inside for a drive. These services can also help you decide on the right internal DVD drive to buy.
How to Burn DVDs on Windows 10
Once you have a drive, you need the right software. Cyberlink Power2Go 11 costs $49.99, but it includes video editing and PC back up tools to use with your DVD burner. ExpressBurn is available on the Microsoft Store and also lets you burn DVDs for $79.99. Both these software packages offer advanced features, but if you're just looking for a way to save files onto a DVD, Windows 10's built-in DVD burning features will work just fine.
Insert a blank DVD into your computer's DVD drive.
Open any folder you have on your PC.
Click This PC in the area on the left side of the folder window.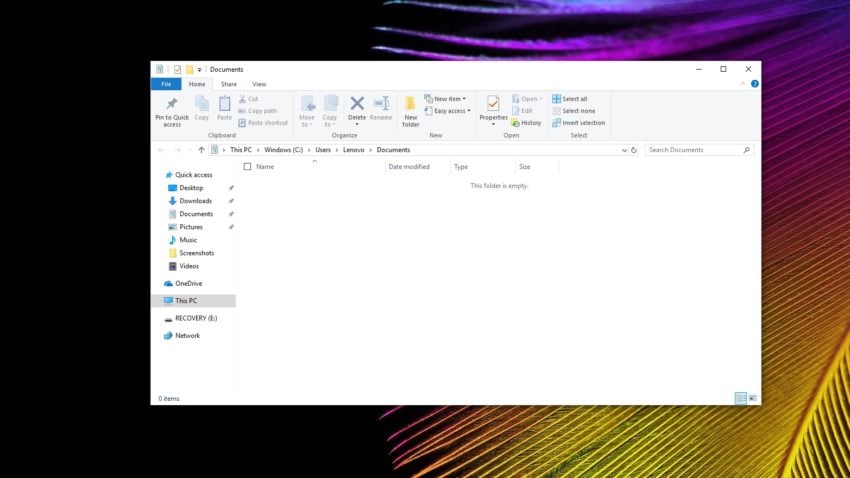 Select CD/DVD Drive in This PC.
A pop-up will ask you to name the disc and decide how you want to use it. Make sure you click With A CD/DVD Player. This format works on just about any DVD player, desktop or laptop. If you plan to add more files to the disc regularly and only open them using Windows 10, select Like a USB Flash Drive.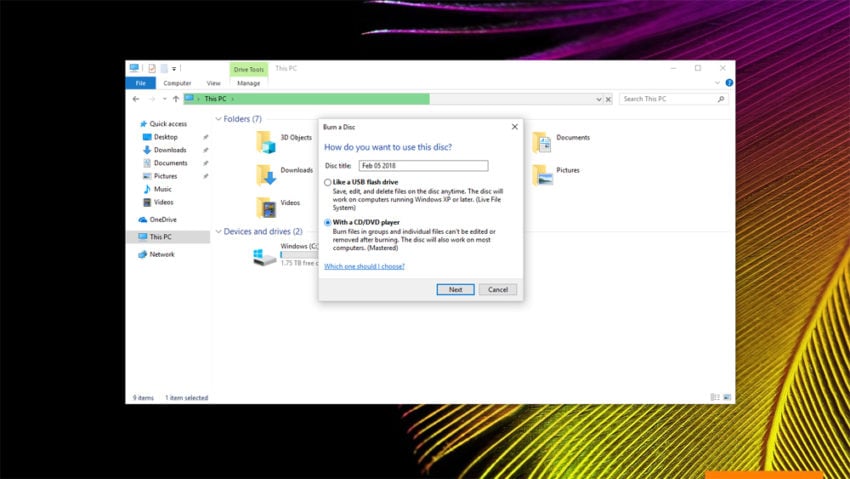 Click on Next once you've made your selection.
Now drag the files or videos you want to burn to the disc.
Right-click anywhere in the window and select burn to disc.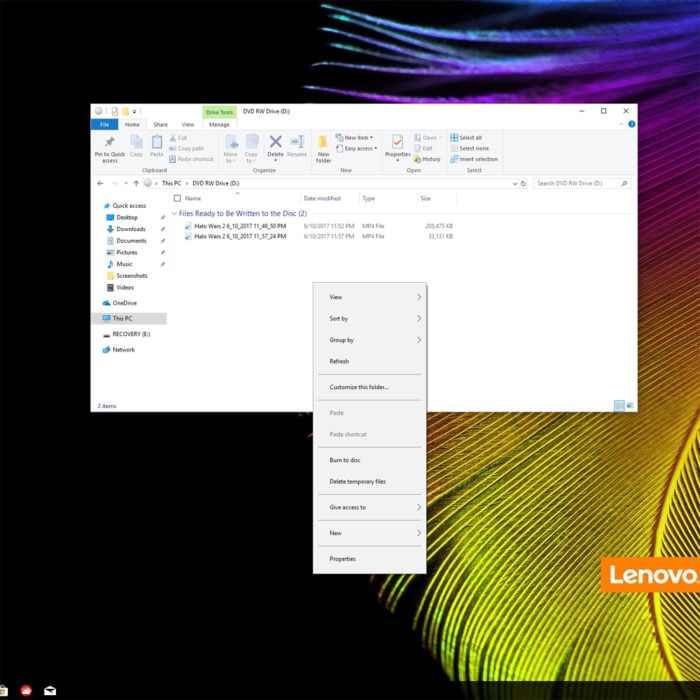 Click Next in the pop-up window and let Windows finish burning your files to the DVD.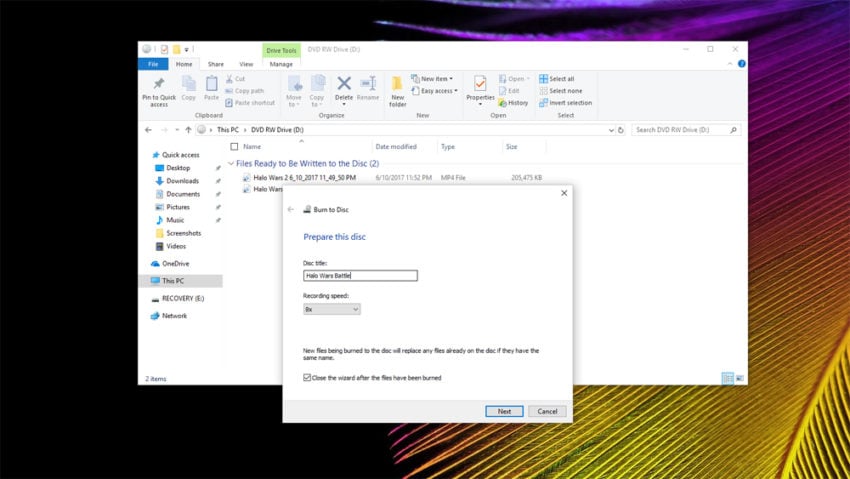 That's everything. Eject the disc and insert it into your drive again to make sure that it works. If it does, a pop-up window with the files you burned should open within a few seconds of you closing the drive.
7 Best Windows 10 Hard Drives & External Storage
Seagate 2TB Barracuda Internal Hard Drive - $59.99
The Seagate 2TB Barracuda Internal Hard Drive is what you buy when you've almost filled the hard drive in your desktop PC.
It comes with 2 terabytes of storage and communicates to the rest of your PC using a SATA connection. Because it's a traditional drive and not a solid state drive, it makes a little noise as it searches for your files. The platter inside the drive spins slower than other drives, so it's not the fastest storage solution there is, but it is faster than the 5400 RPM hard drives that most low-cost desktop PCs have inside them.
You can either put this drive inside your Windows 10 PC and have it act as a second pool of storage or remove the original drive and replace it with this one. In both cases, it's a good idea to have a service like Geek Squad or Staples Easy Tech handle it if you've never added a drive before.

Buy the Seagate 2TB Barracuda Internal Hard Drive from Amazon for $59.99

This article may contain affiliate links. Click here for more details.