How to Downgrade from the macOS Catalina Beta to macOS Mojave
You can downgrade from the macOS Catalina beta to macOS Mojave if you run into problems or simply want to go back to a version of macOS that you know works in a stable fashion. This is also handy if you need to sell your Mac and want to get off the beta. This works for the developer and public macOS 10.15 betas.
Going back to macOS Mojave is easy if you prepared for the macOS 10.15 beta and you have a good Time Machine backup. Even though it is a straightforward process, it will take a while to finish and you cannot use your computer during most of the process.
The easiest way to downgrade to macOS Mojave from macOS Catalina is to restore a Time Machine backup that you made on Mojave. This will bring you right back to where you were before you installed the beta. It also takes your files back to that point in time, so if you've been using your Mac on the macOS 10.15 beta for a while, you will need to make sure any important files are backed up outside of Time Machine since they won't be there.
If you wait a week, you can do a clean install of macOS Catalina and skip restoring from a backup. If you do this, you need to make sure that your files are backed up through Dropbox or some other service.
Here's how to downgrade from the macOS 10.15 beta and go back to macOS Mojave.
How to Downgrade the macOS Catalina Beta to Mojave
You'll need to plug your Mac into power if it is a laptop since this will take a while and will use battery power faster than browsing the web. You don't want your Mac to power off halfway through.
This is a multi-step approach that will completely erase your Mac, install macOS Mojave and then restore from a Time Machine backup. IT will take a little time, but it is easy to do.
For this to work, you need an Internet connection and it assumes you installed the macOS 10.15 beta on your main drive.
Erase Your Mac Drive
Restart your Mac using the Apple menu in the upper right.
When it is restarting hold Command and R until the Utilities menu appears.
Choose Disk Utility
Click Continue and then Click on Startup Disk.  Often labeled Macintosh HD
Click Erase.
Choose the APFS file format from the list and click on Erase.
The macOS Mojave operating system uses APFS, so you won't need to mess with the Mac OS Extended system that you may have used in previous versions of macOS.
Reinstall macOS Mojave
It will take a few minutes to erase the drive. Wait for this to finish even if it seems like it is stuck. Once completed, you can start installing macOS Mojave.
On the main macOS Utilities screen, choose Reinstall macOS.
Click Continue and then Agree to any terms and conditions.
Wait for the Mac to restart and then you are back on macOS Mojave.
Restore Your Time Machine Backup from Mojave
Once you are back on macOS Mojave, you still need to restore your backup so that you can get all of your files back in place. The Time Machine backup that you made before installing the macOS 10.15 beta has all this information on it.
If you want, you can skip this step and start fresh, which may be smart if you were having macOS Mojave problems.
Restart your Mac and hold Command and R to get to macOS Utilities.
Choose the Restore From Time Machine Backup option.
Click Continue. Then choose the backup that you want to restore from. You will need to connect to WiFi if you have a wireless Time Machine drive or plug in if it is on an external drive.
Click Continue after you choose the latest backup and then wait for the restore to complete.
The Time Machine restore process will take some time to finish. The best thing you can do is step away and check in on your Mac every 30 to 60 minutes to see if it is done.
6 Reasons Not To Install the macOS Catalina Beta & 7 Reasons You Should
Install macOS Catalina Beta for New Features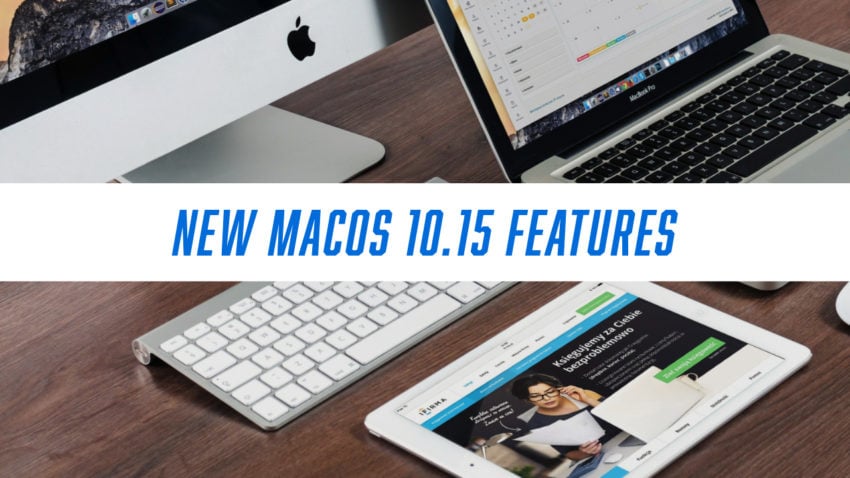 One of the biggest reasons to install the macOS Catalina beta is to test out all of the new macOS features that Apple is adding into this update.
There are a lot of upgrades that we dive into deeper with some of the specific reasons below, but as an overview, there are a range of new features coming to the Mac.
Some of these are in this beta and others will come in the next few betas. Some of our favorite new macOS Catalina features include;

Using the iPad as an External Display
Siri Shortcuts
Window Snapping
Apple also adds in cross-platform support for iPad apps, which will allow developers to offer their iPad apps on the Mac. This feature won't fully materialize until this fall, but we could see some limited opportunities for testing from developers looking for feedback.