9 Common macOS Mojave Problems & How to Fix Them Fast
This guide will show you how to fix macOS Mojave problems on your own without waiting for an update or visiting an Apple Store. If you are experiencing power issues when your Mac is sleeping or slow performance when working with large files.
The macOS Mojave update arrived last year with a lot of cool new features, but it also brings a collection of problems and issues that can stop you from getting work done or using your computer. The latest macOS Mojave 10.14.6 update packs in additional features including Apple News+ and other key upgrades, but it may bring some problems.
We'll show you how to fix macOS Mojave problems, errors and bugs, plus how to workaround limitations. This will help you with issues on the MacBook, MacBook Air, MacBook Pro, iMac, Mac Pro, iMac Pro and Mac Mini..
While Apple happily lists all the cool new features, they don't go into detail on the errors and bugs that came with macOS Mojave. Here are the biggest macOS Mojave problems;
How to Fix Mojave Download Problems
How to Fix macOS Mojave Sleep Power Problems
How to Fix macOS Mojave Installation Problems
How to Fix macOS Mojave News+ Crashes
How to Fix macOS Mojave iCloud Problems
How to Fix macOS Mojave Bluetooth Problems
How to Fix Bad macOS Mojave Battery Life
How to Fix macOS Mojave Performance
How to Fix macOS Mojave App Problems
How to Fix macOS Mojave Apps Showing in Dock After You Quit Them
Keep reading our guide to learn how to fix each of these bugs, errors and problems, as well as the settings you need to turn off new features that look, at first glance, like problems.
How to Fix macOS Mojave Download Problems
When you are trying to download the macOS Mojave installer you may run into issues. You need a solid WiFi connection or to plug in.
There are multiple reports from users who cannot install macOS Mojave because WiFi cut out and the Installer wasn't completed in one go.
To fix this try plugging into your router or getting closer to the router. You can also try downloading the installer on another Mac and copying it to yours on a USB drive.
While this isn't a massive issue anymore, with many users already on Mojave, it is an issue that you need to be prepared to fix. You may also have issues downloading the macOS Mojave updates. If you do, try restarting your router and modem to see if that solves the problem.
How to Fix macOS Catalina Sleep Power Problems
I've been dealing with macOS Catalina sleep and power problems for months. When my Mac is asleep, it will often crash or not power back on correctly. This new supplemental update for the Mac should fix this problem.
Apple specifically says this fixes. "Resolves an issue that may cause certain Mac notebooks to shut down during sleep."
We're testing it out to see if this fixes things for us and will report back.
How to Fix macOS Mojave Installation Problems
There are several different macOS Mojave installation problems, but one of the most common is seeing the error,
"An error occurred validating the installer data. The download is either damaged or incomplete. Redownload the installer and try again."
We're seeing more reports of macOS Mojave installation problems on the 2018 MacBook Pro, which uses a newer T2 coprocessor. Users are seeing a message saying "An error occurred installing macOS."
If you see this error you can try re-downloading, but you may be able to solve it by resetting the SMC on your Mac. You can do that on the newer MacBook Pro models, which is what this appears to affect the most by;
Choose Apple menu > Shut Down.
After your Mac shuts down, press Shift-Control-Option on the left side of the built-in keyboard, then press the power button at the same time. Hold these keys and the power button for 10 seconds. If you have a MacBook Pro with Touch ID, the Touch ID button is also the power button.
Release all keys.
Press the power button again to turn on your Mac.
For more, check out this Apple Discussion Forums post where users are talking about the problem. You may be able to get around this by doing a clean macOS Mojave install, but we are not able to verify.
If you are trying to install macOS Mojave on an external drive while using a USB C adapter, you may see the install stop halfway through. To avoid this, you need to connect directly to Thunderbolt 3, instead of using an adapter.
If you run into other macOS Mojave install problems, you should try restarting in Safe Mode and seeing if you can install the update that way. To do this;
Restart your Mac.
Immediately press and hold the Shift key.
Keep holding until the login window appears.
Login and then try installing macOS Mojave while in Safe Mode. If none of these options work, you can wait to see if Apple offers a new version of macOS Mojave that includes a fix or you can backing up all of your data to Time Machine and then doing a clean macOS Mojave install.
How to Fix macOS Mojave News+ Problems
@AppleSupport News+ installed with macOS Mojave Version 10.14.4, MBP, 2018 loaded. App crashes moments after opening. Restarted and same behavior. What now?

— AQF Host Jason (@AQFJason) March 26, 2019
A big part of the MacOS 10.14.4 update is Apple News+. This is a new news service that allows you to read over 300 magazines, The Wall Street Journal and The LA Times.
Users report that Apple News crashes immediately after startup on macOS Mojave 10.14.4. This issue can be solved with a restart now that Apple has fixed a problem on their end.
If you still have issues with Apple News on Mojave, you should contact Apple Support, but restarting should solve the problem.
How to Fix macOS Mojave iCloud Problems
Some users report that iCloud is not syncing after installing macOS Mojave. If this happens to you, there are two things you can try to fix it.
Click the Apple Logo in the upper left.
Click System Preferences.
Click on iCloud.
Choose Sign Out.
Once complete, sign back into iCloud and see if this fixes the issue. If that doesn't fix it, you may need to delete the Cloud Docs folder.
This is in Finder, and when you delete it, this will force the Mac to re-connect and download the files again.
Open Finder
Click on Go and then Go to folder
Choose CloudDocs
If this doesn't solve it, try restarting your Mac to reset the iCloud processes. If Messages in the Cloud syncing is not working, turn the setting off then on again in Messages, Preferences.
You should also check for updates to see if Apple has pushed out an update to your Mac.
How to Fix macOS Mojave Bluetooth Problems
My Bluetooth is not working in MacBook Air after updating to macOS Mojave. In System reports it shows "No information found" and not able to find bluetooth in System Preference. Tried Deleting plist file, SMC reset and NVRAM PRAM reset. Nothing worked pic.twitter.com/TueisN5wM2

— Vamshi Krishna (@vamshik113) September 25, 2018
There are some macOS Mojave Bluetooth problems after upgrading. The first thing to try is un-pairing and re-pairing the device.
Click on the Bluetooth icon in upper right area of your screen then on open Bluetooth preferences.
Click on on the device and delete it then start the pairing process.
If you can't get Bluetooth to work at all, you may need to delete the plist file for Bluetooth.
Go to the System Configuration folder – /Library/Preferences/SystemConfiguration/ to delete a group of files. You can copy that folder location and then press Command + Shift + G while in Finder, then paste that location in to go to the right folder.
Delete – com.apple.Bluetooth.plist
Restart your Mac.
This should fix most Bluetooth issues, but as you can see in the Tweet above it may not fix them all. If you still have issues, you may need to downgrade to macOS High Sierra, try a clean macOS Mojave install or contact Apple for help.
How to Fix macOS Mojave Battery Life
We're seeing reports of macOS Mojave battery life problems from users. This is common, especially in the first two or three days after upgrading. During this time the system may be re-indexing, and it's not a cause for freaking out yet.
That said, there are reports of very bad battery drain, battery drain when the lid is closed and other issues. Here's a specific guide on how to fix bad macOS Mojave battery life.
If you have battery life problems after the first day, or really bad battery life, you can use this guide to get better macOS Mojave battery life on your Macbook.
How to Fix macOS Mojave Performance
We're seeing numerous reports of slow macOS Mojave performance and the system locking up or showing a beach ball of death. This isn't an issue for all users, but it is impacting enough users to be concerned.
Keep in mind that there may be some lag and performance stutters for the first day or two after you upgrade. After everything settles in and you update your apps, performance may improve. If you only see small issues, wait a few days before you try anything more dramatic.
If your Mac is still slow on macOS Mojave after spotlight is done reindexing, you may have bigger issues. If that is the case, a clean macOS Mojave install is probably the best thing to try.
How to Fix macOS Mojave App Problems
There are a lot of macOS Mojave problems that are frustrating users. If your apps aren't working the first thing to do is look for updates.
Many developers already offer new versions that are compatible with macOS Mojave. In some cases, you may need to buy a new version.
If you see a warning that you are using a 32-bit app on Mojave, you should look for an alternative or for an updated version of the app.
How to Fix macOS Mojave Apps Showing in Dock After You Quit Them
There is a new macOS Mojave dock feature that many users think is a problem. It's actually a change to how the dock works, making it more like iOS.
After you quit an app in Mojave, it may still show up in your dock. To stop this from happening you need to turn off this new feature.
Go to System Preferences
Open the Dock options.
Uncheck Show recent applications in dock.
This will remove the new section and take you back to how things worked on High Sierra.
4 Reasons Not to Install macOS Mojave & 16 Reasons You Should Install 10.14.6 Today
Install for Important Fixes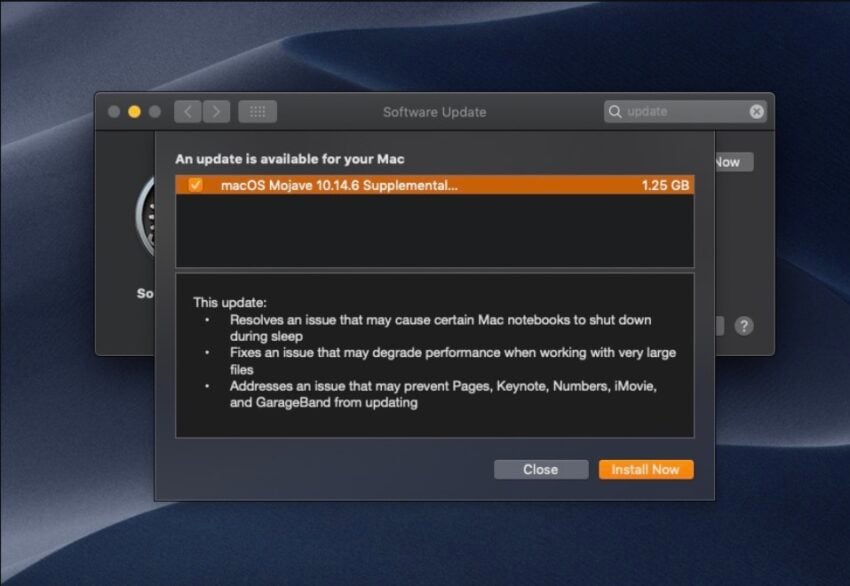 If you are running into issues with your Mac, you need to install this update on your Mac. The two supplemental fixes include security fixes and fixes for problems pestering many users.
The second supplemental update includes a fix for the problem where "A remote attacker may be able to cause unexpected application termination or arbitrary code execution." This is an important fix.
The previous supplemental update included the following updates, which you also get with this update if you hadn't installed the update yet.

Resolves an issue that may cause certain Mac notebooks to shut down during sleep
Fixes an issue that may degrade performance when working with very large files
Addresses an issue that may prevent Pages, Keynote, Numbers, iMovie, and GarageBand from updating
If you are having problems with this, you should install the supplemental update right now.