How to Enable Developer Options on the Galaxy S9
In this guide we'll show you how to enable the hidden developer options menu on the Galaxy S9 and Galaxy S9+. We'll also explain why you might want to do this, what it's for, and what you can do once you unlock it.
Developers and enthusiasts looking to control additional aspects of their device, change settings, or enable USB debugging for advanced functions will need to enable these hidden controls.
Read: Top 10 Galaxy S9 Settings to Change Right Away
Every Android phone or tablet has them, they're just hiding in plain sight. Google chooses to hide them on most phones, that way average users don't mess up their phone. However, there are instances where you'd want access, and that's where we come in.  Our video below will show you what to do, where to go, and how to hide those settings again when you're done.
Before we begin, it's worth noting that this entire menu is for advanced users. Changing some of the settings or control can significantly alter the experience on your Galaxy S9. And not in a good way. While there are a few useful controls in here, almost everything else is specifically for developers.
How to Unlock Developer Options on Galaxy S9
To start, simply follow our instructional video above. It shows you everything you need to do. If you can't watch the video, here are the step-by-step instructions, and screenshots of what you're looking for.
Head to Settings in the app tray, or pull down the notification bar and tap the gear-shaped settings button
Scroll down and select About Phone
Tap on Software Information
Now, find Build Number
Find Build Number and tap on it 4-5 times quickly
You'll see a pop-up that you're a few taps away from unlocking the menu
after 4-5 taps you'll see a confirmation that "Developer Mode has been turned on"
That's it, now, simply hit back and scroll to the very bottom of the settings menu on your Galaxy S9. You'll see a brand new option in settings named Developer Options.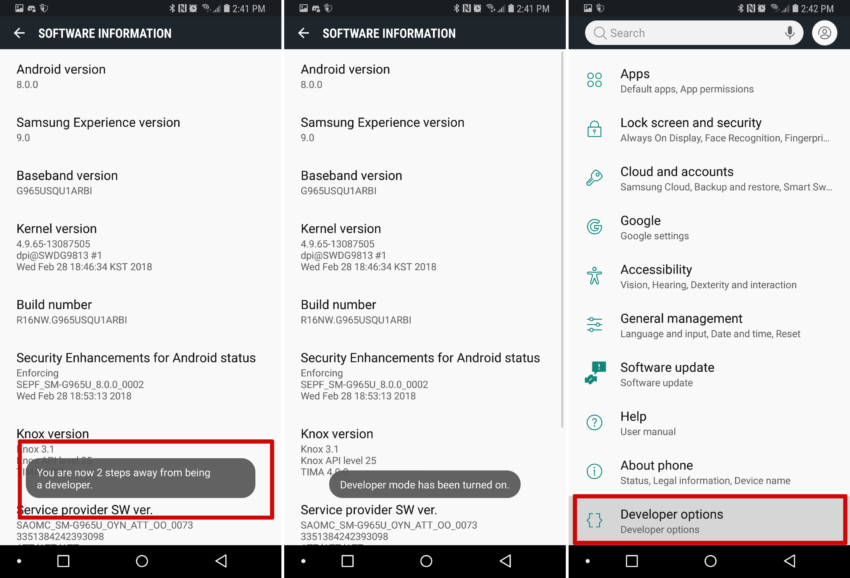 Again, be careful inside the developer options menu, and only change things you understand. Otherwise, you can quickly cause more harm than good.
Other Details
There are a lot of cool things the Galaxy S9 can do. Once you unlock the developer options menu, try this trick to speed up your phone in three easy steps. This is also where you go to enable USB Debugging, a step you'll face in a lot of how-to guides or while trying to backup your Galaxy S9 before a big software update.
At the end of the day, just remember that Google hides most of these options or controls for a reason. So, once you're done using the developer options menu we recommend hiding it again by tapping the switch at the top right while you're in the developer options settings menu. This will hide it again, and remove the option from your phone until you unlock it later. Before you go, take a peek at these 15 Common Galaxy S9 Problems & How to Fix Them. Or, get a screen protector from our slideshow below.
10 Best Galaxy S9 Screen Protectors
WhiteStone Dome Tempered UV Glass ($44)
The first screen protector we'll recommend for the Galaxy S9 is the impressive WhiteStone Dome Glass kit. This is pretty expensive, but it's worth it to protect your $800 smartphone.
WhiteStone uses a special liquid installation process where you manually install the screen protector with a perfect alignment tray, then use a UV Dome Light machine to "cure" the liquid and screen protector in place. This provides the absolute best experience and installs for curved devices. The video above is a review of their product for the Galaxy S8.
It's not permanent and can be removed if necessary, so don't worry about that. Basically, if you've tried several glass screen protectors that didn't fit, came off, or had touchscreen sensitivity issues, TRY THIS INSTEAD. The liquid fills in the entire area, then physically cures the glass to the screen. We recommend this without hesitation.

As an Amazon Associate I earn from qualifying purchases.