How to Speed Up the Galaxy S9 in 3 Easy Steps
Want to improve performance and speed up your Galaxy S9 in seconds? If so, this quick guide will show you how. In fact, these three easy steps are all you'll need to do to make your phone look and feel faster. Then, we'll offer up a few other quick tips for the best experience.
While the Galaxy S9 and Galaxy S9+ are powerful phones, the longer you own them the more they'll start to slow down. And yes, you can do some crazy technical tricks to fix it, but that's too much work for most. That's where we come in. We have a quick tip that's so simple anyone can do it.
To start, you'll need to enable this hidden developer options menu, then change three settings on the phone by following our instruction video below. This process is totally safe and won't hurt anything or void your warranty. The same steps in our video apply to the Galaxy S9 or Galaxy S9+.
How to Speed Up the Galaxy S9 in Seconds
Pull down the notification bar and tap Settings (the gear-shaped button)
Scroll to the bottom and hit About Phone
Where it says Build Number tap the screen 7-8 times (quickly)
This will unlock the hidden developer menu. Next, look for and change these three settings.
Hit Back and select the new Developer Options from the settings menu
Scroll about halfway down until you see Windows Animation Scale
Change Windows animation scale, Transition animation scale and Animator duration scale to 0.5x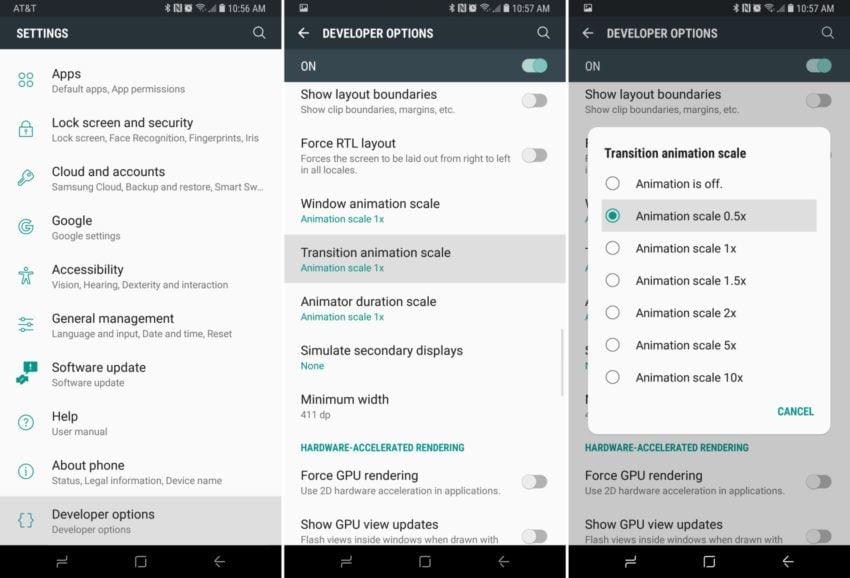 When you first get your Galaxy S9, these are all set at 1x. All three settings control animations and effects on the phone. Like apps or windows fading away as you swipe or hit home, or how apps look as you open and close them. Basically, animations are what make Android look pretty. Setting it to 0.5x cuts the time, animations and effects all in half. Windows open faster, you can flip through the settings menu quicker and everything looks and feels faster.
Keep in mind that this isn't necessarily making your phone "faster" but you will be able to do things more quickly. We're cutting out those animations so everything is a little quicker to open, tap, or use.
Other Details & Tips
This is an old Android trick that a lot of people know about and use. Feel free to try it on anything you own. It works on any phone or tablet, so tell your friends. That said, some people will choose to set all three to zero, which is perfectly fine too. I prefer 0.5x so I still have some animations and effects.
Read: First 10 Galaxy S9 Settings to Change
In closing, reboot your Galaxy S9 and you're all done. Now, feel free to click the link above for a few other helpful tips and tricks to get the most out of your phone. Those are the first 10 settings we changed, and ones we recommend everyone else switch for the best experience. Or, try changing the Galaxy S9 performance mode from optimized to something else. That makes your phone faster too, at the cost of battery life. You can even lower the screen resolution for better performance while gaming.
Before you go, check out our list of the 9 Best Galaxy S9 screen protectors in the slideshow below.
10 Best Galaxy S9 Screen Protectors
WhiteStone Dome Tempered UV Glass ($44)
The first screen protector we'll recommend for the Galaxy S9 is the impressive WhiteStone Dome Glass kit. This is pretty expensive, but it's worth it to protect your $800 smartphone.
WhiteStone uses a special liquid installation process where you manually install the screen protector with a perfect alignment tray, then use a UV Dome Light machine to "cure" the liquid and screen protector in place. This provides the absolute best experience and installs for curved devices. The video above is a review of their product for the Galaxy S8.
It's not permanent and can be removed if necessary, so don't worry about that. Basically, if you've tried several glass screen protectors that didn't fit, came off, or had touchscreen sensitivity issues, TRY THIS INSTEAD. The liquid fills in the entire area, then physically cures the glass to the screen. We recommend this without hesitation.